BMW Race Quotes: happy ending, Heidfeld gifted a F1 car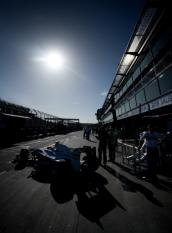 By BMW Sauber F1
November 1 2009
End to the last race for the BMW Sauber F1 Team: After a great race, Nick Heidfeld finished the Abu Dhabi Grand Prix in fifth. With these four points the team was able to move up one place in the constructors' championship and overtake Williams to finish sixth. Robert Kubica was also on the way to score a championship point before he spun in a battle with Sébastien Buemi. As a thank you for Nick Heidfeld's seven years of great commitment to the team in Hinwil Peter Sauber is giving him a Formula One car from this era. The 2009 season's finale also marks the last Formula One race for BMW after the company's decision at the end of July to pull out of this sport. In the team's four year history the BMW Sauber F1 Team collected 308 world championship points, one pole position and 17 podiums, including one win.

Nick Heidfeld: "I am very happy with my fifth place. It was a good race in which I was able to get the maximum out of the car and score four points, which was enough to reach our target for the end of the season to overtake Williams in the constructors' championship. After I have been a little unlucky in recent races, this time I was really able to exploit the car's potential. For quite a long period I was able to go at the same speed as the world champion's car, the Brawn. The strategy to go for a rather long stint paid off and the track was even more fun when it had more rubber on it. It is a pleasing end to our last season together. It now becomes very emotional. During the last laps I had to pull myself together in order to keep my concentration."

Robert Kubica: "I lost the race in the second stint when I was very slow, while in the first stint I was able to go at quite a good pace, similar to Rubens. The car was working very well. After changing tyres I had no grip at all. The track was getting quicker and I just could not go at the pace of the other drivers. This was very strange. My fight with Sébastien Buemi was quite tough and a bit dangerous. We nearly touched when braking into the chicane. He first moved to the left and blocked the inside of the left hander. When I moved to the right he pushed me over the high inside kerb of the right hander section of the chicane and I spun. He did not leave any space at all. Thanks a lot to the team for the last four years. I hope to meet them back on the grid next year."

Mario Theissen (BMW Motorsport Director): "That was once again a strong weekend for our team in the season´s finale. Starting from eighth Nick consistently moved up to fifth thanks to a very good performance. Robert was unlucky three times during the race: After each pit stop he came back on the track behind a slower car, and due to the collision with Buemi he lost one position. But the most important point is that with today´s result we gained another place in the constructors' championship. So we ended a very tough season with some strong results. A big thank you goes to the whole team - both here at the track as well as in Munich and Hinwil."

Willy Rampf (Head of Engineering): "Our goal today was to score three points more than Williams and overtake them in the constructors' championship. This goal was achieved thanks to Nick's great drive and his fifth place. The race was very interesting from a strategic point of view because a one stopper was exactly as quick as two. Therefore the decisive part was at the second pit stop where it was decided who was in front of who. The race was so close today, so it was an absolute must not to make any mistake at all. I want to express my respect for the team in Munich and Hinwil who never lost motivation and continued to push very hard. They all did a fantastic job and deserve this result."
View a Printer Friendly version of this Story.
BMW Race Quotes: happy ending, Heidfeld gifted a F1 car
BMW Sauber F1 (IP Logged)
01/11/2009 16:44
What do you think? You can have your say by posting below.
If you do not already have an account
Click here to Register
.
Re: BMW Race Quotes: happy ending, Heidfeld gifted a F1 car
01/11/2009 17:16
Congrats to the team!

Wonder which car Nick was given...?

Racing against the machine!
Re: BMW Race Quotes: happy ending, Heidfeld gifted a F1 car
02/11/2009 09:25
A-spec F109?
Re: BMW Race Quotes: happy ending, Heidfeld gifted a F1 car
02/11/2009 15:54
the one from Brasil, where can't put fuel in ;-)
Re: BMW Race Quotes: happy ending, Heidfeld gifted a F1 car
02/11/2009 16:26
Hehe, nah I doubt they would give the F1.09, as probably its heading directly to the recycling bin!

My bet is that it will be one from the Sauber days.

Racing against the machine!
Re: BMW Race Quotes: happy ending, Heidfeld gifted a F1 car
02/11/2009 20:12
No car for Robert? Interesting.

Seems to fall in place with "Robert is leading the WDC...who cares, let's work on Nick tire heating problems instead".



Edited 2 time(s). Last edit at 2009:11:03:02:30:51 by Bogs.
Re: BMW Race Quotes: happy ending, Heidfeld gifted a F1 car
03/11/2009 05:49
The car was a gift from Peter Sauber. I don't think Peter had much say in the decision to push for the WDC or "work on Nick's tyre problems" instead.
More BMW Sauber F1 headlines
BMW Sauber F1 Poll