Ferrari 2010 Season Preview: Part 2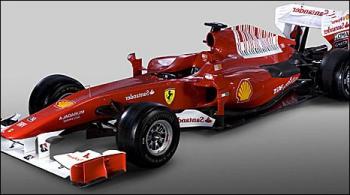 By Jay & Tifosa
March 8 2010
We continue our preview of Ferrari's 2010 campaign with a focus on some of the technical details of the F10, the innovations we have seen in testing and how the competition stacks up.
In our preview (part-1) we discussed the total mileage and performance of the car in general in the pre-season testing. We now take a closer look at the technical and design updates.
As is a well-known fact, Ferrari started the work on its 2010 challenger early last year, almost midway through the season. This gave ample time for the engineers to go back to the drawing board and set right the flaws they made with the F60.
With new rules in place for the season viz. No re-fuelling, narrower front tyres etc., the car was expected to have new design changes. More so, to go with maximizing the double-diffuser, an important area of development that Ferrari didn't exploit last year.
One of the things Ferrari adopted for the F10 is the narrow, high-nose like front cone, which was seen on the Red Bull last year. This design allows for better airflow under the car, fully exploiting the double diffuser.
Narrow and higher nose-cone
Another innovative design characteristic that the Ferrari technicians came up with was the engine mounting. The engine is said to have been mounted to the car at an angle of 3.5 degrees, which is rumoured to shave-off few tenths of a seconds per lap.
Again this design is intended to provide additional airflow beneath the car to double diffuser.
All these point to the fact that the F10 is built around the double-diffuser.
However, there are other innovative things on the F10 that came to light in the testing, besides the diffuser.
Ferrari has designed a new wheel nut to shave time off of pitstops. The new design is a cone-shaped nut which makes it a better fit with the wheel gun. It attaches automatically to the gun and thus does not have to be manually removed.
Conical wheel nut
Still on wheels, Ferrari has also changed the design of these, keeping in line with the rule changes banning fairings. The rear-wheel has a unique look to it, while not having the "covers" like previous years.
New rear wheel
The pre-season testing also saw the re-introduction of the shark-fin on the F10 at Barcelona, last seen on the F2008. The fin is slimmer and connected to the rear wing. There have been some rumors about Ferrari having a B-spec car in the works and we'll have to wait and see how far this is true.
Shark-fin