Ferarri played team orders - Felipe's father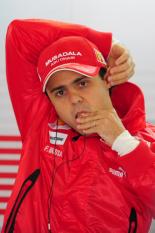 By Jay
July 29 2010
The controversy surrounding team orders by Ferrari at the German GP doesn't seem to stop.
Even though officially Ferrari have denied using any such tactics, and their drivers singing similar tune, majority of people in the sporting world, including most ferrari fans feels otherwise.
Luiz Antonio Massa, Felipe's father also regretted what happened, and said it was clear case of team orders, that robbed his son a first win of the season.
As reported by Italian newspaper Libero, while speaking to Brazilian television CATV, he said, "It is regrettable and unfortunate that Ferrari took this decision."
"It is clear to everyone that this was a team order," added Massa's father. "Like any good employee, Felipe must obey the boss; there is a hierarchy and he followed orders showing loyalty."
He said that even though F1 is a team game and agrees in principle with team orders, Felipe was still in contention for the championship.
"It is a good choice when only one of the two drivers has no mathematical chance, but this was not the case. Both still had a chance to win," he said.
With the controversy snowballing as each day progresses, Ferrari would never have expected such a reaction.
-----------------------------------------------------------------------------------------
Today's hot topics under discussion
1) German GP
2) British GP
2) Ferrari Car Development updates
4) Is Alonso making too many mistakes?
5) Adjustable Rear Wing for 2011 Season
Join us on our discussion forum