Bruno Senna defends Felipe Massa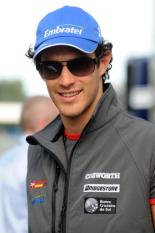 By Jay
August 11 2010
Felipe Massa got support from his countryman and fellow Brazilian Bruno Senna after he was chastised by Brazilian press for slowing down, thus enabling his team-mate, Fernando Alonso, to win at the German GP.
The incident has sparked off criticism from various quarters with most of them terming it as a cowardly act.
However, Bruno Senna, speaking to the Brazilian media recently, said "I think it's very easy to judge when you're not in the person's skin."
"I think everyone does what he thinks is right at the time of the situation, and it's easy for an outsider to criticise."
The team-orders matter, would be taken up by the World Motor Sport Council for discussion on September 8.
Bruno Senna, who is currently driving for HRT, also hit out at critics who said that Massa's season has been disappointing so far.
"They think it's easy — just more speed" he said.
"But formula one is a technical sport with very great variables. Massa has said he is having trouble warming up the tyres, and it is really very difficult."
"Sometimes a car combines better with a particular driving style. Everyone has seen how good he is when he fought for a recent championship, so I think there's nothing to discuss," added Senna.
-----------------------------------------------------------------------------------------
Join us on our discussion forum