Is Felipe's frustration for Piquet Jr still justified?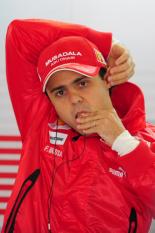 By Jay
August 13 2010
Felipe Massa is still miffed on Nelson Piquet Jr's act, two years back, in 2008 of deliberately crashing in Singapore costing the Brazilian a win and possibly the Championship.
Piquet Jr admitted that after the crashgate scandal was exposed, Felipe accused him of "robbery", as the crash helped Piquet's then team-mate Fernando Alonso to win the race, while Massa who was cruising to win, drove with the fuel hose still attached, losing his place, while pitting under safety car period, brought about by the crash.
Massa's frustration though valid, as he lost the championship that season by just a single point, isn't he too guilty of the same?
In the German GP this season, following alleged team-orders, we saw how he relinquished his position without a fight to his team-mate, ironically, again Fernando Alonso?
Piquet Jr's action is certainly grave, considering he not only put his life in danger, but that of other drivers who were following his car and the spectators seated behind the wall.
However, as far as accusing of robbery is concerned, Felipe Massa is equally guilty of the same.
Most of all, he robbed us fans of pure racing, the one thing that every F1 fan look forward to, leaving aside the troubles and money involved in travelling, stay, and ticket purchase.
While Felipe have been criticised, especially in his home town, where the media has labelled his act as cowardly, it would be team Ferrari who would be penalised, and rightly so, when the World Motor Sport Council meet next month.
It's time that the FIA, not only act against teams, but penalise drivers who's act bring disrepute to F1 in general.
-----------------------------------------------------------------------------------------
Join us on our discussion forum