Casey Stoner wins in Repsol Honda début race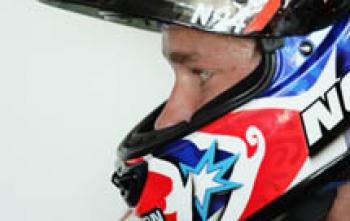 © Getty Images
By Dan Moakes
March 25 2011
Some of the leading players had switched allegiance prior to the 2011 FIM MotoGP World Championship season, but reigning title winner Jorge Lorenzo remained with Yamaha as he embarked on his first title defence. It was his rivals Valentino Rossi (Yamaha to Ducati) and Casey Stoner (Ducati to Honda) who had switched, but who would benefit most?
The main rider moves for the new season obviously revolved around two of the big-name former MotoGP champions. 25-year-old Australian Stoner was moving on after four years with Ducati, which left an opening for 32-year-old Italian Rossi. Stoner had started his MotoGP-class career with a customer Honda in 2006, but was moving now to the Repsol-backed full works team. Rossi had once been in that same team, before starting his long association with Yamaha. But now he had the chance to conclude his career in an all-Italian link-up with Ducati - a machine which only Stoner had been able to make truly successful in the 800cc era, and therefore offering him a similar challenge to the one he'd faced when joining Yamaha.
Rossi's departure allowed Ben Spies (26) to move from a customer to a full-works Yamaha, alongside the champion, Lorenzo (23) - the factory bikes currently without title sponsorship, as provided in recent times by Fiat. Lorenzo took the number 1 plate he had earned last year. Meanwhile, Rossi joined existing Ducati rider Nicky Hayden (29) in their Marlboro-backed works team. Over at Repsol Honda there would be an expanded squad, with both 2010 runner-up Dani Pedrosa (25) and team-mate Andrea Dovizioso (24) retained, and Stoner joining them. The HRC team had run three men at once in the past, but not since 2000.
The 2011 line-up for MotoGP included only two new names, one man moving up from the support classes, and one man who would be new to Grand Prix racing. Czech rider Karel Abraham (21) was a Moto2 race winner at the end of 2010, and his family-run AB Cardion team are now one of Ducati's customers. He runs his familiar number 17. English rider Cal Crutchlow (25) follows in the recent footsteps of James Toseland, with a move from World Superbikes to the Monster Tech 3 Yamaha GP team. Cal was a race winner for Yamaha in 2010, and started from pole more times than anyone else. Before that he took the Supersport world title, also for Yamaha. Crutchlow runs his familiar number 35, and he joins retained Tech 3 rider Colin Edwards (37).
Toní Elías (27) returns to MotoGP after a year away, during which time he had won the title in the new Moto2 class. His slot would be in the LCR Honda squad, sponsored here by Givi, with his familiar number 24. The remainder of the 17-man grid involved some more reshuffles. The San Carlo Gresini Honda team retained impressive 2010 class rookie Marco Simoncelli (24), and found room for Hiroshi Aoyama (29) of the now defunct Interwetten Honda team. Álvaro Bautistá (26) was now the sole representative for Rizla Suzuki. Héctor Barberá (24) stayed with the Aspar Ducati team, now in white and red with backing from Mapfre, but was switching to the number 8 plate - possibly to reflect his best result from last year. Meanwhile it was an all-new pairing for Pramac Ducati, with Loris Capirossi (37) joining from Suzuki and Randy de Puniet (30) from LCR Honda.
Grand Prix racing has great connections to Japan, with three of the four remaining manufacturers being from that country, not to mention many handy riders over the years. At the start of the new season, the ongoing troubles in Japan, relating to the recent earthquake and resulting tsunami, were in the thoughts of many in the paddock. The third round of the 2011 series was due to be held at Motegi, but it was decided that the event should be postponed until October. Meanwhile, the MotoGP race in Qatar would start after a one minute silence.
Round one has been established at the Losail circuit in Qatar for a few years now, and this would be the fourth running of the night race under floodlights. The run up to Sunday had seen injuries befall a couple of the riders, with new boy Crutchlow losing the end of his left hand little finger in a crash at turn ten. Bautistá was worse off, as his practice crash resulted in a broken femur bone in his left leg. It was already known that former Suzuki GP rider John Hopkins would take over the ride for round two, but for now it meant no Suzukis on the grid - for the first time since 1974. Their RG500 two-stroke had been the most numerous machine over the next several years, but recently Suzuki has become the least represented marque.
For those who avoided incident through practice and qualifying, Honda were the best off. The works bikes seemed to have a new and more seamless gearshift, which Stoner and Pedrosa used to good effect in taking the first two grid positions. Simoncelli's similar specification RC212V was fourth. Yamaha provided the closest challengers, with Lorenzo third and Spies fifth. However, Rossi's transition to the Ducati saw him struggling at this stage. He was ninth, with team-mate Hayden in P13. Their leading machine was that of customer rider Barberá in sixth. Dovizioso's third works Honda was seventh.
Despite his injury, Crutchlow made a good start at a circuit that had not been on the 2010 WSB schedule, although he had raced there in Supersport, and would start eighth. Edwards was two places behind. Also ahead of Hayden on a customer Ducati was de Puniet, eleventh, with team-mate Capirossi in P14. Aoyama was in twelfth, and the former Moto2 riders were in the final places, Abraham in P15 ahead of Elías. For the race, all riders opted for the hardest compound Bridgestone tyres.
The race start saw Pedrosa make a typically good getaway to take the lead, with Rossi finding the inside line to appear in second place - but only momentarily, as he took himself wide into the tight, right-handed turn one. He recovered quickly and fitted into seventh, with Pedrosa heading Stoner, Lorenzo, Simoncelli, Dovizioso and Barberá. Lorenzo was quick to get by Stoner, and similarly Dovizioso with Simoncelli. Spies had lost out at the start and was in eighth. Further back, at the right-handed turn seven there was a crash for de Puniet when he lost the rear. His right knee was hurt in the impact, and meanwhile team-mate Capirossi had to swerve and managed to injure his hand.
Stoner was quick to take over in the lead and set off for a fastest lap, with Pedrosa also getting pushed back by Lorenzo. He quickly regained the place using Honda power along the main start-finish straight. Early on, there was already a gap opening behind the first five, Stoner from Pedrosa, Lorenzo, Dovizioso and Simoncelli. Barberá, Rossi and Spies were next, then Edwards and Crutchlow. Aoyama, Hayden, Elías and Abraham completed the field, with Capirossi returning to the pits to join de Puniet in retirement. It was not going to be a good day for Pramac Ducati.
Rossi clearly wanted to be part of the battle for victory, and he tried to find a way past Barberá on the inside for a left-hander, and got through. Before long he was moving clear of the Spaniard. Meanwhile, Pedrosa improved the fastest lap as the gap between second and third began to grow. Using the draft from his team-mate, Dani then pulled to the inside to make the pass for the lead at turn one, as third man Lorenzo was moving clear of the two Honda men behind him.
Spies had quickly followed Rossi past Barberá, who would soon feel the attentions of Edwards. Ben then moved up onto the tail of Valentino. Ahead of them was a Honda battle, with Simoncelli jamming his machine on the inside of Dovizioso for a left-hander to make his pass for fourth place. Spies would soon pass Rossi on the power along the main straight, only to run in deep for turn one and let the Italian back through. Their tussle would continue.
Pedrosa and Stoner had a 1.2s lead over Lorenzo, but at half-distance Dani was being pushed by his team-mate. Turn twelve is a right-hander that follows a fast curving left. Casey dived through into the lead again on the inside into T12. With ten laps still to go, he quickly moved clear of the other RCV, and a slow lap from Pedrosa allowed Lorenzo to catch up. Into one of the tight looped left-hand corners Jorge passed Dani on the inside line. It would transpire that the Honda man was troubled by a problem with his left arm that left him unable to use the clutch, but his challenge was not yet over.
Stoner was on his way to a secure victory in his works Honda début race, but with five laps to go Pedrosa used Honda power along the main straight to go to Lorenzo's left and regain second. The Yamaha rider passed again on the inside for the final right-handed turn sixteen, only for Dani to once again get it back on acceleration. Jorge made another move on the inside at the double-right of turns four and five, and from there was able to get clear. Pedrosa then dropped back with his difficulties, but did enough to hold onto third place to the flag.
For fourth place, Simoncelli had maintained a small margin of advantage over Dovizioso for a few laps, but then Andrea fought his way back past in the right-left combination at turns one and two. Marco was never quite dropped by his works rival, but they finished in that order. Meanwhile, Rossi had fought hard to deny Spies in the battle for sixth. The Yamaha man had gone on the outside line round turn one, but again drifted wide. However, he still did enough to then just get on the inside for turn two, fighting his way past as Valentino suffered a brief 'moment'. Ben moved clear to confirm P6 at the flag, and Valentino took P7.
From his good start, Barberá managed to drop back in the later stages. Edwards caught him and went past with a tight inside line at a right-hander, and the Spaniard then found himself battling with Aoyama, and with Hayden closing in. Nicky went past the two 250cc graduates in turn, Barberá first and then Aoyama at turn one. Edwards was eighth at the finish, from Hayden and Aoyama. Barberá had then been joined in contest by Crutchlow, who had briefly led Aoyama a bit earlier. These two had changed places more than once, with Cal getting the verdict on the last lap. Elías had crashed out of last position, so thirteenth man Abraham was the final finisher.
Honda's two leading riders had set the pace, with the marque in fact taking four of the top five places in the race, but Dani Pedrosa's physical problems denied the fans a possible showdown for victory with Casey Stoner. It remains to be seen who will be top dog when they compete on an equal footing, but some good action between the two would seem to be likely this season. Meanwhile, Jorge Lorenzo's latest Yamaha M1 was no longer the class of the field, as seen for the last two years, but he remains a factor. And it will be more than interesting to see if Valentino Rossi can turn around Ducati's current fortunes. However, so far it is Stoner who looks the favourite.
Standings after one race: Stoner 25; Lorenzo 20; Pedrosa 16; Dovizioso 13; Simoncelli 11; Spies 10; Rossi 9; Edwards 8; Hayden 7; Aoyama 6; Crutchlow 5; Barberá 4; Abraham 3.
Honda 25; Yamaha 20; Ducati 9.