Controversial MotoGP race at Le Mans 2011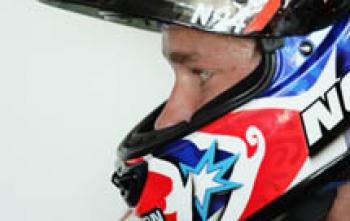 © Getty Images
By Dan Moakes
May 20 2011
Riders from Spain were leading the way in the 2011 FIM MotoGP World Championship, with Jorge Lorenzo for the Yamaha Factory just ahead of Dani Pedrosa for Repsol Honda. Australian rider Casey Stoner had also won a race on his Repsol machine, and was likely to continue setting the pace with his two European rivals. Round four was the French Grand Prix at Le Mans.
The mostly fast and flowing short GP circuit at Le Mans, with its few slow corners, was even more of a Honda benefit in qualifying than had been the case in rounds one and two. The four works specification RC212V bikes headed all comers, with the Repsol-backed factory machines in positions one, three and four. Stoner was on pole position for the third time in four events with the team. Andrea Dovizioso was an improved third and Pedrosa was fourth.
The other leading Honda was that of San Carlo Gresini team rider Marco Simoncelli, who had qualified fourth, fifth and second previously in 2011 but, with a couple of crashes, had yet to manage a podium result. He was second again here, with team-mate Hiroshi Aoyama only in P13. The four Yamaha men followed directly behind the first four Hondas, with Lorenzo fifth and team-mate Ben Spies eighth. The Tech 3 team riders were in between, with Cal Crutchlow a best-yet sixth and Colin Edwards seventh.
The Marlboro-backed works Ducatis were together this time, the bikes utilising a new chassis/airbox, with Valentino Rossi no better off in ninth and Nicky Hayden in a slightly improved tenth. They were followed by Randy de Puniet (Pramac Ducati), Álvaro Bautistá (Rizla Suzuki), Aoyama, Héctor Barberá (Mapfre Aspar Ducati), Loris Capirossi (Pramac), Karel Abraham (Cardion AB Ducati) and Toní Elías (LCR Honda).
The warm-up session on race day saw incidents for a couple of the fast men. Lorenzo crashed at the heavy-braking Chemin Aux Boeufs left-right chicane, injuring a finger and wrecking his engine. Meanwhile, Stoner showed his frustration when a slow-moving de Puniet crossed his path, which manifested with a gentle punch to the arm. This altercation had been cleared up amicably between the two later on.
For the final warm-up lap itself, Stoner seemed to have a late clutch problem, which was soon remedied by his mechanics. The conditions were cool and overcast, and there was the possibility of rain in the air. Either way, this added up to low grip and most riders therefore selected the softer compound Bridgestone tyres, especially for the rear. Pedrosa was away in the lead, from team-mates Dovizioso and Stoner. The fast right-hand Courbe Dunlop leads into the tight left-right Chicane Dunlop, where Casey moved ahead of Andrea.
Simoncelli was the fourth Honda in line, from Lorenzo, Edwards, Rossi, Spies, Crutchlow, de Puniet, Hayden, Capirossi, Barberá, Elías and Bautistá. Onto the back straight is the double right-hander Virage du Garage Vert, and this was where Lorenzo passed Simoncelli on the inside going in, only to be re-passed by the Italian on the inside for the second apex. Along from there, Rossi passed Edwards at Chemin Aux Boeufs.
Pedrosa led Stoner, but third Repsol man Dovizioso was quickly shuffled back by Simoncelli. Then Lorenzo also went past Andrea, forcing through on the inside for the left of Chicane Dunlop. Soon the lead would change as Casey passed Dani at the Virage des 'S' Bleus, when he dived onto the inside line at the left-hander. Meanwhile, in the midfield it proved to be a short outing for home rider de Puniet, who lost the front of his Ducati when racing works rival Hayden.
Lorenzo had a race on his hands with latest nemesis Simoncelli. The reigning champion used the slipstream to make a pass on the main start-finish straight, going on to set fastest lap. But Marco repaid the compliment on the inside for the slightly banked right-hander that flows into the 'S' Bleus. Leader Stoner was about to break the lap record as he and Pedrosa eased clear of the rest. Simoncelli went faster still as he moved into an apparently unchallenged third, then Pedrosa took a couple of turns in being fastest.
Fourth man Lorenzo still just headed Dovizioso, with Rossi tagging on behind. Edwards had dropped back but remained clear of Spies and Crutchlow. Then the Englishman went in a touch too deep for one corner, contacted the kerb, and spun the Yamaha into a lowside fall. He continued, but soon stopped for good in the pits. Hayden inherited ninth, but was not quite in range of Spies ahead. Aoyama was next, and then there was a close battle involving Capirossi, Barberá, Elías, Bautistá and Abraham.
Ten laps into the race and Stoner began to find the pace to put distance between himself and Pedrosa. An advantage of 1.5s would grow to 3.0s, when Dani seemed to be slowing a touch as Simoncelli quickly became a threat. Marco overtook on the inside for the second part of Garage Vert, with Dani pulling marginally ahead again on the following back straight on the left, which would be the inside for Chemin Aux Boeufs. However, Marco braked late for the corner and, on the outside line, was able to go round the outside.
This would prove to be a controversial move. Simoncelli was just ahead and turned in, which didn't really give Pedrosa anywhere to go. There was contact and Dani crashed, with Marco going across the run-off area on the inside and then carrying on. The Spaniard was down and had also broken his right collarbone, only days after the left one had proved to be fully recovered. Riders including Lorenzo, Stoner and Barberá had already lodged an official complaint about Simoncelli's riding and, presumably with this in mind, he would soon be handed a pitlane ride-through penalty for an 'illegal manoeuvre'.
This had left Stoner in an unchallenged lead, and with Simoncelli well ahead of the next group. However, Marco's pit visit at three-quarters race distance dropped him back to seventh place and his apparent run to the podium was halted. Neutral observers were largely of the view that Simoncelli's move shouldn't have been judged as illegal, and primarily it was viewed as a racing incident. If nothing else, it seemed unfair to use a ride-through penalty. Had a time penalty been added, he could have finished second on the road pending a review of all the available evidence. In the event, there was no way to restore him to the podium after the ride-through was served.
In the meantime, Stoner was now on his way to running out the convincing winner. Dovizioso tussled with Lorenzo for what turned out to be second place, getting back in front, but Jorge moved through again on the inside for Chicane Dunlop at half-distance. In time, Rossi would also go past the Repsol rider, when Andrea went wide at Garage Vert and left him room. There would be more action involving this trio in the latter stages.
Just before Simoncelli's penalty, Rossi took third place from Lorenzo on the inside at the second apex of Garage Vert. When Jorge tried to get back through at Chemin Aux Boeufs, Dovizioso was able to get past the Yamaha man instead. This became the battle for second, and then Lorenzo ran out wide at one corner and dropped back. Andrea overtook Valentino on the inside at the right-handed Virage de la Chapelle, yet going into the last lap Rossi tried a move at the final double-right Virage de Raccordement. He was on the inside to briefly move in front, but went a little wide and the second apex saw the Honda man back past. As in Estoril, Dovizioso was just ahead of Rossi after the last lap. Lorenzo was fourth.
Simoncelli fed back into the race behind Spies and Hayden, but in the last few laps he got the better of both men. By that time, Edwards had needed to pit after a crash, and he resumed the race to finish last and lapped. Aoyama remained clear of the battling group behind and finished eighth. There were several changes amongst the remaining runners, with Capirossi being successively passed by Barberá, Elías, Bautistá and Abraham. Loris ultimately crashed out. Elías headed the Spanish group for a time, but he almost lost it at Chemin Auf Boeufs when overtaken by Bautistá and dropped to the tail of this contest. Many more changes followed, which included Toní in front again and Álvaro at the back, but the finishing order was Barberá, Abraham, Elías and Bautistá.
Casey Stoner's second 2011 race win, in the event of Dani Pedrosa's non-finish, allowed the Australian to move into second position overall. However, even though he missed out on the podium this time, Jorge Lorenzo maintained a consistent record and increased his lead in the championship. Will he be able to continue to hold off the rapid Honda men? Meanwhile, the incident involving Pedrosa and Marco Simoncelli was a help in the fact of Valentino Rossi's first visit to the podium as a Ducati rider. On this occasion he showed that the bike was a match for Lorenzo's Yamaha and the third of the factory Hondas.
But of course much of the talk after this race was about what happened between Pedrosa and Simoncelli. The chances are that both men would have achieved a podium finish if they hadn't come together, which would have been a first for Marco and could have meant that Dani closed right up to Lorenzo in the points. But did the Italian deserve to be punished for the clash, and could it have been avoided in that moment? Did the choice of penalty fit the 'crime', or should Marco have been allowed to race on? If you have a view, our message board is available.
Standings after four races: Lorenzo 78; Stoner 66; Pedrosa 61; Dovizioso 50; Rossi 47; Hayden 39; Aoyama 36; Simoncelli 22; Crutchlow, Edwards and Barberá 21; Spies 20; Abraham 18; Elías 17.
Honda 95; Yamaha 78; Ducati 52; Suzuki 13.