Four More Points for Red Bull Racing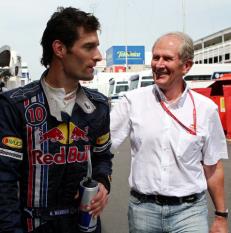 By Ian Lockwood
April 27 2008
Red Bull Racing scored four more points for a 5th place finish at todays Spanish Grand Prix. Mark Webber was the driver who brought them home taking the team ahead of Renault and to within one point of Toyota in the process. Coulthard never recovered from his poor qualifying yesterday and ended up getting hit from behind by Glock causing a puncture and eventually finishing 12th.
Car 10, MARK WEBBER, (Finish Position 5th, Start Position: 7th)
"I'm very, very happy. The team worked very hard following the test to get all the parts ready in time and it paid off. We didn't have a great start to today's race, but we had good pace and we were there at the end, it's a great to get a strong finish. I didn't have very good grip in the final stint, but we weren't under pressure at that point, so were okay. I'm happy with my driving and the team did an excellent job."
Car 9, DAVID COULTHARD, (Finish Position 12th, Start Position: 17th)
"It's a horrible thing about being down near the end of the grid - you try to keep out of trouble, but it's never so easy. I got whacked by Sutil going into Turn four and picked up some light damage to the side of the car, but after that I was running okay. After my pit stop, I took a defensive line into Turn four and five to show Glock that I knew he was there, but he hit the rear of my car and punctured a tyre."
CHRISTIAN HORNER:
"It was an excellent race for Mark, well executed by both driver and team, his pace was strong all weekend and we're very pleased with fifth place. For David, the nightmare of yesterday's qualifying session continued. It looked as though he might be able to pick up a couple of points at one stage in the race, but unfortunately things just didn't go his way today, I'm sure his luck will change soon."
FABRICE LOM, Renault Principal Engineer, Track Support:
"It's a very good result for us, fifth place is a strong place to finish. We've taken a step forwards in performance and we were quicker than Williams and Toyota today. For David, it was difficult starting so far back, it was always going to be hard to recover from there."
More Red Bull Racing headlines
Red Bull Racing Poll