Williams Barcelona Test 21:02:2012 Day One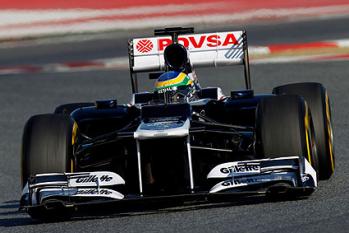 Bruno Senna
By Andrew Hooper - Williams F1 Team
February 22 2012
The Williams F1 team would complete a productive day of testing at the Barcelona circuit with the team working through various parts of their test programme, including a detailed aero correlation test. Bruno Senna was behind the wheel for the days testing, completing ninety seven laps.
Barcelona Test 21:02:2012 Day One
Driver Bruno Senna
Chassis / engine FW34-01 / RS27-5281/1
Location Circuit de Catalunya, Barcelona 4.655km
Objectives Aero correlation tests and set-up work
Weather Dry and sunny all day
Ambient & track temps 17ºC / 24ºC

On a cold but sunny day the Williams F1 team would commence their second pre-season test, this time at the Catalunya circuit near Barcelona. The first days testing would be in the hands of Bruno Senna as he took to the track for the first time in the FW34. He
would complete his first timed lap setting a time in the 1m:57s. He would pit and shortly return to the track. His FW34 was running with an aerodynamic sensor attached between the right front wheel and the sidepod. He would set a 1m:51.132 after having completed
six laps. He would again pit to return after one hour of the session. He would come down the main straight setting a very sedate 179 km/h. Bruno would set times in the 1m:47s prior to pitting again. After nearly forty minutes in his pit he would return to the track.

Immediately his times would drop setting a 1m:29.480 on his first lap. This would be followed by a 1m:27.626. Quickest time at this point was Vettel with a 1m:24.348. The session would be red flagged when the Caterham of Kovalainen would spin requiring it to be
trucked back to the pits. The session would restart while for Williams prior to the stoppage Bruno had set a 1m:27.051. He would return to the track while Vettel had set a 1m:24.260 remaining fastest from Hamilton and Schumacher. He would again pit and after a
short break would return for another series of laps setting times in the 1m:28s through to 1m:30s. He would pit after twenty nine laps and again after a quick stay in the pits would return for a further seven laps. Bruno would pit and again return to complete a further series of laps during which he would set a 1m:16.188, his fastest time of the day so far. After this series of laps he would pit and after a fifteen minute break would return setting times in the 1m:28s. At this time Vettel had lowered his quickest time with a 1m:23.343 to see Bruno 2.8 seconds off the pace.

As the session drew towards the lunch break Bruno had completed fifty five laps, pitting for lunch. With the restart of the practice it would be forty five minutes before Bruno would return to the track. His next set of laps would see his times again drop down into the 1m:26s but he would pit after just four laps. Sixty two laps completed and after a short stop Bruno would return to the track. He would continue to set times in the 1m:26s. His next lap time would be a 1m:26.211 pitting after seventy three laps. We would again see a short stay in the pits for Bruno and upon his return to the track he would set his quickest time of the day so far, a 1m:25.775. Despite this time he would still be over two and a half seconds off the quickest time set by Vettel, 1m:23.265. Despite not been on the pace of the quickest times Bruno's lap times during the day were still matching those of other teams.

Bruno's next sequence of laps would see him in the 1m:26s as he completed eighty four laps. During this time second placed Hamilton was setting times in the 1m:28s while fourth placed Ricciardo was setting times in the 1m:30s. Bruno would pit on lap eighty five,
with just over an hour remaining in the days testing. This was as a result of another red flag, this time for a stoped Torro Rosso.
With the restart of the session Bruno would return to the track and would make a small gain setting a 1m:25.711. After a ten lap run he would pit. At the end of the day Bruno would complete ninety seven laps, finishing eighth in the times.

Mark Gillan, Chief Operations Engineer: Bruno was on track today as we began the penultimate test before heading off to the first race of the season. We completed 97 laps around Barcelona's Circuit de Catalunya, working successfully through a detailed aero
correlation test programme in the morning before moving on to car set-up optimisation, utilising a range of tyre compounds throughout the afternoon. We continue tomorrow with Valtteri in the FW34 before Pastor takes over for the final two days.

Bruno Senna: It has been a very interesting day working with different set-ups to assess the reliability of the FW34. We need to keep working hard to understand the car even better. The team will continue working over the next few days with Valtteri and
Pastor, as we look to improve both pace and consistency.

The Williams F1 Team will be back on track tomorrow, Wednesday 22 February, with Valtteri Bottas driving the FW34 for the second day of the test.
DRIVER      	 TEAM 		  	TIME       BEST / TOTAL
						   LAPS
1 S Vettel 	 Red Bull Racing 	1:23.265   50 / 79
2 N Hulkenberg   Sahara Force India 	1:23.440   32 / 97
3 L Hamilton 	 McLaren Mercedes 	1:23.590   38 / 114
4 D Ricciardo 	 Toro Rosso 		1:23.618   42 / 76
5 F Alonso 	 Ferrari 		1:24.100   15 / 75
6 M Schumacher 	 Mercedes 		1:24.150   25 / 51
7 S Perez 	 Sauber F1 Team 	1:24.219   24 / 66
8 B Senna 	 Williams F1 Team 	1:25.711   88 / 97
9 H Kovalainen 	 Caterham F1 Team 	1:26.035   25 / 31
10 R Grosjean 	 Lotus F1 Team 		1:26.809   6 / 7
11 C Pic 	 Marussia F1 Team 	1:28.026   119 / 121
View a Printer Friendly version of this Story.
Williams Barcelona Test 21:02:2012 Day One
Williams F1 (IP Logged)
22/02/2012 11:48
What do you think? You can have your say by posting below.
If you do not already have an account
Click here to Register
.
Sorry, only registered users may post in this forum.