Williams Barcelona Test 22:02:2012 Day Two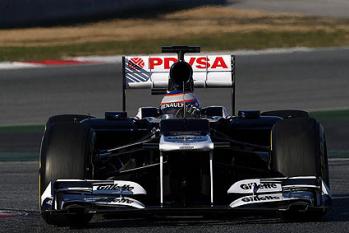 Valtteri Bottas
By Andrew Hooper - Williams F1 Team
February 23 2012
The second day of the Williams F1 teams Barcelona test would see Valterri Bpottas take over the driving duties from Bruno Senna. Valterri would work on general car setup as well as becoming familiar with a typical Friday practice session.
Barcelona Test 22:02:2012 Day Two
Driver Valtteri Bottas
Chassis / engine FW34-01 / RS27-5281/1
Location Circuit de Catalunya, Barcelona 4.655km
Objectives Set-up work and tyre comparison runs
Weather Dry and sunny all day
Ambient & track temps 19ºC / 26ºC
The second day of the Williams F1 teams Barcelona test would see Valtteri Bottas replace Bruno Senna in the cockpit. Valtteri would come out for a slow installation lap setting a 1m:32.976. He would pit and after a short break return to complete six laps running in times from the 1m:32s through to the 1m:29s. He would pit and after a fifteen minute break would return to again complete a series of laps running in similar times. He would pit, appearing to be following a very similar test schedule to Bruno from the day before.

Valtteri would return to the track and on his next run his times would come down to the 1m:26s and 1m:27s. He would complete ten laps before pitting again. Fifteen minutes later he was back out for another ten laps gain setting times in the 1m:26s and 1m:27s. Up to this point he had completed forty five laps. His quickest time so far was a 1m:26.250. This would be around half a second slower than Bruno's time from the first day. His next series of laps would see Valtteri set his quickest lap so far a 1m:25.858. Again he would complete ten laps with the rest of his laps in the 1m:26s and 1m:27s. In his final run before the lunch break Valtteri would complete further ten laps setting times in the 1m:27s. At the lunch break he had complete sixty nine laps. Quickest at this time was Hulkenberg with a 1m:22.608, from Perez and Vettel.

After the lunch break Valtteri would return to the track for six laps setting somewhat slow times ranging from the 1m:30s through to the 1m:35s. He would pit very briefly to return to the track for what would be a longer run with times ranging from the 1m:26s to the 1m:29s. He would pit after completing eighty nine laps. Valtteri was proving to be very consistent in his laps times, even if he was still some three seconds off the quickest times. Another ten laps run from Valtteri seeing him complete over one hundred laps. Valtteri was on the softer tyre in his latest run. He would remain in his pit for a lengthy period of time as the day drew to a close. The afternoon runs seemed to be longer for the majority of drivers as they appeared to be conducting race simulations.

With only forty minutes left in the day Valtteri had yet to return to the track. But with half an hour remaining Valtteri would come back out again and on his first lap set a 1m:25.738, his fastest time of the day. He would complete an eight lap run prior to pitting again. Just before the end of the day he would complete just two laps seeing him complete one hundred and seventeen laps in total.

Mark Gillan, Chief Operations Engineer: Valtteri did a good job today completing 117 laps without issue, working on general car set-up with a run plan tailored around familiarising him with a typical Friday P1 race session.

Valtteri Bottas: I really enjoyed today. It was great to get back in the car as I have been waiting for this day since I took part in the young driver test in Abu Dhabi last year. The FW34 again showed good reliability, as we completed 117 laps while doing some interesting tests with the car set-up. I'm looking forward to assisting the team at race weekends this season and can't wait to drive the car again.

The Williams F1 Team will be back on track tomorrow, Thursday 23 February, with Pastor Maldonado driving the FW34 for the third day of the test.
DRIVER      	 TEAM 		  	TIME       BEST / TOTAL
						   LAPS
1 N Hulkenberg 	 Sahara Force India 	1:22.608   54 / 112
2 S Perez 	 Sauber F1 Team 	1:22.648   48 / 85
3 S Vettel 	 Red Bull Racing 	1:22.891   27 / 104
4 F Alonso 	 Ferrari 		1:23.180   75 / 87
5 D Ricciardo 	 Toro Rosso 		1:23.639   41 / 49
6 L Hamilton 	 McLaren Mercedes 	1:23.806   49 / 121
7 N Rosberg 	 Mercedes 		1:24.555   45 / 82
8 V Bottas 	 Williams F1 Team 	1:25.738   103 / 117
9 V Petrov 	 Caterham F1 Team 	1:26.605   15 / 69
10 C Pic 	 Marussia 		1:27.343   106 / 109
View a Printer Friendly version of this Story.
Williams Barcelona Test 02:03:2012 Day Two
Williams F1 (IP Logged)
23/02/2012 08:03
What do you think? You can have your say by posting below.
If you do not already have an account
Click here to Register
.
Sorry, only registered users may post in this forum.