Williams Barcelona Test 24:02:2012 Day Four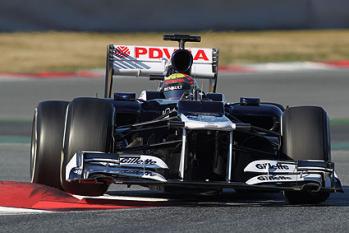 Pastor Maldonado
By Andrew Hooper - Williams F1 Team
February 25 2012
The Williams F1 team would complete the final day of testing at the Circuit de Catalunya. On a day that would see Pastor Maldonado complete 134 laps the team continued to produce data that will enable them to produce improvements to the FW34. The next test is in early March at the same circuit.
Barcelona Test 24:02:2012 Day Four
Driver Pastor Maldonado
Chassis / engine FW34-01 / RS27-5281/1
Location Circuit de Catalunya, Barcelona 4.655km
Objectives Race simulation and set-up work
Weather Dry and sunny all day
Ambient & track temps 23ºC / 29ºC

The final day of the Williams F1 Barcelona Test would again see Pastor Maldonado carrying out the driving duties. The day would again start off cold. After having set the quickest time on the previous day in a series of short runs Pastor would take a totally
different approach with the team carrying out a race simulation. With the start of the day Pastor would come out and complete a run of fourteen laps with his times in the 1m:30s. This run would see him on the soft tyre. He would pit after eighteen laps. Ten minutes later and Pastor was back out for another run that would see him run on the medium tyres.

This run would see him start on the twentieth lap and continue right through to the seventy first. His times on this run would range from the 1m:27s through to the 1m:30s. Pastor would pit on lap thirty four and after this stop his times would drop into the 1m:27s. ON lap fifty four he would set his quickest time of the day so far a 1m:24.667. Till the end of his run his times would be in the 1m:25s and 1m:26s. From his pit stop Pastor had averaged a respectable 1m27.2s while running on the medium tyres. The quickest time so far was a 1m:22.749 by Kobayashi running on the medium tyre.

After a forty minute break Pastor would return to the track for another series, like yesterday, of short runs. His first run would be on the mediums where he would set a 1m:241.83. It would be on the second of these that Pastor would again take to the track
running the super soft tyre and he would set his quickest time with a 1m:22.561. On the soft tyre Kobayashi had set a 1m:22.312. Pastor would pit and come back out for one final lap before the lunch break setting a 1m:24.735, having completed eighty six laps.

Nearly two hours after the end of the lunch break Pastor would return to the track. His lap times would be in the low 1m:29s. His run was on the hard tyre and after twelve laps he would pit. Pastor had now completed one hundred and one laps. His next run would
see him complete seven laps with his times in the 1m:30s. After a short stop he would return to the track and start a longer run on the medium tyres. He would pit after completing twelve laps, seeing Pastor complete a total of 126 laps and the day drew to a
close. The Williams team was certainly doing well in terms of the reliability of the new FW34. On his last run Pastor's times would start in the 1m:29s and drop off to 1m:30s. With twenty minutes remaining Pastor would come out on medium tyres but a red flag
would stop the session. It would be Kobayashi who was off on the side of the track at Turn thirteen. Pastor would pit having completed a total of 131 laps.

With five minutes remaining Pastor was able to return to the track but he would only have enough time to complete one timed lap, 1m:34.001. Pastor would finish the day second fastest on what was again a very productive day for the Williams team as they prepare
for the opening race in Australia.

Mark Gillan, Chief Operations Engineer: We've had a really productive day's testing to end an excellent couple of weeks. Today Pastor went through a competitive race simulation and both the car and he performed very well, ending the day with some long run comparisons. We have gathered a prodigious amount of data over more than 3500kms of testing and we will now regroup back at the factory to understand how to further improve the set-up and development direction ahead of the next Barcelona test.

Pastor Maldonado: It has been a positive test for the team. We've had no problems with the car, getting in some good mileage across all four days. We now have a great deal of data to analyse so we will keep pushing to improve our car for the next test. I am
looking forward to coming back next week for the final test, and getting back to racing very soon.
The Williams F1 Team will be back on track to continue pre-season testing at the Circuit de Catalunya, Barcelona from 1 – 4 March.
DRIVER      	 TEAM 		  	TIME       BEST / TOTAL
						   LAPS
1 K Kobayashi 	 Sauber F1 Team 	1:22.312   49 / 144
2 P Maldonado 	 Williams F1 Team 	1:22.561   78 / 134
3 P Di Resta 	 Sahara Force India 	1:23.119   55 / 101
4 J Button 	 McLaren Mercedes 	1:23.200   17 / 115
5 F Massa 	 Ferrari 		1:23.563   38 / 103
6 M Webber 	 Red Bull Racing 	1:23.774   32 / 85
7 J E Vergne 	 Toro Rosso 		1:23.792   36 / 92
8 N Rosberg 	 Mercedes 		1:23.843   103 / 139
9 H Kovalainen 	 Caterham F1 Team 	1:26.968   62 / 70
View a Printer Friendly version of this Story.
Williams Barcelona Test 24:02:2012 Day Four
Williams F1 (IP Logged)
25/02/2012 00:44
What do you think? You can have your say by posting below.
If you do not already have an account
Click here to Register
.
Sorry, only registered users may post in this forum.