Williams Barcelona Test 01:03:2012 Day One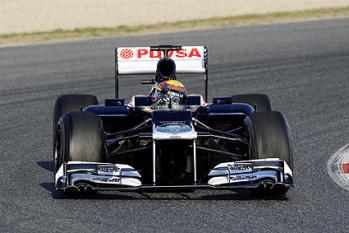 Pastor Maldonado
By Andrew Hooper - Williams F1 Team
March 2 2012
The Williams F1 team would complete the opening day of their final pre-season test, at the Circuit de Catalunya. Pastor Maldonado was present in a day that saw the team have a few issues with the FW34 that would limit its track time.
Barcelona Test 01:03:2012 Day One
Driver Pastor Maldonado
Chassis / engine FW34-02 / RS27-5281/1
Location Circuit de Catalunya, Barcelona 4.655km
Objectives Aero correlation tests and set-up work
Weather Dry and sunny all day
Ambient & track temps 23ēC / 27ēC

The final pre-season test would get underway, again at the Circuit de Catalunya and for the Williams F1 team it would be Pastor Maldonado who would be driving. Pastor would complete his installation lap and after one hour of the day completed Pastor had still
only completed this one lap. It would take until 10:30 before Pastor would commence a series of single laps, each time returning to the pit lane. Pastor had yet to really get up to speed having pitted. It would not be until 11:00 that he would come out and set a
1m:25.829, pitting again after just four laps. The team would be carrying out testing on new components including a front wing which had new elements as well as a new lower element profile.

After a long forty minute break Pastor would return to the track where he would set his quickest time with a 1m:25.857, running on medium tyres. He would complete another three laps before pitting again just before 12:00. Another ten minute break and Pastor
would again do a short series of four laps, all in the 1m:28s. Again after another break he would return to the track to complete another four laps, this time he times would be in the 1m:27s. He would pit again just before 1PM. At this time it was Button who was fastest with a 1m:23.510, with Pastor 2.077 seconds behind. Pastor had completed thirty seven laps.

The next three days of testing will see Both Pastor and Bruno running on Friday, Bruno on Saturday, and both drivers on the final day. With the lunch time break Pastor would be tenth. After the break it would take around half an hour before Pastor would return
to the track, running on the medium tyre. He would complete two slow laps before pitting again. He would return ten minutes later with his first lap a 1m:28.649, this time running on the soft tyre. Pastor would complete nine laps before pitting with his times ranging from the 1m:28s to the and 1m:30s. At this time Pastor had complete fifty two laps. Over an hour had passed and still Pastor had yet to return to the track. With only an hour remaining it would be unlikely that Pastor would be able to add any significant number of laps to his total.
Pastor would only complete another handful of laps in that day that saw him limited in his track time due to a few issues which had yet to be confirmed.

Mark Gillan, Chief Operations Engineer: We tested part of our first race update package today, and in particular the new front wing. We then tested a number of interesting exploratory mechanical set-ups to investigate potential development directions for the forthcoming races. During the day, we encountered a couple of issues which limited our running and which we are currently investigating.

Pastor Maldonado: We didn't complete as much running as we would have liked today, but we still gathered some good data. This morning we ran our new front wing so we will analyse the results from our aero runs this evening. We completed a few longer runs
during the afternoon as we investigated a number of set-up directions.

The Williams F1 Team will be back on track tomorrow, Friday 2 March, with Pastor Maldonado driving in the morning session and Bruno Senna driving the afternoon session for the second day of the test.
DRIVER      	 TEAM 		  	TIME       BEST / TOTAL
						   LAPS
1 R Grosjean 	 Lotus F1 Team 		1:23.252   62 / 73
2 J Button 	 McLaren Mercedes 	1:23.510   16 / 64
3 S Perez 	 Sauber F1 Team 	1:23.820   33 / 118
4 M Webber 	 Red Bull Racing 	1:23.830   90 / 102
5 N Rosberg 	 Mercedes 		1:23.992   54 / 128
6 J E Vergne 	 Toro Rosso 		1:24.216   24 / 113
7 P Di Resta 	 Sahara Force India 	1:24.305   23 / 98
8 F Massa 	 Ferrari 		1:24.318   16 / 105
9 V Petrov 	 Caterham F1 Team 	1:24.876   60 / 123
10 P Maldonado 	 Williams F1 Team 	1:25.587   21 / 58
View a Printer Friendly version of this Story.
Williams Barcelona Test 01:03:2012 Day One
Williams F1 (IP Logged)
02/03/2012 12:02
What do you think? You can have your say by posting below.
If you do not already have an account
Click here to Register
.
Sorry, only registered users may post in this forum.