Williams Barcelona Test 02:03:2012 Day Two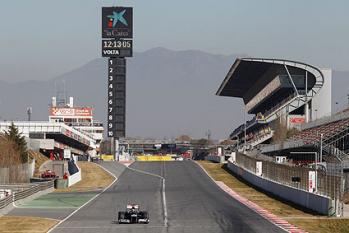 Circuit de Catalunya
By Andrew Hooper - Williams F1 Team
March 3 2012
The Williams F1 team would complete their second day of testing at the Circuit de Catalunya with both Pastor Maldonado and Bruno Senna present. The day would get off to a poor start when Pastor would stop out on the circuit with an engine related problem. Once this was resolved the team would spend a great part of the day practicing pit stops.
Barcelona Test 02:03:2012 Day Two
Driver Pastor Maldonado / Bruno Senna
Chassis / engine FW34-02 / RS27-5341/1
Location Circuit de Catalunya, Barcelona 4.655km
Objectives Pitstop practice
Weather Dry and sunny all day
Ambient & track temps 23ºC / 31ºC

With a delay due to fog it would not be until nearly an hour after the official start that Pastor Maldon would come out for his installation lap. The Williams F1 team would be splitting their driving duties with Pastor running in the morning and Bruno after lunch. With the drivers limited to just installation laps due to the weather conditions we would see Pastor go out only to stop at Turn five, causing a red flag. His car would be brought back in on the back of a truck and it would be a further two hours before we would see Pastor return to the track. It was later confirmed that Pastor's problem was engine related. On his return his first lap would be a 1m:26.839 and he set about completing a further five laps. His second lap of this run would see a 1m:25.801.

After having completed just ten laps and with the time near 12PM it would look like Pastor was not going to get any large amount of tarck time. In the lead-up to the lunch break Pastor would have another three runs but would not set any times during these. With lunch arriving Pastor had only completed twenty laps with only a small number of those timed.

After the lunch break it would be at least forty five minutes before Bruno Senna would take to the track. He would complete just three timed laps but his times were in the 1m:25s, his quickest been 1m:25.111. His times were done on the hard tyre. After a fifteen minute pit stop Bruno would return to the track again for only a few timed laps. One of these was a 1m:24.925 followed by times in the 1m:25s. He would pit and after a further fifteen minute stop would return to the track to again complete three timed laps, these been in the 1m:27s and 1m:26s. Bruno would complete some practice pit stops, going out only to return to the pits stop and go out again. With just over an two hour remaining Bruno had only completed twenty four laps.

The last part of the day would see Bruno complete a short series of laps setting times from the 1m:30s to a 1m:25.800. Once this was completed we would see Bruno complete a lengthy pit stop practice, taking to the track and pitting well over twelve times. Of the forty eight laps that Bruno would complete only twelve would be timed.

Mark Gillan, Chief Operations Engineer: Today the team concentrated on practicing our pit stops, completing 68 mostly in- and out-laps to get the drivers and pit crew used to the new equipment and procedures. Pastor's morning session was compromised with an engine-related problem which, although easy to rectify, took some time to identify. Bruno's running in the afternoon was trouble free.

Pastor Maldonado: Our focus today was on pitstop practice, which is important to do before we get into a live race situation. Getting a clean, fast pitstop involves a combination of factors from both the team and driver. From my side, I have to position the car correctly in the box, get a good pull away from the stop and make sure I have clean in- and out-laps. We are trying many different things to improve all of these areas.

Bruno Senna: This afternoon was great as we did a lot of practice to understand our pitstop performance as a team. It is very important to practice as you come in at 100kph, the speed you would do on a motorway, and jump into a space just the size of the car. There is a lot of time to be made, and races can be decided by pitstops. I think we've really improved our performance today. I'm now looking forward to doing some stops in a race, and to being quick and precise when the pressure is on.

The Williams F1 Team will be back on track tomorrow, Saturday 3 March, with Bruno Senna driving the FW34 for the third day of the test.
DRIVER      	 TEAM 		  	TIME       BEST / TOTAL
						   LAPS
1 R Grosjean 	 Lotus F1 Team 		1:22.614   120 / 124
2 J E Vergne 	 Toro Rosso 		1:23.126   28 / 45
3 S Vettel 	 Red Bull Racing 	1:23.361   50 / 85
4 F Alonso 	 Ferrari 		1:23.447   10 / 125
5 H Kovalainen 	 Caterham F1 Team 	1:23.828   32 / 104
6 K Kobayashi 	 Sauber F1 Team 	1:23.836   47 / 77
7 N Hulkenberg 	 Sahara Force India 	1:23.893   31 / 36
8 M Schumacher 	 Mercedes 		1:23.978   52 / 79
9 L Hamilton 	 McLaren Mercedes 	1:24.111   29 / 65
10 B Senna 	 Williams F1 Team 	1:24.925   10 / 48
11 P Maldonado 	 Williams F1 Team 	1:25.801   5 / 20
View a Printer Friendly version of this Story.
Williams Barcelona Test 02:03:2012 Day Two
Williams F1 (IP Logged)
03/03/2012 02:44
What do you think? You can have your say by posting below.
If you do not already have an account
Click here to Register
.
Sorry, only registered users may post in this forum.