Williams Barcelona Test 04:03:2012 Day Four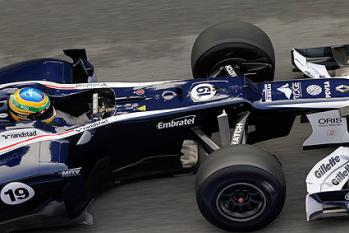 Bruno Senna
By Andrew Hooper - Williams F1 Team
March 5 2012
The Williams F1 team would complete their pre-season testing with both Bruno Senna and Pastor Maldonado sharing the driving on the last day. The team would run with various updates to the car in what would be a productive days testing. Now the team prepares for the opening race in Australia.
Barcelona Test 04:03:2012 Day Four
Driver: Bruno Senna / Pastor Maldonado
Chassis / engine: FW34-02 / RS27-5341/1
Location: Circuit de Catalunya, Barcelona 4.655km
Objectives: Aero correlation tests and set-up work
Weather: Dry and sunny in morning, overcast in afternoon
Ambient & track temps: 22ºC / 26ºC

The final day of the Williams F1 teams Barcelona test would see the driving shared between Bruno Senna, in the morning, and Pastor Maldonado later in the day. Bruno would complete an installation lap but it would be thirty minutes later until Bruno would return to the track. Bruno's first lap would be a 1m:28.599. Bruno would lower his lap times moving into the 1m:25s, 1m:25.601. His next lap would be in the 1m:26s prior to pitting. Senna was running on unmarked tyres from Pirelli. After a short ten minute stop Bruno would return to the track and after one lap would lower his times into the 1m:23s, setting a new quickest time of 1m:23.425, still running on unmarked tyres. Each team had been given two extra sets of these unmarked tyres, which have come from an unidentified Pirelli facility rather than the usual one in Turkey.

Bruno's next lap was a 1m:25.498 and after thirteen laps he would pit again. Another ten minutes in the pits and Bruno would return to again complete four timed laps with his quickest time been a 1m:22.663. The other laps were all in the 1m:23s and 1m:25s. Fastest at this time was Alonso with a 1m:22.477. Bruno would return to the track after twenty minutes and would have a lockup at Turn one as he started his first flying lap. Bruno would complete another two runs both only four timed laps. It would be on the second that he would set a 1m:22.296. For these runs he was on the soft tyre. The only driver faster was Alonso with a 1m:22.250.

After these two short runs Bruno would come back, this time on the medium tyres, and would commence a longer run of eight laps with his times starting in the 1m:27s dropping off the 1m:29s prior to pitting. After ten minutes Bruno would return to the track again completing a longer run of ten laps starting in the 1m:28s and finishing in the 1m:30s, averaging a 1m:29.840. Bruno would complete his test programme for the morning now it was Pastors turn.

After a two hour break, to allow the mechanics to prepare for Pastor's time out on the track Pastor would take to the track. The first hour and a half of his time on the track would see him complete a series of four three lap runs. It would be on the last of these that Pastor would set his quickest time, a 1m:23.347. The first run was on hard tyres, the second on the medium, the third and fourth on the super soft's. Pastor was still a considerable margin behind team-mate Bruno. Bruno's quickest time was a 1m:22.296 compared to Pastor with a 1m:23.347.
There would be short delay as the session was red flagged leaving around eighty minutes left in the day and in pre-season testing. Pastor would return to the track with seventy minutes remaining. His first lap was a 1m:30.229 followed by a series in the 1m:29s. Pastor would complete fourteen laps with his times dropping off to be in the 1m:32s on his final two laps. Pastor would return to the track with only a few minutes remaining and would pit after a handful of laps ending the Williams team pre-season testing.

Mark Gillan, Chief Operations Engineer: We had another good test day to end what has been a very productive pre-season test programme. We successfully ran the first race update package this morning with Bruno, and switched drivers to Pastor over the lunch break. The wind picked up throughout the day, making the afternoon conditions a lot trickier than those encountered in the morning. Over the last three tests we have completed all of our primary testing objectives and now eagerly turn our attentions towards the back-to-back opening races in Australia and Malaysia.

Bruno Senna: We had a productive morning completing a number of tyre tests and aero runs. It has been interesting to see the car developing. Overall we've had a good few days of running here in Barcelona. We are still improving, but I feel we are in a solid position to go to Australia.

Pastor Maldonado: We completed some good runs this afternoon and ended our test programme without issue. I'm feeling positive, and ready for Australia.
DRIVER      	 TEAM 		  	TIME       BEST / TOTAL
						   LAPS
1 K Raikkonen 	 Lotus F1 Team 		1:22.030   40 / 121
2 F Alonso 	 Ferrari 		1:22.250   21 / 116
3 B Senna 	 Williams F1 Team 	1:22.296   27 / 53
4 N Hulkenberg 	 Sahara Force India 	1:22.312   44 / 101
5 K Kobayashi 	 Sauber F1 Team 	1:22.386   47 / 72
6 L Hamilton 	 McLaren Mercedes 	1:22.430   47 / 115
7 V Petrov 	 Caterham F1 Team 	1:22.795   42 / 101
8 M Schumacher 	 Mercedes 		1:22.939   50 / 100
9 P Maldonado 	 Williams F1 Team 	1:23.347   17 / 48
10 D Ricciardo 	 Toro Rosso 		1:23.393   29 / 100
11 S Vettel 	 Red Bull Racing 	1:23.608   8 / 23
View a Printer Friendly version of this Story.
Williams Barcelona Test 04:03:2012 Day Four
Williams F1 (IP Logged)
05/03/2012 02:05
What do you think? You can have your say by posting below.
If you do not already have an account
Click here to Register
.
Sorry, only registered users may post in this forum.