Canadian GP: Williams F1 Grand Prix Preview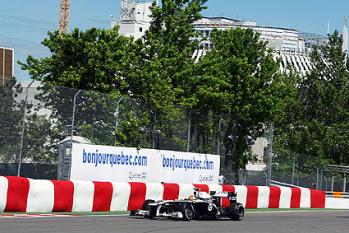 2011 Canadian GP
By Williams F1 Team
June 2 2012
After the frustrations of the Monaco Grand Prix weekend the Williams F1 now focuses on the 2012 Canadian Grand Prix to further show that the team can again achieve a good result. Both Williams drivers Pastor Maldonado and Bruno Senna are confident that they can show good pace at a circuit that they both enjoy.
Mark Gillan, Chief Operations Engineer:
On the back of a mixed weekend in Monaco the whole team is looking to demonstrate further improvement in Montreal, with the aim of getting both cars home in the points. Montreal is a great race and usually full of drama with a very low pit lane loss which pushes the strategy towards having more stops. The high likelihood of a safety car deployment adds to this drama. The track layout is very hard on brakes and one must also ensure that the aerodynamic package has an appropriately high efficiency target. Pirelli bring to Montreal the same tyre compounds used in Monaco, namely the soft and super soft tyres. Weather wise we are expecting ambient temperatures into the high 20Cs with corresponding track temperatures in the high 30Cs, although there is a chance of rain throughout running.

Bruno Senna:
Canada is one of the most challenging tracks of the season. It is a combination of a street circuit and a normal fixed circuit with a mixture of very fast, long straights and tight slow corners with heavy braking. It is also important to have as much track time as possible before the weekend to learn the track surface because it can evolve quickly. Our car is looking competitive at this stage of the season so hopefully we can show good pace here.

Pastor Maldonado:
We have been working very hard to improve the performance of the car and I can feel it getting better all the time. I am therefore hoping for a strong finish in Canada, a circuit which I really enjoy. It has a nice combination of corners with very high speed straights followed by slow speed chicanes, and the feeling of speed is increased by the closeness of the walls. There is a big DRS effect on the straights as well so we should see some overtaking this week.
Rémi Taffin, Head of Renault Sport F1 Track Operations:
Canada is a completely different track to Monaco and
also unique in itself. The long straights demand good top end power but the heavy braking zones of the hairpin and chicane need effective engine braking and good pick up on the exit, so it's rightly called an 'engine breaker' because the engine doesn't get any respite at all. The challenge is to find the right balance between delivering maximum performance and maintaining 100% reliability, just like at Spa and Monza where the risks have to justify the gains.
Paul Hembery, Pirelli Motorsport Director:
Montreal is a great place and a fantastic race track, which has thrown up more than its fair share of unpredictability and excitement in the past. We have the same nomination as for Monaco – P Zero Red supersoft and P Zero Yellow soft – but they will be used in a very different way, as Montreal is much faster and gives greater tyre degradation. So there will definitely be scope for a lot of strategy, with teams having the possibility to be quite inventive in their approach. The rear tyres in particular have plenty of work to do in Montreal, due to the heavy traction demands, so looking after those will be crucial.

Race Data
Friday:
Practice 1: 10:00 - 11:30
Practice 2: 14:00 - 15:30
Saturday:
Practice 3: 10:00 - 11:00
Qualifying: 13:00 – 14:00
Sunday: Race: 14:00