Williams F1 Barcelona Test 20:02:2013 Day Two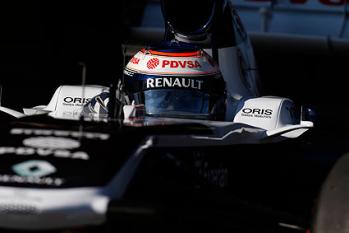 Valtteri Bottas
By Andrew Hooper - Williams F1
February 21 2013
The second day of the Williams F1 teams Barcelona test would see Valtteri Bottas replaced Pastor Maldonado. Valtteri would continue testing the new FW35 and by the end of the day he was confident that the team has made a step forward from the 2012 car.
Barcelona Test 20:02:2013 Day Two
Driver: Valtteri Bottas
Chassis / engine: FW35-01 / RS27-5253/3
Location: Circuit de Catalunya, Barcelona 4.655km
Objectives: Aero evaluations, tyre testing and component checks
Weather: Dry and sunny all day
Air & track temps: 4-16ºC / 10-35ºC

With Pastor Maldonado completing the opening day of the Williams F1` teams Barcelona Test it would be the turn of Valtteri Bottas to take the wheel of the new FW35. The morning session would see the team focus on aerodynamic work including trialling various front wings. Valtteri first runs in the car were single slower laps prior to pitting. Later in the morning he would again do several short runs with his bets lap time a 1m:26.444 on lap twelve. After these runs he had completed twenty six laps. After a short break Valtteri would return to conduct a series of runs each of three timed laps. His best lap time was a 1m:25.773.

After twenty minutes Valtteri would complete two runs of five laps with his best time a 1m:24.458. At this time he had completed fifty laps and just before lunch he would set his quickest time of the morning with a single timed lap of 1m:23.561 running on the soft tyre. This would see him 1.364 seconds of the quickest time so far set by Vettel with a 1m:22.197 also on the softer tyre. The afternoon runs would now focus on tyre and setup work. Valtteri would see the FW35 as an improvement over last years car with better traction.

After the lunch break Valtteri would return and complete two three timed lap runs with a break in between. During this time Perez would set a new quickest time with a 1m:21.848 running on soft tyres. In the same test last year the best soft tyre lap was a 1m:22.312. Vettel was second from Hamilton and Alonso. Valtteri's next run would see him complete a longer run of fourteen laps with a bets time of 1m:32.469. He would pit having completed seventy eight laps. He would remain in the pits for a lengthy period but would return for another longer run with lap times in the 1m:33s. He would complete ninety laps prior to pitting as a result of a red flag. He would finish the day having completed ninety eight laps.

Mike Coughlan, Technical Director: It was a trouble-free day for us with Valtteri completing close to 100 laps, so we are pleased with the reliability of the FW35. Valtteri confirmed the potential of the car posting some competitive times throughout the day. After initially concentrating on aero testing, our focus then switched to set-up work and the tyres this afternoon. We are pleased with the progress we are making as a team and we have a good direction to continuing developing the car ahead of the season.

Valtteri Bottas: I had a really strong first impression of the FW35 today. Once we completed the aero work this morning I was able to complete my first proper run to feel the FW35 and the improvements we have made. Straight out of the box I knew we had made a step forward from last year, and I am looking forward to working to develop the car even further. It's great to know we have a really good base to start from but there are still a number of areas we can improve, so I'm really excited for the season ahead.

The Williams F1 Team will be back on track tomorrow, Thursday 21 February, with Pastor Maldonado driving in the morning session and Valtteri Bottas driving the
afternoon session for the third day of the test.
DRIVER      	TEAM 	    	 TIME      BEST / TOTAL
						  LAPS
1 S Perez 	McLaren Mercedes 1:21.848  45 / 97
2 S Vettel 	Red Bull Racing  1:22.197  42 / 84
3 K Raikkonen 	Lotus F1 Team 	 1:22.697  7 / 43
4 L Hamilton 	Mercedes 	 1:22.726  52 / 121
5 F Alonso 	Ferrari 	 1:23.247  23 / 76
6 V Bottas 	Williams F1 Team 1:23.561  52 / 98
7 D Ricciardo 	Toro Rosso 	 1:23.718  40 / 70
8 P Di Resta 	Force India 	 1:23.971  38 / 62
9 N Hulkenberg 	Sauber F1 Team 	 1:24.205  46 / 88
10 C Pic 	Caterham F1 Team 1:26.243  61 / 67
11 M Chilton 	Marussia 	 1:28.900  54 / 102

View a Printer Friendly version of this Story.
Williams F1 Barcelona Test 20:02:2013 Day Two
Williams F1 (IP Logged)
21/02/2013 08:12
What do you think? You can have your say by posting below.
If you do not already have an account
Click here to Register
.
Sorry, only registered users may post in this forum.