Williams Barcelona Test 27:02:2017 Day One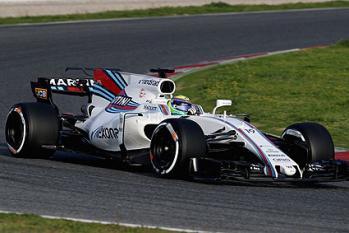 By Andrew Hooper
February 28 2017
In what was a positive start to the Williams Martini teams 2017 pre-season testing Felipe Massa would finish the day in 3rd. It was a straightforward day as the team got down to learning about the new FW40. The team was able to run through a range of test covering long and short runs, comparing tyre compounds, and Felipe was able to complete over 100 laps. But what with the new regulations and tyres there is still a huge amount of work to get through.
Barcelona Test 27:02:2017 Day One
Driver: Felipe Massa
Chassis / Engine: FW40-01 / Mercedes-AMG F1 M08 EQ Power+
Location: Circuit de Barcelona-Catalunya, 4.655km
Weather: Warm and Dry
Maximum air & track temps: 21ºC / 26ºC

For the Williams Martini team the opening day of pre-season testing would see Felipe Massa take the 2017 FW40 onto the track for the first time. In 2016 the quickest test time was set by Raikkonen with a 1m:22.765, so one would expect this to be beaten by a considerable margin. The lap record is a 1m:21.6 set in 2008 so it will be interesting to see how the times compare to this.

With the start of the morning session Felipe would take to the track early with the FW40 running a T wing like the Mercedes. Felipe would be on the medium tyre for his installation run. He would return without setting a time. The first time would be a 1m:33.445 from Bottas in the Mercedes. Felipe would return for another single untimed lap. The times would start to come down with Bottas and Vettel swapping quickest times. Vettel would be quickest with a 1m:23.560 while his time from the same session last year was a 1m:24.9 such is the impressive pace from the new 2017 cars.

The rear shark fin and the T-wing were seen to be moving on the new FW40, not what was expected. Felipe would return to the track still on the medium tyre and would set a 1m:27.913 to be third fastest. He would improve with a 1m:27.299 having completed just five laps. Felipe would continue with his laps setting a 1m:26.525 to now be fourth behind Perez. After ten laps completed Felipe would pit. Felipe would drop to fifth to be behind Hulkenberg as he returned to the track with Bottas now quickest with a 1m:23.370. Felipe would also improve with a 1m:25.956 to be third fastest having completed seventeen laps, still on the medium tyre. Bottas would be the first driver to run on the soft tyre.

Perez would move up to third using the soft tyre while at the front it would be Vettel and Bottas who would continue to set the quickest times. Vettel would go quickest, running on the medium tyre, with a 1m:22.791 while Bottas had set a 1m:23.169 on the soft tyre. Felipe would continue to put laps in on the medium tyre and would set a 1m:25.879 remaining fourth. Felipe would pit again having completed twenty four laps. With thirty minutes prior to the lunch break Felipe would return to the track still on the medium tyre. Felipe would continue to improve lowering his lap times with a 1m:25.734 and then a 1m:25.552. Felipe would pit briefly having completed thirty one laps. With the lunch break Felipe would pit with thirty nine laps completed.

With the start of the afternoon session it would not be until after thirty minutes in the session before Felipe would return to the track. Felipe had dropped to be sixth behind Hamilton, who had replaced Bottas for the afternoon running. But this time Felipe would be on the soft tyre and would immediately improve with a 1m:23.451 to be just 0.3 behind the time of Bottas, 1m:23.169. Felipe was able to set a quicker lap with a 1m:23.269 to be just 0.1 behind Bottas. Felipe would pit after a short run leaving the track empty. He would return and was able to set a 1m:23.025 to be second behind Vettel prior to pitting. On his next run Felipe would set a 1m:22.727 to go quickest, encouraging for the Williams team with just over two hours remaining in the day.

Felipe would be able to lower his quickest time with a 1m:22.536 but as the afternoon progressed the times continued to fall. Felipe would set a 1m:22.079 but he was now third behind Hamilton and Vettel. Hamilton had set a new quickest time of 1m:21.765 running on the soft tyre. Vettel was second and was the first to complete 100 laps. Felipe would pit but would return on a new set of soft's and would commence what was a longer run. Felipe would also complete 100 laps and would finish the day with 103 laps in total. It was an encouraging start to the pre-season testing for the Williams Martini team

Rod Nelson, Chief Test & Support Engineer:
It was a very good day. It was a fillip for the guys who have been working on the car. We had a very straightforward day, particularly in the afternoon. We did some pretty good tests – short runs, long runs, compared the soft and medium tyres. We are still getting to know the FW40, so it is an interesting time of year and it is looking pretty reasonable at the moment. There is a massive amount to do, particularly this year with the huge regulation changes. The tyres are going to take a lot of time getting to learn with the different compounds and sizes. There is a good chunk more downforce on the car. It's a change for the drivers as their driving technique is quite different with this amount of grip, and the way we look after the car is different too, however the winter preparation seems to be paying off.

Felipe Massa:
Today was a good day. The first day of the test is always one where you hope everything on the car works well and that it's reliable, and with 103 laps on the board I'd say that wasn't bad at all. In the morning, we made a few set-up changes and checks so we knew that everything on the car was working in the right way. There was some waiting around whilst that was done thoroughly. That said, the lap count racked up in the afternoon after all those initial checks and changes were carried out. It's early to say where we are whilst we're still in this learning stage, but I'm really enjoying driving. There's much more grip and they go much quicker in the corners. We can brake much later and reach high speeds much quicker. Overall, it was a great first day which is really positive for the whole team. We completed more than 100 laps and I really hope we learn new things day by day and prepare ourselves as best as we can for the first race in Australia.

Williams Martini Racing returns to track tomorrow with Lance Stroll at the wheel of the FW40 for the first time.
Driver 		  Team 	    	   	  Time     Laps
1.  L. Hamilton	  Mercedes		  1:21.765 73
2.  S. Vettel	  Ferrari		  1:21.878 126
3.  F. Massa 	  WILLIAMS MARTINI	  1:22.076 103
4.  K. Magnussen  Haas F1 Team		  1:22.894 51
5.  D. Ricciardo  Red Bull Racing	  1:22.926 50
6.  V. Bottas	  Mercedes		  1:23.169 79
7.  S. Perez	  Force India F1 Team	  1:23.709 39
8.  C. Sainz	  Toro Rosso		  1:24.494 51
9.  N. Hulkenberg Renault Sport F1 Team   1:24.784 57
10. F. Alonso	  McLaren		  1:24.852 29 
11. M. Ericsson	  Sauber F1 Team 	  1:26.841 72