Williams Barcelona Test 01:03:2017 Day Three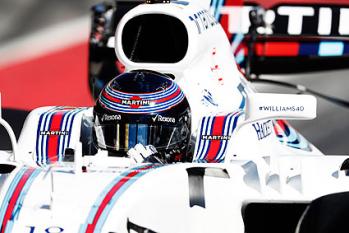 By Andrew Hooper
March 2 2017
The Williams Martini team would again run rookie Lance Stroll for their third day of testing at the Barcelona circuit. Even though it was a productive day for the Canadian as he gets use to the new FW40 it was still a day hampered by off-track moments. Lance would spin the car twice during the day with the second incident damaging the FW40 seeing his day come to an end. There are questions as to whether the team is going to be able to repair the car and run on the final day of testing.
Barcelona Test 01:03:2017 Day Three
Driver: Lance Stroll
Chassis / Engine: FW40-01 / Mercedes-AMG F1 M08 EQ Power+
Location: Circuit de Barcelona-Catalunya, 4.655km
Weather: Warm and Dry
Maximum air & track temps: 20ºC / 28ºC

As a result of the damage of the FW40, after Lance Stroll spun the car during the second day of the Williams Martin teams Barcelona test, there would be some delay before the car would come out for the third day of testing. Lance would continue in the car despite the fact that Felipe Massa had been listed. The day would start off with only a limited number of drivers setting times and after the first hour it would be Vettel who was fastest with a 1m:22.222. But Bottas would go quicker with a 1m:21.632 but he was using the soft tyre. After about an hour and a half into the session Lance would finally take to the track after the Williams team completed repairs to his car.

Lance would be on the soft tyre for his first run. He would complete two laps in order to check the car prior to pitting. It would not be until just under two hours into the day that Lance would return to the track. After another two laps he would pit again but would return after a brief stop. Lance would set a 1m:27.848 to be a distant sixth. But would use the soft tyres to good effect to set a 1m:23.750 to move up to third but was still 2.1 seconds behind the quickest time set by Vettel with a 1m:21.609. Lance had completed twelve laps with two hours of the session completed. Lance was able to improve with a 1m23.305 having completed twenty two laps prior to pitting.

Quickest was now Bottas with a 1m:21.107 followed by Vettel and Ericsson. The time set by Bottas was the quickest from testing so far. A further improvement from Lance would see him set a 1m:22.351 remaining fourth. But at the front we would have Bottas using the supersoft tyre would set a 1m:19.838 to be quickest by 1.7 seconds. Lance had completed thirty one laps prior to pitting with three hours of the session completed. Lance would return to the track still on the soft tyre as we had Bottas coming out on the ultrasoft tyre and would set a 1m:19.705 to remain fastest. Ricciardo was now second followed by Vettel, Ericsson, and Lance now fifth. Lance would pit after a short run with only around forty minutes remaining in the morning session. Lance would drop to sixth as Palmer moved up to third.

But just as the morning drew to a close Lance would again put his FW40 into the gravel at Turn four. Up to this point he had completed over fifty laps in an encouraging morning session. His car would be put on a truck and returned to the Williams garage. Lucky that there is the lunch break in which the Williams team can sort out any issues. Which they eventually did and Lance would return to the track for the afternoon session. During the afternoon Lance would continue putting in laps switching to the medium tyre. There were several red flags during the afternoon but Lance would continue and by half way through the afternoon he had completed ninety seven laps. But his afternoon run would be halted when he would spin at Turn five and would hit the outside wall damaging the FW40. Again his car would be returned to the pits but there would be no further running for the Canadian as the team assessed the damage to the front wing and suspension.

Lance would finish the day in ninth with a best time of 1m:22.351. Despite the off-track moments it was a productive day in what was his first full day of testing for the Williams team. It would appear that the Williams team may not be able to run on the final day of their four day test. The team is reported to be short of spare parts and as the front wing was damaged previously they may not be in a position to get it repaired.

"There was a bit of damage to the left hand side of the car - and we are having a look at it," Williams performance chief Rob Smedley said. "I cannot make a full judgement call on it, as to how much has been damaged and what the contingency will be from this point onwards until we have a little bit of time and think about it.

"There is a question mark [about running on Thursday] but we will be doing our utmost to get out. It is a really important day for testing.

"Today we had a good day learning about the car - and obviously we are desperate to continue that for tomorrow onwards. "So our aim is to get the car out." Smedley would also not get drawn into criticising the rookie. Smedley said he "wouldn't even call it a mistake", instead citing tyre characteristics for the final incident. "Both drivers have talked a lot about when these tyres," he said.

"They are good to lean on them, but there is a certain point where they become very tricky.

"Lance was out on cold tyres, on a cold medium tyre, on an out lap with a lot of fuel in the car, and the tyre stepped away from him.

"He was an innocent victim of that happening and what should have been an innocuous sideways moment brought him around into the barrier and did some damage.

"That happens and we expect it to happen there is no blame on his part."

Rob Smedley, Head of Performance Engineering: We've had a good day, learning about the car while also doing aerodynamic and mechanical testing. We're still in the early stages, but things are looking promising and it's been a good boost for the team to get some significant mileage under the belt. Unfortunately, Lance was an innocent victim today when he was caught out by cold tyres at the end of the session. The incident caused some damage and as a result we missed the final hour of running. The tyres being a little bit snappy has been something that both Felipe and Lance have commented on so I guess we're all just acclimatising to them. We will thoroughly investigate how we as a team can help the drivers in this situation. Lance, however, has acclimatised well during his first day. It's his first full day of F1 testing with the FW40 and we are comfortable with the progress he is making.

Lance Stroll: It was a good day. We covered nearly a 100 laps and I was getting used to the car producing good short and long runs. Unfortunately, we had the incident at the end which prematurely stopped our running. It was still a good day - the team is happy and I am happy with the way it went with the car, and everybody is still positive. It was unfortunate what happened at the end but things like that happen and you have just got to move forward and make the best of it.
Driver     	Team      	     	Time      Laps
1 V. Bottas 	Mercedes 	  	1m19.705s 75
2 S. Vettel 	Ferrari 	  	1m19.952s 139
3 D. Ricciardo 	Red Bull Racing   	1m21.153s 70
4 J. Palmer 	Renault Sport F1  	1m21.396s 51
5 N. Hulkenberg Renault Sport F1  	1m21.791s 42
6 M. Ericsson 	Sauber F1 Team 	  	1m21.824s 126 	
7 L. Hamilton 	Mercedes 	  	1m22.090s 95
8 R. Grosjean 	Haas F1 Team 	  	1m22.118s 56
9 L. Stroll 	Williams Martini  	1m22.351s 98
10 F. Alonso 	McLaren 	  	1m22.598s 72	
11 C. Sainz 	Toro Rosso 	  	1m23.540s 32
12 A. Celis 	Force India F1 Team 	1m23.568s 71
13 D. Kvyat 	Toro Rosso 		1m23.952s 31
View a Printer Friendly version of this Story.
Williams Barcelona Test 01:03:2017 Day Three
Williams F1 (IP Logged)
02/03/2017 03:32
What do you think? You can have your say by posting below.
If you do not already have an account
Click here to Register
.
Re: Williams Barcelona Test 01:03:2017 Day Three
02/03/2017 08:21
I'd like it if he just admitted he cocked up. 98 laps is good and all, but it was still pretty dire in terms of actually keeping the car on track.

You can only get over your fears if you attack them head on - Mika Hakkinen
Sorry, only registered users may post in this forum.