Williams Barcelona Test 09:03:2017 Day Three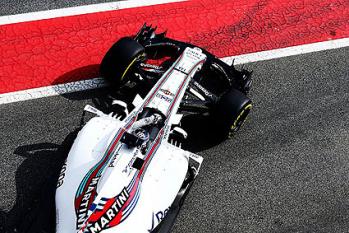 By Andrew Hooper
March 10 2017
As the pre-season testing winds up the Williams Martini team would have both their drivers running on the penultimate day of testing. Lance Stroll and Felipe Massa would finish in 13th and 12th positions but it was not a day of performance testing. The team would focus on longer race simulation type runs. But their test was hindered by several red flags during the day. Lance Stroll will complete the final day of testing.
Barcelona Test 09:03:2017 Day Three
Driver: Lance Stroll / Felipe Massa
Chassis / Engine: FW40-02 / Mercedes-AMG F1 M08 EQ Power+
Location: Circuit de Barcelona-Catalunya, 4.655km
Weather: Warm and Dry
Maximum air & track temps: 21ºC / 27ºC

The third day of the second and final pre-season test would see the Williams Martini team again elect to run both drivers with Lance Stroll in the morning and Felipe Massa in the afternoon. With the start of the morning session Lance would quickly complete a series of installation laps prior to starting his timed laps where he would finish with a 1m:25.944 while Hamilton would set the early benchmark time of 1m:20.686. Lance had set a 1m:27.086 running on the soft tyre but his next lap would be a 1m:26.333 followed by a 1m:25.944. His next laps would not see an improvement but after being dropped down the order by Ericsson would try to respond with a 1m:25.887. With just over an hour completed Lance had completed twenty laps.

After a short stop Lance would head back out for another run still on the soft tyre. He would completed a series of laps prior to pitting and upon his return he would come out running the medium tyre for his next stint. In what was impressive series of laps Lance would set a 1:26.2 followed by 1:26.3, 1:26.6, 1:26.7, 1:26.7, 1:26.7, 1:26.7, 1:26.7, 1:26.6, 1:26.8, 1:26.7 and 1:26.7. Two and a half hours into the session Lance had completed an impressive sixty two laps. Lance was able to improve setting a 1mL24.683.

At the front it was Vettel who was fastest with a 1m:19.341, running on the soft tyres. Hamilton was second followed by Ricciardo and Magnussen. With sixty seven laps completed Lance would pit. He would return still on the medium tyre in what was looking like a longer run for the rookie. Into the final hour and Lance had completed seventy seven laps. Lance would complete eighty five laps prior to pitting again. Vettel had been able to set a 1m:19.314 running on the super soft tyre but he did appear to back off near the end of his lap. Ocon was now second with a 1m:20.161 but set on the ultra soft tyre. Button Hamilton would move ahead of Ocon with a 1m:19.352 running on the ultra soft tyre. Vettel had also gone out on this tyre and was able to set a 1m:19.024 to remain quickest. This was the quickest time so far in testing as the morning session came to an end.

After the lunch break it would be Felipe's turn out on the track. His first run was on the soft tyre and he would set a 1m:25.341. After completing fourteen laps Felipe would pit. Felipe would return and was able to set his personal best with a 1m:25.080 in what looked like a high fuel run from Williams. The afternoons running would be affected by several red flags as other drivers had issues. With less than an hour remaining Felipe had completed fifty one laps. Felipe was able to move ahead of team-mate Stroll's time setting a 1m:24.443. But today was not able performance runs from the Williams team but race simulations. With the end of the day Felipe would complete eighty laps making a total of one hundred and sixty five from both Williams drivers, a pleasing sign of reliability from the FW40.

Williams Martini Racing returns to track tomorrow with Lance Stroll at the wheel of the FW40.

Rod Nelson, Chief Test & Support Engineer:
It was a pretty solid day concentrating on race distances. We achieved this with Lance in good style this morning and despite a couple of red flags this afternoon, we still completed a good distance with Felipe too. We also looked at tyre degradation and stability through a race run. We're looking forward to tomorrow with Lance back in the car, where we'll be aiming to do some qualifying simulation work and some more race work in the afternoon. The team is now getting back on target and we are looking forward to the final day tomorrow.

Lance Stroll:
It was a good morning. I was doing long runs on medium tyres and getting used to the car on them, which is good. We did a lot of laps. I am still getting to know the car a bit better, so it was a positive morning. I will be in the car all day tomorrow. I still have the ultrasoft to try, but I am getting to grips with things so I am happy with that.

Felipe Massa:
The car did 165 laps in total today. Because of the red flags we couldn't do the full race simulation, with pit stops but we more than managed to cover the distance we were targeting without issue. With the car doing two full race distances today it shows the FW40 is reliable, and that's positive. Now I'm just ready to start the season! I'm not driving tomorrow but I hope the team has another great day with Lance. I just hope that we can start the season well in Australia and we can use everything we've learned here in the test to prepare the car for the first race.
Driver     	Team      	     	 Time     Laps
1. S. Vettel	Scuderia Ferrari	 1:19.024 58 / 156
2. L. Hamilton	Mercedes AMG Motorsport  1:19.352 51 / 52
3. E. Ocon	Force India		 1:20.161 43 / 137
4. D. Kvyat	Scuderia Toro Rosso	 1:20.416 32 / 94
5. K. Magnussen Haas F1 Team		 1:20.504 62 / 119
6. D. Ricciardo	Red Bull Racing		 1:20.824 12 / 128
7. S. Vandoorne McLaren			 1:21.348 29 / 48
8. V. Bottas	Mercedes AMG Motorsport  1:21.819 34 / 95
9. P. Wehrlein  Sauber F1 Team 		 1:22.347 30 / 44
10. J. Palmer 	Renault Sport F1 Team 	 1:22.418 27 / 53
11. M. Ericsson Sauber F1 Team 		 1:23.330 67 / 88
12. F. Massa 	WILLIAMS MARTINI RACING  1:24.443 56 / 80
13. L. Stroll 	WILLIAMS MARTINI RACING  1:24.863 52 / 85
View a Printer Friendly version of this Story.
Williams Barcelona Test 09:03:2017 Day Three
Williams F1 (IP Logged)
10/03/2017 04:07
What do you think? You can have your say by posting below.
If you do not already have an account
Click here to Register
.
Sorry, only registered users may post in this forum.