Williams Barcelona Test 10:03:2017 Day Four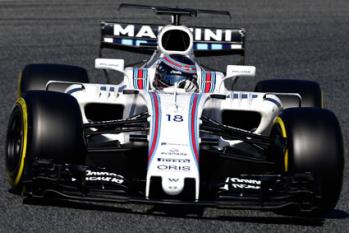 By Andrew Hooper
March 11 2017
The final day of testing for the Williams Martini team would see Lance Stroll carry out the driving duties. It was another productive day for the team as Lance worked through his test programme. This included soft tyre runs as well as longer runs. Lance would complete 132 laps during the day. He would attempt a race simulation but would be hindered by several red flags. For the Williams team the next stop is Melbourne for the Australian GP, the first round of the 2017 Formula One season.
Barcelona Test 10:03:2017 Day Four
Driver: Lance Stroll
Chassis / Engine: FW40-02 / Mercedes-AMG F1 M08 EQ Power+
Location: Circuit de Barcelona-Catalunya, 4.655km
Weather: Warm and Dry
Maximum air & track temps: 24ºC / 32ºC

The final day of testing for the Williams Martini team would see Lance troll carry out the driving duties. After a series of installation laps Lance would return to the track, running on the soft tyre, for his first timed laps. Lance would set a 1m:23.439 to get things started. His laps would see him pushing a lot more than yesterday and he would improve with a 1m:22.764 to be quickest with just under half an hot completed. Lance would continue to lap the circuit as Raikkonen went quickest with a 1m:22.704, running on unmarked Pirelli tyres. Still on the soft tyre Lance would again improve with a 1m:22.123 to be quickest. He would improve his time slightly with a 1m:21.916 to now be second behind Hulkenberg who had set a 1m:19.885 using the ultra soft tyre.

Verstappen and Bottas would go second and third seeing Lance drop to fourth. There would be a red flag courtesy of Grosjean who had gone off at Turn five. With forty two laps completed Lance would again improve with a 1m:20.335 to now be third. lance would pit having completed forty seven laps. The session would be red flagged and with its restart Verstappen would go fastest with a 1m:19.852 on the soft tyre. Bottas would move into second with a 1m:19.845 but another red flag would appear. With an hour remaining Raikkonen would go quickest with a 1m:19.267 also set on the soft tyre. Verstappen would be running on the super soft tyre and would set a 1m:19.438. Also on the super soft tyre Raikkonen would set the quickest time from testing with a 1m:19.019.

For Lance he would now go out on the super soft tyre with his best a 1m:20.335 seeing him currently sixth. With fifty five laps completed he would pit. Hulkenberg was now fourth followed by Perez with thirty minutes remaining. Raikkonen was back out on the supers soft tyres and would improve on his first and second sector times. He would finish his lap with a 1m:18.634 to set the new testing benchmark time in what was very definitely a performance run by Ferrari. Lance had dropped to be behind Sainz. He would complete a handful of laps but would not improve and would pit for the lunch break.

With the start of the afternoon session it would be some time before Lance would return to the track, running on the soft tyre. An hour in the running and Lance had completed seventy two laps. Sainz had improved to be third with a 1m:19.837. As other drivers improved Lance would drop down the order but he would continue to laps the Barcelona circuit. Lance was steadily adding the laps to his tally and by the end of the day he would complete one hundred and thirty two. He would finish the day in ninth with a best time of 1m:20.335. This would complete the Williams teams pre-season testing, next stop Australia.

Rod Nelson, Chief Test & Support Engineer:
It was a pretty good day. We did some chassis work and a qualifying simulation this morning. Unfortunately, Lance didn't manage to get his time in on the ultrasofts, and so his fastest time of the day was set on the soft tyres. We tried to do full race simulations in the afternoon but were interrupted by several red flags. Overall, we have got a lot of good data from this week. We've completed 600 laps this week, with the team doing a very good job to make up for the time we lost last week. We can take a lot of positives from this as we prepare to head to Melbourne.

Lance Stroll:
It was a good day today to end a good week. It was a fun day and I got to put the ultrasofts on and really feel the grip. It was awesome. I was on a mega lap on them but I went long into Turn 13, which cost me everything and I lost my lap. I was eight tenths up and it was looking good, but anyway it's testing. I did some good running this afternoon with long runs so it's all positive stuff. It was obviously a frustrating week last week with the couple of things that happened, but we had a good week this week. We got all our running in – long runs, short runs, and all compounds of tyres – so it was good. I think we still have to stay calm ahead of Australia and just do our work and then see where we are. It's a new track for me as I have never been there, but I'm going to take it step-by-step and run-by-run.
Driver     	  Team      	     	  Time     Laps
1. K. Raikkonen	  Scuderia Ferrari	  1:18.634 39 / 111
2. M. Verstappen  Red Bull Racing	  1:19.438 20 / 71
3. C. Sainz	  Scuderia Toro Rosso	  1:19.837 36 / 132
4. V. Bottas	  Mercedes AMG Motorsport 1:19.845 34 / 53
5. L. Hamilton	  Mercedes AMG Motorsport 1:19.850 27 / 54
6. N. Hulkenberg  Renault Sport F1 Team   1:19.885 17 / 45
7. S. Perez 	  Force India F1 Team     1:20.116 41 / 128
8. J. Palmer	  Renault Sport F1 Team   1:20.205 27 / 43
9. L. Stroll  	  WILLIAMS MARTINI RACING 1:20.335 41 / 132
10. R. Grosjean   Haas F1 Team 		  1:21.743 60 / 76
11. F. Alonso 	  McLaren 		  1:21.389 39 / 43
12. M. Ericsson   Sauber F1 Team 	  1:21.670 49 / 59
13. P. Wehrlein   Sauber F1 Team 	  1:23.527 39 / 42
View a Printer Friendly version of this Story.
Williams Barcelona Test 10:03:2017 Day Four
Williams F1 (IP Logged)
11/03/2017 05:38
What do you think? You can have your say by posting below.
If you do not already have an account
Click here to Register
.
Sorry, only registered users may post in this forum.