Williams Martini Bahrain Test 19:04:2017 Day Two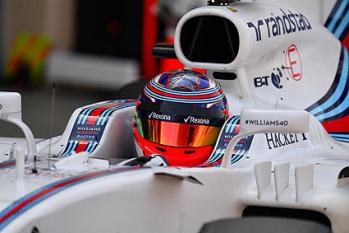 By Williams Martini Racing
April 20 2017
The Williams Martini team would complete their second day of testing at the Bahrain circuit. This time it would be Gary Paffett who would carry out the test. The team would conduct aerodynamic testing as well as setup and tyre work later in the day. Both driver and the team would come away from the day happy with the results.
Bahrain Test 18:04:2017 Day Two
Driver: Gary Paffett
Chassis / Engine: FW40-01 / Mercedes-AMG F1 M08 EQ Power+
Location: Bahrain International Circuit, 5.412km
Weather: Warm and Dry
Maximum air & track temps: 37ļC / 40ļC

Rod Nelson, Chief Test & Support Engineer: Itís been a very productive day. The morning was mostly spent undertaking aero investigations, and in the afternoon we covered some chassis and tyre work. Itís really interesting to get another driverís point of view and look at the differences in driving style from someone so experienced. It was really useful feedback for us moving forward. We finished off the afternoon with some more aero runs, race starts and set-up. We really covered everything in the plan over the 126 laps that we completed. So it was a very good session.

Gary Paffett: Itís been a while since Iíve done a full test in a Formula One car! Itís really good to be back in the car, really good. The cars this year with the increased downforce, and more grip in the tyres, are really nice to drive. Weíve had a really good day. Weíve done a lot of laps, which is really good, and we got all of our testing done. Thatís the purpose really, to get all the testing done, and then for me to go back and validate the simulator. So overall it was really nice to drive the car and Iím very happy with how the day went.
Position Driver   Team Best 		  Time 	   Best /
						   Total Laps
1. V. Bottas	Mercedes AMG Motorsport	1:31.280   137 / 143
2. S. Vettel	Ferrari			1:31.574   50 / 64
3. C. Sainz	Toro Rosso		1:31.884   44 / 68
4. S. Vandoorne	McLaren			1:32.108   79 / 81
5. K. Magnussen	Haas F1 Team		1:32.120   70 / 88
6. E. Ocon	Force India F1 Team	1:32.142   28 / 60
7. D. Kvyat	Toro Rosso		1:32.213   3 / 61
8. G. Paffett	WILLIAMS MARTINI RACING	1:32.253   113 / 126
9. S. Sirotkin	Renault Sport F1 Team	1:32.287   88 / 90
10. P. Gasly	Red Bull Racing		1:32.568   58 / 65
11. P. Wehrlein	Sauber F1 Team		1:34.462   85 / 91
12. S. Perez	Force India F1 Team	1:35.015   57 / 70