Spanish GP: Race to forget for Williams Martini.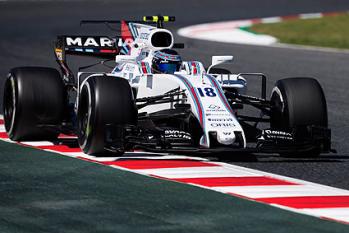 By Andrew Hooper
May 14 2017
The results of the 2017 Spanish GP would see the Williams Martini team come away with one of their poorest performances for quite some time. The race would see Felipe Massa and Lance Stroll finish in 13th and 16th positions. For Felipe his race would see him have to deal with several issues which hindered any possibility of a result. For Lance his race was one of running well of the pace at the rear of the field. But overall the race would see both Williams drivers struggling for pace finishing an amazing two laps down on the leaders.
Spanish Grand Prix Race Review
The Williams Martini team would see their drivers start the sixty six lap 2017 Spanish GP from ninth and eighteenth, with Felipe Massa leading his team-mate Lance Stroll. Felipe would start the race on the super soft tyre and Lance would follow him but on a new set of soft tyres. At the front it was Hamilton on pole from Vettel, Bottas, Raikkonen, Verstappen, Ricciardo, Alonso, Perez, Felipe and Ocon in tenth. The only drivers on the medium tyre were Palmer, Kvyat, and Vandoorne. Hamilton would take the grid on the formation lap and would return to the grid forming up. The red lights would go off and it would be a good start from Vettel. Vettel would get the lead into the first corner as Raikkonen hits the Red Bull of Verstappen. For Williams Felipe would get damage to his car as Raikkonen retired with damage to his car pulling off the track. His front suspension was badly damaged. During the start Alonso had taken to the gravel at Turn two.

Verstappen would say that he had damage to his suspension. He would pit Felipe would also pit with a puncture to his right front and also had a front wing change. Felipe was able to return to the track but was eighteenth. Lance was now in thirteenth while Alonso was eleventh. At the front Vettel was leading by 2.3 seconds over Hamilton. Bottas was third followed by Ricciardo, Perez, Ocon, Hulkenberg, Magnussen, Sainz and Grosjean in tenth. Replays would show that Felipe had forced Alonso off the track. Replays would show Bottas making contact with Raikkonen at Turn 1, seeing the Ferrari go into Verstappen's Red Bull. At the start Alonso had lost ground to Felipe on the run down to the first corner but was able to draw level through Turns one and two before been pushed wide.
Lance was now running between the two Sauber's behind Wehrlein. Lap ten and Vettel was leading by 2.4 seconds over Hamilton. It was announced that the incident between Verstappen, Raikkonen and Bottas was under investigation but no further action would be taken. Lance would pit on lap fourteen following Alonso in. Lance would come back out on a new set of soft tyres showing that he would be on a two stop strategy. Vettel would pit on lap sixteen coming back out behind Ricciardo. He was on a new set of soft tyres. Hamilton was now leading from Bottas and Ricciardo. Vettel would get past Ricciardo using his DRS as Hulkenberg pitted from seventh on lap seventeen. Lance would return in fifteenth as Vettel put in a very quick lap. setting a new fastest lap. Perez and Ocon were fifth and sixth. Ocon would pit on lap eighteen seeing Wehrlein now seventh.

Felipe had gone a lap down with the Williams pair fifteenth and eighteenth. Lap twenty and Perez would pit from fifth. At the front Hamilton was still running on his original set of soft tyres with Bottas also on a similar situation. With twenty lap runs the order was Hamilton, Bottas, Vettel, Ricciardo, Wehrlein, Perez, Ocon, Hulkenberg, Magnussen, and Sainz tenth. Lance was now fourteenth after Ericsson pitted and was running several seconds behind Alonso. Hamilton would pit on lap twenty three and was joined by Ricciardo from fourth. Hamilton was now on the medium tyre while Bottas was now leading the race. Vettel was right behind the Mercedes with Ricciardo now also on the medium tyre. Vettel was trying to get past Bottas but was not able to do so. Stuck behind Bottas Vettel was losing time to Hamilton.
But Vettel was able to get past Bottas going into Turn one making a great pass on the Finn. Hamilton was able to get past his team-mate with Bottas finally pitting on lap twenty eight taking on the medium tyre. Lance would also go a lap down to the leader with only half the race completed. lance had been passed by Ericsson using his DRS. Hamilton was told that he was not really able to close the gap to Vettel as of lap thirty one Vettel was leading by 6.4 seconds. Felipe had tried to pass Vandoorne but the McLaren would end in the gravel as a result seeing the Virtual Safety car applied. Vandoorne had turned in onto the Williams as Felipe was along side. Both Williams cars would pit under the Virtual Safety Car with Lance taking on the medium tyre and Felipe joining him.

More drivers would pit including Perez, Ocon, Sainz, and Grosjean with all drivers taking on the medium tyre. Hamilton would pit on lap thirty eight still under the Virtual safety Car. Hamilton had taken on the soft tyre coming back out in second but Vettel would also pit coming back out just in front of Hamilton. The Mercedes was not able to get past the Ferrari with the pair making contact and Hamilton saying that it was dangerous. Hamilton would say that he was along side and he pushed me wide. Vettel was now on the medium tyre with Hamilton now right behind the Ferrari. Ricciardo would also pit as Bottas went off the track with smoke coming from his car his race over.
Lap forty and Vettel was leading by 0.6 seconds from Hamilton, Ricciardo, Perez, Ocon, Hulkenberg, Wehrlein, Sainz, Magnussen, and Grosjean in tenth. For Williams Lance was now twelfth and Felipe fifteenth. At the front Vettel was still being challenged by Hamilton and on lap forty five Hamilton would get past the Ferrari using his DRS with Vettel saying that he had no chance he was like a train. Hamilton wa son the soft tyre and Vettel the medium so tyres should play a role later in the race. Ricciardo was now third followed by Perez, Ocon, Hulkenberg, Wehrlein, Sainz, Magnussen, and Kvyat tenth. Wehrlein would get a five second penalty for failing to stay on the correct side of the pit entry bollard which will drop him to eleventh. Lance was right behind Grosjean with fifty two laps completed.

Lap fifty five and Vettel was 2.4 seconds behind Hamilton. The Williams pair were now thirteenth and fourteenth with Ericsson having passed Lance for twelfth. As the race started to draw to a close both Williams cars would go two laps down and both would be past by the McLaren of Alonso. Lance and Felipe would be fourteenth and fifteenth while Felipe would also hinder Vettel as he tried to pass the Williams. At the front Hamilton was leading Vettel by 3.6 seconds with a handful of laps remaining. Alonso was on fresher tyres than both of the Williams cars with Lance and Felipe now running nose to tail. Coming onto the last lap Magnussen would be forced to pit with a puncture after making contact with Kvyat while Lance would drop to sixteenth. Hamilton would complete his final lap and would take victory with Vettel second followed by Ricciardo, Perez, Ocon, Hulkenberg, Wehrlein, Sainz, Kvyat and Grosjean tenth. Wehrlein would lose his seventh to Sainz as a result of his penalty.
As for the Williams team the 2017 Spanish Grand Prix should go down as one of the poorest performances from the team for quite some time. To finish in thirteenth and sixteenth with several issues for Felipe and for Lance it was a lonely race. But overall it came down to a lack of pace during the race from both drivers with the pair finishing two laps down the leader. Felipe certainly had his fair share of one track moments which really hindered any possibility of a result.
View a Printer Friendly version of this Story.
Spanish GP: Race to forget for Williams Martini.
Williams F1 (IP Logged)
14/05/2017 15:10
What do you think? You can have your say by posting below.
If you do not already have an account
Click here to Register
.
Sorry, only registered users may post in this forum.