Japanese GP:Single point from Massa for Williams Martini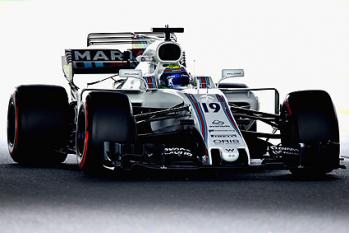 By Andrew Hooper
October 8 2017
The results from the 2017 Japanese GP would aagin see very mixed result for the Williams Martini team with Felipe Massa been able to secure a single point with a 10th place finish. But for team-mate Lance Stroll his race would see him make a greta start only to go off the circuit dropping down the order only to retire with a failure with his car near the closing stages of the race seeing him retire. A single point is still a result but it really does not help when one of their main rivals Hass would have both their cars finish ahead of the single Williams of Felipe.
Japanese Grand Prix Race Review
The Williams Martini team would see their drivers line-up on eighth and fifteenth grid positions for the fifty three lap 2017 Japanese Grand Prix with Felipe Massa leading team-mate Lance Stroll. For Felipe his race would see him start of the super soft tyre while Lance would start on new super soft tyres. The grid would see Hamilton leading from Vettel, Ricciardo, Verstappen, Ocon, Bottas, Perez, Felipe, Vandoorne and Raikkonen in tenth. Of the top ten Bottas and Raikkonen would start the race on the soft tyre with the other drivers all on the super soft. Other drivers on the soft were Hulkenberg in eleventh with Ericsson, Wehrlein, Palmer and Sainz all at the back of the grid. Starting last was Alonso due to engine change penalties despite having qualified in tenth.

The cars would complete their parade lap and would form up and with the lights going out it would be Hamilton leading from Vettel with Ocon now fourth ahead of Ricciardo. Sainz would go off while Verstappen would pass Vettel at the hairpin. For Williams Felipe was eighth and Lance twelfth. Vettel would come on the radio saying that he had no power and Ocon, Ricciardo, and Bottas were all past. Lance was now up to eleventh behind Magnussen. The Safety Car would come out with Sainz's car stuck out on the track after been told to stop. Raikkonen was now down in fourteenth.
The Safety Car would come in and Hamilton would pull away from Verstappen. Perez would pass Vettel seeing the Ferrari seventh. Felipe was now in seventh as he also past Vettel. Lance would go wide dropping down to seventeenth as Vettel was told to pit to retire the car. Lance would pit switching to the soft tyre after what may have been a puncture. He would return in seventeenth with six laps completed. Felipe was 1.4 seconds behind Perez with seven laps completed with Hulkenberg a similar margin behind the Williams. Lance was now in a very lonely seventeenth fourteen seconds behind Vandoorne. The Williams team would confirm that Lance had gone off the track forcing him to pit. Ericsson would go into the barriers at the 2nd Degner corner seeing the Virtual Safety Car deployed.

The Safety Car would end with Lance was now fifteenth but a huge margin behind Alonso. Felipe continued to run in a fairly comfortable seventh while Ocon would be passed by Ricciardo at Turn one. Bottas would pass Ocon for fourth using his DRS. Raikkonen was now right behind Felipe and would pass the Williams using his DRS seeing Felipe now eighth. The top ten now was Hamilton, Verstappen, Ricciardo, Bottas, Ocon, Perez, Raikkonen, Felipe, Hulkenberg, and Magnussen tenth. Vandoorne was now right behind Lance and looking to pass. Felipe would pit on lap nineteen taking on the soft tyre dropping to fourteenth just ahead of his team-mate. Lap twenty three and Verstappen would pit taking on soft tyres with Perez also coming in also taking on soft tyres. Hamilton would pit on lap twenty four taking on soft tyres coming back out in third ahead of Verstappen.
Ricciardo was now leading from Bottas while for Williams Felipe was now twelfth and Lance fifteenth. Ricciardo would pit on lap twenty seven seeing Bottas now leading. Ricciardo was back out in fifth behind Raikkonen who had yet to stop. Hamilton was now second followed by Verstappen, Raikkonen, Ricciardo, Hulkenberg, Ocon, Perez, Palmer and Felipe now tenth. Lance was down in fourteenth eight seconds behind Gasly. Bottas would allow Hamilton past dropping to second with the Red Bull's third and fourth. Bottas would pit on lap thirty two switching to the super soft and returning in fourth. Hamilton would say that he was struggling with his rears. Raikkonen was now fifth and also having switched to the super soft tyre.

Felipe was still holding off Magnussen but the pair would move up one place with Hulkenberg pitting. Felipe was now eighth but Magnussen would finally get past allowing Grosjean to also get past. This would see Felipe tenth again. Magnussen was right behind Felipe going into Turn one and he would then get past at Turn two. This would see the top ten now Hamilton, Verstappen, Ricciardo, Bottas, Raikkonen, Ocon, Perez, Magnussen, Grosjean, and Felipe. Lance was now a lap down with six laps remaining. Lance would go off the track taking to the gravel pulling over and stopping. He would say that there was something wrong with the car with replays showing something happened with the front right appearing to fail. This would see the Virtual Safety Car come out as they recovered Lance's car.
The final laps would be completed and it would be Hamilton who was able to maintain his lead over Verstappen even though Verstappen had close the gap to just over a second to take victory in the 2017 Japanese Grand Prix. Ricciardo was third followed by Bottas, Raikkonen, Ocon, Perez, Magnussen, Grosjean, and Felipe tenth. For the Williams team Felipe did his best to come home with the single point but for Lance his race was hampered by first of all leaving the track when he was running just outside the top ten and then to never really recover from this running down the order only to retire. A single point is still a result but it really does not help when one of their main rivals Hass would have both their cars finish ahead of the single Williams of Felipe.
View a Printer Friendly version of this Story.
Japanese GP
ingle point from Massa for Williams Martini
Williams F1 (IP Logged)
08/10/2017 07:32
What do you think? You can have your say by posting below.
If you do not already have an account
Click here to Register
.
Sorry, only registered users may post in this forum.