Monaco GP: Williams Martini Grand Prix Preview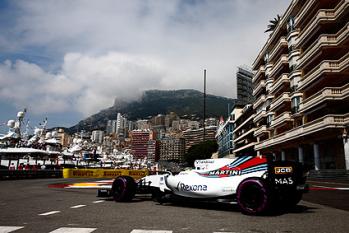 By Williams Martini Racing
May 23 2018
Afetr a successful test at the Barcelona circuit the Williams Martini now moves to the famous Monaco circuit for the 2018 Monaco GP. After a difficult start to the 2018 season the Williams team is again facing the prospect of another difficult weekend. On what is one of the most demanding circuits in the season team drivers Lance Stroll and Sergey Sirotkin will have to cotend with their limited experience with Lance only having raced their once before and Sergey only racing at the circuit in what was known as GP2. The focus for the team is to give both drivers the maximum time out on the circuit as they come to grips with this unique circuit.
The team takes to Monaco following a busy race weekend in Spain, which was followed by a successful two-day test at the Circuit de Barcelona-Catalunya, with Oliver Rowland and Robert Kubica sharing driving duties. Monacoís tight and twisty street circuit is highly unforgiving and demands the very best from both car and driver, with little room for error. The team turned around a tough weekend at last yearís Grand Prix to record a top-10 finish with Felipe whilst Lance retired with mechanical issues. Sergey earned a podium-finish on his Monaco GP2 debut and looks forward to returning to the principality.

PADDY LOWE:
Monaco is a very special race on the F1 calendar. Itís a unique circuit with a great history. It is always seen as a destination event for the rich and famous, as well as being the only circuit which comes alive at the end of each day with Rascasse corner opening up to fans partying throughout the night. Itís a very particular circuit for both the teams and the drivers. There are some difficult challenges, as itís unforgiving in terms of car control with the barriers inches from the limit of the racing line. One of our main points of focus for the weekend is therefore to give the drivers the maximum number of laps in the car, because you cannot practice off-line. To get those final tenths requires extreme precision which only comes from intense repetition, so we donít make a lot of adjustments to the car except to ensure reliability due to it being tough on brakes, tyres and suspension. This will be Lanceís second time in a Formula One car round there, and Sergeyís first, although he has had some success in Monaco achieving a podium in GP2.
SERGEY SIROTKIN:
It will be nice to go back to Monaco as I havenít driven there in a couple of years. Itís probably one of my top two or three events as I really enjoy the track and itís going to be a very good experience driving there for the first time in a Formula One car. Obviously, it will be quicker than what Iíve driven there before, which will make it more exciting. Itís a really difficult and technical track with no room for mistakes, so itís also very challenging to deliver the best lap. You need to take the right amount of risk and deliver the best lap-time possible.

LANCE STROLL:
Monaco is probably the most special weekend of the year. With the atmosphere, the track and the history of the race, itís electric. The weekend is full of hype, and the guests and fans really get into it. The harbour is full of boats and there is a lot going on. It is a cool event and the track is pretty spectacular to drive. Luckily as a driver I donít get distracted by what is going on as I just stay in my bubble and focus on the race.

Race Data
Friday:
Practice 1: 11:00 - 12:30
Practice 2: 15:00 - 16:30
Saturday:
Practice 3: 12:00 - 13:00
Qualifying: 15:00 Ė 16:00
Sunday: Race: 15:10