Australian GP: Williams Racing completes difficult race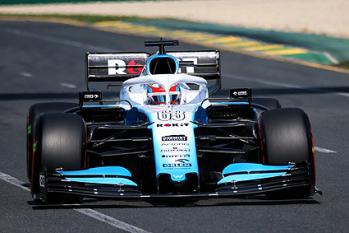 By Williams Racing
March 18 2019
The results for the 2019 Australian GP would see both ROKiT Williams racing cars finish last in the order. It was a difficult but expected result. George Russell would have an unevetful race finshing in 16th but for team-mate Robert Kubica his race was hampered by an incident at the start. He would make contact with another car seeing him lose his front wing forcing him to make an earlier than expected pit stop. He would also suffer damage to his car which would also have an impact on his race. He would finish in 17th. The team now has two weeks in which to try and start to get to grips with the performance of the FW42.
Williams Racing Australian GP Race Review
Race Notes
• George Russell finished 16th and Robert Kubica 17th in the Australian Grand Prix
• George started 19th on the medium Pirelli tyre, with Robert 20th on the grid on the hard
• George had a clean two stop race, boxing on Laps 2 for the soft Pirelli tyre and for the
hard on Lap 42
• After contact at turn one Robert picked up damage which compromised his afternoon
having to pit for a new front wing. He continued to drive a solid race making two further
pitstops for the soft Pirelli tyre on Laps 28 and 44


Robert Kubica:
"It definitely wasn't an easy race and we knew that before the start. We opted
to start on the hard tyre to get experience on them but, I got a good start for those tyres. In turn one, I was on the inside and on the exit of the corner one of the Red Bull's moved right to avoid another contact and we touched, damaging my front wing so I had to come in to box. Additionally, on lap three, I lost one of my mirrors, so the blue flags weren't easy. I was not in the best shape with some damage but, I know it sounds strange and I thought I would never say something like this, although it was very difficult I think there were some positives. I want to thank again everyone in the team."
George Russell:
"I feel happy that I brought the car home with no dramas. I physically feel fine and it was a good first race from my side but obviously it is disappointing that we are so far behind the pace. We did an additional pitstop to try all three compounds of the tyres, so that is unfortunately where we are at the moment. We have got a lot of work to do tomorrow to understand and hopefully improve from there. I am not interested in fighting Robert for last, we need to work together to make this right. Overall, I can be proud and pleased with myself because we went into this weekend knowing what to expect and I achieved pretty much all of my goals."
Dave Robson, Senior Race Engineer:
"It was a tough day as you would expect but it was an
achievement to bring two cars home. Robert had an unfortunate first lap, but once we got him back out with a new front wing he was able to settle down and he drove a good race on his comeback. It was George's Formula One debut and he has had a solid weekend all round and now has his first race under his belt. This should give both drivers some confidence moving forward. The pitstops the team carried out today were very good as always, and operationally the team did a good job with what we have at the moment."
Track Melbourne Grand Prix circuit, Australia
Lap Length 5.303 km / 3.295 miles

Weather: Hot and dry
Air: 23-24°C Track: 37-44°C

POS

DRIVER

TEAM

Time (Fastest Lap)

Grid

1

V Bottas

Mercedes
1:25:27.325 (1:25.580)

2

2
L Hamilton
Mercedes
+ 20.886 (1:26.057)
4
3
S Vettel
Ferrari
+ 22.520 (1:26.256)
1
16
G RUSSELL
ROKiT Williams Martini
2 LAPS (1:28.713)
19
17
R KUBICA
ROKiT Williams Martini
2 LAPS (1:29.284)
20
View a Printer Friendly version of this Story.
Australian GP: Williams Racing completes difficult race
Williams F1 (IP Logged)
18/03/2019 07:47
What do you think? You can have your say by posting below.
If you do not already have an account
Click here to Register
.
Re: Australian GP: Williams Racing completes difficult race
18/03/2019 09:36
You doing great job guys considering all the @#$%& happened recently !!!!
Im with you all the way and Im sure you will be back with a vengeance very soon
Sorry, only registered users may post in this forum.