My Lap of Monaco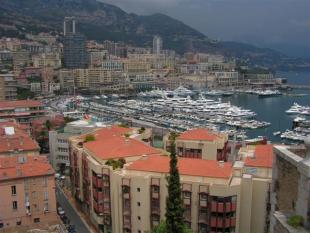 By Ian Lockwood
July 11 2006
OK - so not exactly a Grand Prix trip, but a Grand Prix Venue trip. Here are a few pictures of my personal lap of the Monaco F1 circuit, taken during a short break to Nice and Monaco last weekend. Must remember to go a few weeks earlier next year and catch the race!
Kristine (my wife) and I hopped on the train at Nice for the short journey to Monaco. On exiting the station you are at an ideal starting pointing for the F1 Fan - St. Devote - the first corner. It is a bit dis-orientating at first because there is a great big traffic island with a full size historic F1 car statue on it right in the middle of the corner - which obviously is removed for race. When you look up the hill to Beau Rivage though, the scene is more familar
Looking back down towards corner 1 - St. Devote
It is surprising how sharp the left hand bend at the top of the hill is, but as you come out of the corner, you are greeted by perhaps one of the most recognizable sights in F1 - Casino square. (notice the red & white racing curbs by the zebra crossing)
Its pretty much downhill from here. I remembered one of Martin Brundle's circuit walks where he said how important it was to get your front right wheel right into the small gully on the inside of the next corner - Mirabeau. Sure enough there was plenty of rubber left on the kerbs from a few weeks ago, when the drivers had done exactly that. This is also the place where Schumi ran into the back of DC in 2005.
Next up is another famous F1 corner - the Lowes Hairpin (or Grand Hotel / Fontanville Hairpin). Thats me sitting on the wall. It was surprising how steep the circuit was here.
The cicuit now heads down to the sea and the famous tunnel.
Kristine inside the tunnel
The chicane where Fisichella pulled off a number of overtaking manouvres this year is actually a very pleasant pavement cafe for most of the year. Even though this wasn't GP weekend, there were still some very impressive motor yachts in the harbour.
La Rascasse - I saw several cars going round here with no problems at around the same speed that Schumi lost control of his Ferrari!
About as close as I'll ever get to driving an F1 car around Monaco....
More Red Bull Racing headlines
Red Bull Racing Poll