My Hungarian GP Trip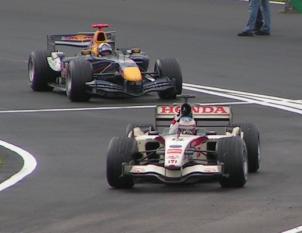 By Ian Lockwood
August 9 2006
When planning a GP trip for myself and a number of friends, Red Bulls €99 grandstand ticket at Hungary seemed like a great offer - the race would obviously be a bit dull, but we'd be guaranteed some great sunshine!
The BBC weather forecast said a bit of cloud for Friday, and clear skies for Saturday & Sunday - so I decided not to pack waterproofs and just chucked in a load of shorts and T-shirts then headed for the airport. 14 people made up our party - 10 of which were going for the GP whilst the other 4 were doing a bit of sightseeing & shopping in Budapest.
We stayed at the Hotel Pest (www.hotelpest.hu) - a great location, reasonable prices, friendly english speaking staff, plentiful breakfast and located just around the corner from the Opera so close to lots of bars & restaurants. We arrived at the Hotel on Friday lunchtime - so after some lunch did a bit of sight-seeing so we could at least say we had seen a bit of Budapest.
Saturday morning dawned and looked a bit overcast - "never mind, the sun will soon burn that away" we thought! We had pre-arranged a minibus through www.budapesttransfer.com - again highly recommended - always on time, dropped off and picked up at the nearest gate to our grandstand & refused to take any payment until dropping us back at our hotel on Sunday Evening.
Once at the circuit we found our seats in the Red Bull Grandstand which gave us a great view of the final corners, back of the grid, and the entry to the pitlane. We also had a great view down through the paddock. Well done to Red Bull for providing this stand - which was actually a cheaper ticket than general admittance.
Getting to the circuit had been a breeze with no traffic jams so we had plenty of time to visit the merchandising areas before Free Practice. Red Bull had their usual Bullshop unit (which has replaced the small "inflatable helmet" kiosk they used last season). A showcar was in the back of the shop together with a drivers uniform which you could stand behind and have your picture taken. Also present was the Red Bulletin truck and offices (the Red Bulletin is a free magazine published at each GP by Red Bull but independant to Red Bull Racing - its a sort of "Private Eye" for the circuit which takes the mick out of all the drivers and teams etc - a very good read if you get the chance to get your hands on them!)
. Mercedes & Toyota had their big stand there too - complete with showcars and displays etc, but the rest of the teams had a pretty poor showing. Honda & Renault had one shop each - just to flog some merchandise, and there was the ususal Official Merchandise and MS outlets. Notably absent was any BMW presence and Williams fans would also have been disappointed with no dedicated stand and the official merchandise stalls having no Williams gear to sell.
Having parted with some hard earnt money it was back to the stands to watch the action. I won't bore you with session reports as you all know what happened during quali & the race. Suffice to say the predictions of a dull race and hot weather were way off the mark. It was a superb trip. The GP2 races were great as usual, but the F1 was simply fantastic. I saw more overtaking and action at this one race than all the other GP's I have been to put together! Being a Brit and there for Buttons first win was also great. All nationalities in our stand seemed genuinely pleased and gave Jense a great reception - it even made being cold & damp (and dressed in a "borrowed from the circuit" blue bin liner to keep the worst of the rain off) worth it!
My fellow travellers...
DC in Practice
Grid Preparation
Button celebrating his 1st win, followed by mate DC (5th)
More Red Bull Racing headlines
Red Bull Racing Poll