Tyre Talk: Traction Control Removal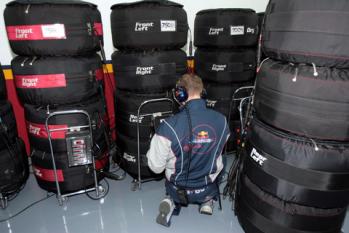 By Ian Lockwood
March 31 2008
The removal of traction control has certainly been a talking point at the start of the 2008 Formula One season. The Bahrain International Circuit, location of the third round of the championship, is a track where traction is important because the circuit layout has a number of tight corners leading on to short straights. In previous seasons traction control would have been well used in Bahrain.
Tetsuro Kobayashi, Technical Manager Bridgestone Motorsport, explains the difference this makes to Bridgestone, the Official Tyre Supplier to the FIA Formula One World Championship.

"The difference between a good traction control system and a good racing driver is not as great as some people believe," says Kobayashi.

"Traction control works to keep the tyres at the optimum slip ratio, which is the same as a top level driver tries to do. Just as there are better and worse drivers, so traction control systems car vary in how good they are too.

"Another factor to consider, on some circuits, is that traction control is used very little, as high levels of downforce provide aerodynamic load on the tyres which increases the level of grip available.

"Because of these factors, the lack of traction control is not a big consideration in terms of tyre design, and our data analysis from testing without traction control before the season started has backed this up."

Of course, traction control was used most when grip levels were low, such as when drivers take to the track when it rains.

"When a circuit is wet, grip levels are lower so there is more need for traction control. When it is wet and there is no traction control, drivers will have more work to do," explains Kobayashi.

"The way that wet tyres work to get their grip is different from the way that dry tyres work. One example of this is that wet tyres do not grip through wear when used on a wet track. In contrast, a dry tyre gets some of its grip from the way it wears with the surface of the circuit.
"Our wet tyre design does not change because there is no traction control, just as the way the tyres get their grip does not change."

Related to the removal of traction control, engine braking control is no longer present in 2008, and this is a change for drivers too.

"Controlled engine braking only provided a small amount of the total slowing of the car, with aerodynamic resistance and the brakes providing far more," says Kobayashi.

"An absence of ECU-controlled engine braking means the nature of braking may feel different for the drivers. This could mean we see more brake locking and flat spotting of the tyres.

"However, drivers adapt, and Formula One drivers should be able to adapt rather quicker than the average driver."

So, with no more traction control or controlled engine braking, do the tyres have to be redesigned to offer more grip?

"In a situation of single tyre supply, the level of potential grip available from the tyres is the same for everyone, and that is true if everyone has traction control, or if everyone does not have traction control," says Kobayashi.

"In a competitive tyre supply environment we are always striving for tyre performance improvements, and this is the same regardless of whether traction control is present or not. Traction control operates to limit the power applied when grip is exceeded, or near to being exceeded. A competent driver works in exactly the same way.

"A driver who regularly exceeds the grip available will wear his tyres faster than a driver who does not, as well as post slower lap times. This would not mean we should make a tyre with more grip, rather that the driver should learn to use that tyre better."

Traction control is not used over the duration of a lap, it's only in certain parts of the track where it is needed.

"Generally the acceleration at the exit of a corner is very sensitive, and an area where a driver can make a mistake without traction control," explains Kobayashi.

"A driver therefore has to carefully manage his acceleration at the exit of corners. If the tyre characteristics are driver friendly, with a wide allowance for rough treatment, the driver can control acceleration easily. If they have only a narrow window, the driver will take a long time to get used to the characteristic and could spin when finding the limits."

Much has been written and speculated about the removal of traction control and the changes this could bring.

"The lack of traction control does not mean that Formula One suddenly looks like a drifting championship, and drivers suddenly forget how to drive with maximum efficiency to produce the fastest lap time," says Kobayashi.

"I believe our tyres have a wide allowance, and this means that the drivers can use our tyres relatively easily and, using them, can have exciting battles against others. This shows our tyre expertise in the FIA Formula One World Championship."

More Red Bull Racing headlines
Red Bull Racing Poll