Australian GP Red Bull Qualifying Report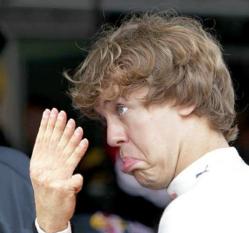 By Ian Lockwood
March 17 2012
Everyone said that we wouldn't get a true idea of teams relative performance until after qualyfing in Australia. When "everyones pants were pulled down" it transpired that Jenson and Lewis were on top with Mark in 5th, and Sebastian in 6th.
Car 2 MARK WEBBER, Position: 5th, (3rd Practice – P3, 1:25.900)
"We knew there were some quick guys out there - McLaren and Mercedes especially and Roman did well too. Everyone always thinks we have special bits to keep coming back, but this year it's opened right up. I didn't have KERS at the end of the session, which affects your rhythm during qualifying – it's a shame as it's been faultless all winter. I'm pleased with my lap in Q3. We can still get on the podium tomorrow, but we have some fast cars around us, no question about it."
Car 1 SEBASTIAN VETTEL, Position: 6th, (3rd Practice – P7, 1:26.211)
"It's the first qualifying of the year, so it's always difficult to know what to expect, but I think what we saw today was not a surprise, the lap times were close. We would have loved to have been closer to the front, but in Q3 I wasn't happy with my lap. I made a mistake at the beginning and lost some time, so that was down to me. I could have been one or two places higher, but that's how it goes. We are not starting at the front, but we are not starting at the back either, so it's far from disastrous and regarding the car we know what we need to do. We have a long race ahead of us tomorrow and a lot of opportunities, so I'm looking forward to it."
CHRISTIAN HORNER: "Mark lost his KERS going into Q3, which is the first KERS problem we have had all winter. It's unfortunate that it had to strike at the most critical time of qualifying but, nonetheless, he did an excellent lap to record the fifth fastest time. Sebastian never seemed to really find the pace in the car that seemed to be there this morning, so we have plenty to look at this evening. Fifth and sixth is far from a disaster and with the double DRS zones available this year, I'm sure we can be in better shape tomorrow afternoon."
(Renault) CYRIL DUMONT: "First of all we're pleased to be back on track, but of course we would have preferred to be in a higher position for tomorrow. Apologies to Mark who suffered from a KERS issue during qualifying; he could have been P2 or P3, so it's a big shame. For Seb we were not able to be in a better position, maybe he suffered from the lack of running this morning. It's the first race tomorrow and many things can happen – so we'll see what we can do."
View a Printer Friendly version of this Story.
Australian GP Red Bull Qualifying Report
Racing Bulls (IP Logged)
17/03/2012 16:56
What do you think? You can have your say by posting below.
If you do not already have an account
Click here to Register
.
More Red Bull Racing headlines
Red Bull Racing Poll