Red Bull Secure 3rd F1 World Constructors Championship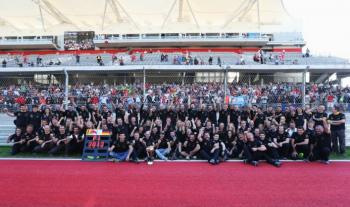 By Ian Lockwood
November 19 2012
Red Bull Racing secured a 3rd consecutive Constructors Championship in Austin Texas, becoming the fourth team in the history of the sport to acheive this feat. Vettel secured second, but leaves work to do in the drivers championship. Mark suffered yet another Renault alternator failure.
Car 1 Sebastian Vettel, Finish Position: 2nd, Start Position: 1st "I'm very, very happy for the team to win a third Constructors'. It's been a tough year so far and they have been pushing incredibly hard; they deserve to win, as we have been the best team. Obviously Mark and I were pushing throughout the year. It was a shame for Mark not to finish today. It was a very good race and we did everything we could, but unfortunately we ran into traffic at the wrong time and lost the gap to Lewis. He used his chance well, I tried to cover the inside but he had more speed down the straight. I respect the positions; Lewis beat us fair and square. We showed we had the pace today and now it's full steam ahead to the next race."
Car 2 Mark Webber, Finish Position: DNF, Start Position: 3rd "A third Constructors' for the team is an incredible achievement. Three years in a row is something that I think all of us would never have envisaged when we first started to be successful, so the results that we've had over the years is really astonishing. This Championship was probably the toughest one so far, for lots of different reasons and – it's a cliché – but it's been a real team effort. Looking to today, I had to stop with an alternator problem. We had low battery voltage for a few laps before and then I lost gearbox sync and KERS, something was happening on the battery side. It's frustrating; as we had a reasonable start to the race and a good fight with Lewis. We had issues to manage, but even when I knew we had them we tried to keep going and get something out of it, but we had to stop."
Christian Horner, Team Principal: "It's incredible for the whole team to have won a third consecutive World Championship. The Constructors' is what we use to measure ourselves against our competitors and, for every member of the team, it's how we gauge our performance. The Drivers' obviously has the prestige and public following but within the team they carry equal importance. So, to have achieved a consecutive third World Championship, which only three other teams in the history of the sport have achieved, puts us into a very elite group and having done it in such a short space of time is testimony to all the members of the team. That's all the hard work, the long hours and dedication from every department. It's a very proud moment for every single member of the team and Red Bull."
Adrian Newey, Chief Technical Officer: "It's been an amazing year. To achieve the hat-trick is a tremendous tribute to the whole team. It shows we've managed to keep our standards up and keep consistency. The hard work, the dedication, the talent of the people back in Milton Keynes – that's what this is all about. I hope they are celebrating and having a drink tonight. We are always thinking how we can improve the car and what we can do in the coming races. It's been a difficult year and unfortunately my pre-season concerns proved to be right. Having developed the car around side exhaust technology for the last two years, losing that was a bigger step back for us than our competitors and it's been quite a difficult evolution to get the car back to where we wanted. Getting a third title shows we're not a flash in the pan; we've managed to stay at the top, to understand the car and maintain consistency which is not easy at all. The first title was amazing because when I left McLaren for Red Bull, it was a bit of a career gamble, I was joining with a dream of perhaps trying to win races in the future with the team that I'd been involved with more or less from the start. To actually fulfil that dream and to achieve three titles has been amazing. We can all have dreams, but to do it is something special. It's not just me personally but it's the whole team and this is a tribute to everyone within it."
Cyril Dumont (Renault): "Securing the Constructors' Championship today is a massive achievement for the Red Bull Racing-Renault partnership. It's our third title in six years, and the first time since 2004 that a team has won three consecutive titles. The run to the title wasn't completely trouble-free today however, as we had an engine-related DNF on Mark's car, but we are managing the situation with Red Bull as of course we still have a Drivers' Championship to win so we will keep pushing for Brazil."
View a Printer Friendly version of this Story.
Red Bull Secure 3rd F1 World Constructors Championship
Racing Bulls (IP Logged)
19/11/2012 10:27
What do you think? You can have your say by posting below.
If you do not already have an account
Click here to Register
.
More Red Bull Racing headlines
Red Bull Racing Poll