Red Bull Racing Silverstone Test Experience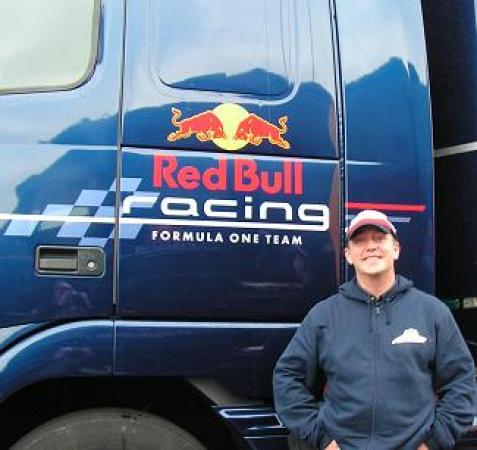 By Ian Lockwood
June 5 2005
Wednesday 1st June 2005 was the first day of a 3 day test session for Red Bull Racing. The Offical Red Bull Racing Club "The Pit Bulls" ran an excellent trip to the test and I was lucky enough to attend.
The "Pit Bulls Club" promised to let fans get closer to the action of F1 than before, and if this first event for the new club was anything to go by, they will certainly deliver on that promise.
Yours truly by a Red Bull Racing Team Truck
My journey from Bristol to Silverstone at around 6:30am on a grey but dry day. It was very pleasant to be able to drive straight to the circuit without sitting in the queues usually associated with race day, but even better to ignore the "public parking" directions and head straight over the bridge into the centre of the circuit and park right against the paddock fence.
With my paddock pass slung a round my neck on a particularly impressive Red Bull Racing lanyard, I walked into the fabled F1 paddock.
J
ust like on TV, all the team trucks were neatly lined up in rows. Although this was only a test session, being the last chance to evaluate tyres for the race later in July, it was well attended with Ferrari, BAR, Renault, Mclaren, Williams, Toyota, Jordan, and of course Red Bull all present.
I headed for the team hospitality unit. Nothing as grand as the Energy Station used for race meetings, but still a pretty impressive structure and the tallest unit in the paddock! Red Bull can shaped fridges placed outside were stacked to the brim, but as it was still only 8:30am I decided to leave them for a bit later.
Once inside I was greeted by Russell Banks (who runs the Pit Bulls)and issued with a team cap. I then sat down to breakfast which consisted of Bacon Rolls, Danish pastries, and plenty of coffee and orange juice. As engines started to fire up in the garages and cars went out on installation laps (an hour early due to impending bad weather) a member of the team came in to give us a briefing on the team schedule for the day. Christian Klien was going to be driving and they were hoping to be evaluating tyres, trying some new aerodynamic developments, testing a modified brake cooling duct, and trialing fuel system modifications needed for the Cosworth engine upgrade. Scott Speed, the young American GP2 driver and Red Bull F1 prospect, was meant to be driving the second car so his performance could be analysed ahead of a decision on whether to run him as the Friday test driver at Canada & USA. Unfortunately a fuel cell leak had been discovered on his car which would take quite a while to fix. Fuel cells (a big rubber bag) are located inside the monocoque directly behind the drivers seat and infront of the engine. Removing and installing a fuel cell is a very tricky, time consuming process as the bag has to be strapped tightly shut to compress it so that it is small enough to be inserted through a small hole in the chassis where it is then lined up, unstrapped, coaxed into its final position and bolted into place. Its a bit like trying to wallpaper your hallway through your letterbox!
Suitably fed & briefed I walked to the end of the pitlane where the days activities were starting to unfold. Jordan driver, Narain Karthikeyan, was pacing around in front of his garage looking skywards - obviously eager to get some laps in before the rain started to fall.
Toyota, BAR, & Renault had decided that the risk of rain disrupting their test schedules was so high that they wouldn't use up one of the 30 test days allocated under the "gentlemans agreement" to reduce costs. This left their mechanics with time on their hands but they quickly busied themselves doing various bits of work on their vehicles anyway. The Toyota garage was right next to the Red Bull one, so I was able observe their mechanics and engineers going about their business.
Red Bull Racing had kindly laid on a coach trip around the circuit for its guests. The coach met us at the paddock gate and we were driven around the circuit. A member of the BRDC & Silverstone race school instructor was on board as our guide. He pointed out various items of interest around the circuit, such as some of the old buildings left over from the days when Silverstone was an RAF base. We drove around the circuit perimeter road stopping at various points and getting out as our guide explained the nuances of tackling certain sections and sequences of corners, whilst the F1 drivers very kindly lapped the circuit demonstrating what we were being told. It was quite odd seeing the circuit so empty and without the majority of the grandstands that are only erected for the Grand Prix. We returned to the centre of the track and
were dropped off by the Brooklands suite where Red Bull had some other guests being entertained. There was a Red Bull F1 car on display there so I was able to get up close and take some great pictures - although on closer inspection it was actually a re-liveried Jaguar R5.
Back in the paddock I decided it was time to visit the Red Bull garage. Most teams allocate their guests a set time when they can visit the garage and limit the amount of time you are allowed to stay there. Not Red Bull - I was free to come & go all day & stay as long as I wished. There is a viewing area at the side of the garage where you can stand at watch as the mechanics and engineers buzz around adding this, tightening that, checking the other etc. Inside the garage there was still no sign of car No.37 that Scott was to drive, but Christian Klien was chatting to the mechanics and preparing to get into his. Unfortunately no photography is allowed inside the garage itself as the teams don't want you taking spy shots of their latest innovations & selling them to the competition. Once you step over the red line into the pitlane though, you are free to snap away. Christian climbed into his car and a team member inserted the starter into the back. A second later the engine roared into life. These cars are loud enough when you watch a race from trackside, but in the confines of a concrete garage, standing a few feet away from a 3 litre V10, the sound is amazing.
My rumbling stomach told me it was time for lunch, so it was back into hospitality unit where a 3 course feast waiting. As I washed down my meal with some very nice red wine, Scott Speed came in to say hello and answer a few questions about his role within the team, his performance in GP2, and his aspirations to become a full time F1 driver. He said that unfortunately it looked like the team would be unable to get his car ready in time for him to out before the pit lane closed for the day.
After lunch the rain that had been threatening to fall all morning decided to make more of an effort and started to fall quite heavily. Red Bull Racing had thoughtfully arranged access to the covered BRDC stand overlooking the complex area of the circuit so I went there and watched as a few brave drivers risked the elements and got some wet weather running under their belts. It was great to see the cars with huge plumes of water flying upwards from the back making them look more like speed boats than race cars.
From my position in the BRDC stand I could hear the cars screaming down Hangar Straight before braking into Stowe,a short bust of speed along Vale and then the stutter as the traction control systems work overtime on the exit of club.
As I listened to an unknown car going through this sequence, the engine note suddenly dropped followed by a quick burst of throttle, then an idling engine, finally followed by silence as the engine was cut. Nico Rosberg had spun the Williams he was testing stopping the session whilst he was recovered - fortunately he had avoided hitting anything too hard in his spin. Several minutes later his car appeared on the back of a flat bed truck shrouded in a black cloak with two Williams team members with equally black expressions getting drenched sat on top.
I decided at this point to return to the paddock to check on action there. Having the benefit of seeing the drenched Williams crew returning, many teams decided it was probably best to wait a little before venturing out again. Nico Rosbergs teammate and full-time driver Nick Heidfled agreed and was seen sheltering in the Williams team unit.
Back in the Red Bull Racing garage I was quite surprised to see the front two thirds of Scott Speed's car on high stands in its bay. At the rear of the garage on another stand was the transmission and rear wing assembly. Scott Speed was watching as the team busied themselves with the seemingly impossible task of getting the car ready. Scott came over and spoke to us and said that he was now quite hopeful of getting out before the close of the day (he also signed my Red Bull cap - thanks Scott!). It still didn't seem likely to me. The car was in bits - no nosecone, brakes, wheels, transmission, rear suspension, floor, airbox, or seat - just a chassis with an engine bolted in place.
It was fascinating to watch as the team gradually brought the jigsaw together. They worked very efficiently, with minimal verbal communication, each knowing what they should be doing and when. They also mangaged not to get in each others way - no mean feat with that number of people working in such a confined area. First the transmission with the rear suspension already mounted on it was bolted to the engine - there semed very little holding the two parts together, just a few very thin bolts. various wires and pipes were then connected and a team member got in the car whilst it was still on its high stands and pumped the brake pedal to bleed the brakes. Various fluids and were added and hydraulic systems were pressurised. The carbon fiber floor was fixed in place followed by the wooden plank. A steering wheel was produced from the back of the garage and the seat was fitted. There were a few heart stopping moments and concerned looks from the team as the starter device was fired up several times without any sign of engine life, a few quick adjustments later and the engine roared into life, an engineer blipped the throttle remotely a few times with a little hand held device linked to the car (very much like a scalectrix controller). A few flames of after burn shot out of the exhaust pipes.
They seemed happy with the computer readouts and killed the engine. Very quickly the airbox and engine cover were fitted and rear wheels shrouded with tyre warmers went on. the car was lowered onto low stands and the nose cone and front wheels attached. Scott appeared looking remarkably relaxed for a young guy about to drive an F1 car in what amounts to a job interview to be one of the worlds top 20 drivers. He exchanged a few words with some of the team members and climbed into the car.
The car was raised on jacks, the low stands removed, tyre blankets came off to reveal a shiny set of wet Michelins. The engine was statred again (first go this time!) and Scott Speed sped out of the garage with just a couple of minutes to spare! He only had time for an installation lap but it was fantastic to see the team assembling the car in such a short space of time and great to see the end result.
My thanks go to all at Red Bull Racing and to Russell Banks in particular for a great day out. I understand that they hope to run another test day in September and would highly recommend trying to get there if you can.
Ian Lockwood