2006 Plans Well Underway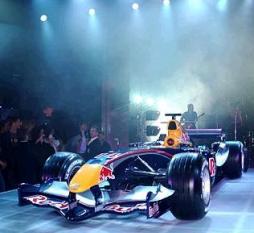 By Ian Lockwood
June 5 2005
Red Bull Racing has proved to be one of the success stories of the 2005 season already matching Jaguar Racing's highest ever points tally with less than half the season gone.
The team is not sitting around patting itself on the back though. Work on the 2006 car is already well underway. With the Ferrari engine deal signed early in the season, Red Bull have been able to get on with the job of designing next years car.
Development pace is a key factor in modern F1 - an area where Jaguar always lacked sufficient funds. Red Bull racing has a more substantial budget and the results are already being seen. A 30hp engine upgrade scheduled for the USA grand prix is expected to be worth around 3/10ths of a second per lap and there are significant aerodynamic upgrades coming from the wind tunnel that should be fitted to the car at Magny Cours or Silverstone in July.
Many teams struggle in early season as cars have been late in production resulting in limited pre-season testing. Red Bull Racing aer keen that this does not happen. Signing the engine deal early means the team have the necessary technical data on engine size, mass, centre of gravity etc - all key factors in the design process of a new chassis. This has meant that the designers and model makers back at the factory in Milton Keynes are already well advanced with the 2006 Red Bull racing car. Guenther Steiner, RBR Technical Director, has said the RB2 is already a 50% scale model and is due to enter the wind tunnel for initial tests in three weeks time.
On top of this, speculation is rife that DC will extend his stay with Red Bull for at least another year. Coulthard is on record as saying he is very happy to remain committed to the team and is very impressed with the talent, drive and determination within Red Bull. Sporting Director, Christian Horner, has said that DC is one of the teams major assets.
Ian Lockwood
More Red Bull Racing headlines
Red Bull Racing Poll