Alison's And Alex 's Report Of Williams F1 HQ Tour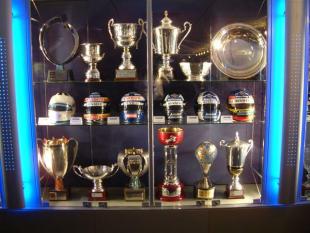 Williams F1 Factory
By Alison Scagell
July 13 2005
It's amazing what you can find on Lastminute.com when you are trawling through looking for a cheap trip to a grand prix – ANY grand prix. Hey Alex, how do you fancy a trip to the Williams F1 headquarters on the Friday before Silverstone?"
Silly question really.  Alex freely admits that Williams is her favourite team – probably something to do with being brought up in a household that supported Damon Hill and David Coulthard. She supports Jenson Button and he started at Williams. The deal was too good to turn down - £25 off the normal price.
We arrived bang on time. The immaculate grounds typical of Frank and Patrick Head's obsession with perfection. I wouldn't like to drive this car though – Mark Webber would have different problems with his bum sitting in this!
From the entrance hall with the suspended Jacques Villeneuve 1997 winning car and the last race winning car from 2004 we were directed to a room called Estoril for coffee and biscuits. A video of the 2004 season was running to remind us of why we were there and on tables around the walls were various bits of cars and engines as well as trophies from Estoril itself. The most interesting item was the damaged wishbone from Damon Hill's car "sustained in crash with M. Schumacher at the 1994 Australian Grand Prix"  No bias there then!
The tour manager, Kevin, then came and outlined the day for us before leading the way down to the entrance hall again. He spoke for some time on the ethos of Williams F1, the cars there on display, how this season is going and plans for the future. We walked down a corridor lined with pictures of the Williams F1 World Champions to a small cinema where a film outlining the history of the team was shown. Some of the footage was private, giving a new insight to some of the famous and infamous incidents of Williams. It was shocking to see how fragile some of the cars were in the past, recent improvements in safety have changed so much
We then entered the collection. Beginning in 1977 there was an audio visual presentation of each car produced defined by engine manufacturer. In each section there were several cars, and every championship winning car is there. Of course you can't touch but you can look and look very closely. How things have changed, aero, tyres, construction, the number of wheels and of course sponsorship. The seats and steering wheels have also changed drastically. We were given as much time as we wanted to photograph the cars and to ask questions before being led to the technology exhibition.
Every technical aspect of formula1 is covered from the driver's clothing and boots to the engines and software and again we were given plenty of time to drool! Kevin once again answered every question, no matter how daft!
Frank is not that concerned with trophies, we were told – hence the sparse display! Here there was the opportunity to actually touch some of the pots and even get a photo while holding one! (We didn't bother) Several driver's helmets are also on display including one of Montoya's with a rather worrying graze across the top.
Then we went back to Estoril for lunch – a superb buffet, beautifully presented and the crème Brule was out of this world! It was nice to talk to other visitors about the morning and which races they had been to. One chap who grew up a few miles from Spa did not believe it didn't rain when we went!
Finally we went to the merchandise shop and spent a few pennies on mementoes of the day and finally left at about half past two. It really was a good value visit. At no time were we made to feel rushed or unwanted and Kevin was happy to talk about any aspect of the Williams F1 team and formula 1 in general. In fact Alex took the opportunity to ask about work experience and he was very helpful! So if you fancy a special outing and an F1 fix – look on Lastminute.com – there are still trips available.
We would love reports and pictures from anybody who has visited any Grand Prix's or team visits (no matter what team), and we'll get you on the site.
More Red Bull Racing headlines
Red Bull Racing Poll