RB2 Ready for Bahrain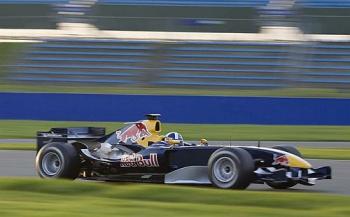 By Ian Lockwood
December 28 2005
The Red Bull RB2 - that was shaken-down earlier in December at Silverstone by David Coulthard, is very close to the definitive version of the car that will race in the 2006 F1 season opener in Bahrain.
"Autosprint" has quoted Red Bull Technical Director, Mark Smith, as saying ''The aerodynamics, especially on the sides of the car, are definitive.'' This puts Red Bull ahead of its competition in terms of getting their 2006 car out on track. Although Toyota officially unveiled their car first, they have said that the aero package bears little resemblance to what will be on the car in March.
Ex-Renault man, Mark Smith's comments indicate that whilst the main body is largely complete, we may well still see some new ideas on the front & rear wings, which currently look largely unchanged from the endd of 2005.
He also praised the relationship and work that Ferrari have put into the engine supply, revealing that Ferrari have agreed a few minor alterations to the specification of the Red Bull units, rather than only supplying exactly the same unit as the works Ferrari team will use.
Elsewhere it has been rumoured that Puma is about to sign a sponsorship deal with Red Bull, although it is not yet clear whether this is a Red Bull Racing or Scuderia Toro Rosso deal.

More Red Bull Racing headlines
Red Bull Racing Poll