Chris & Milo's Dinner in the Energy Station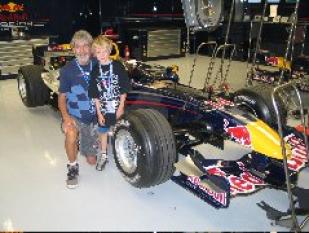 By Chris & Milo Linford
June 13 2006
Red Bull Racing are true to their promise of bringing F1 closer to the fans. They ran a competition to win dinner in the Red Bull Energy Station on Saturday Evening at Silverstone. Racing Bulls regular Chris Linford, and his son Milo, were lucky winners. Here is their report.
At on Saturday night the 5 lucky winners, myself among them, and their guest, my son Milo was with me, were met by Sarah to take us through the Copse tunnel and into the paddock. We were taken past all the trucks and the Tree Houses to the Energy Station where we went upstairs to find a cooling breeze from the blistering heat. Welcomed with cold beers and Red Bull cocktails we started to cool down.
The Energy Station is bigger than it looks, and it looks big. The ground floor is setup like a bar area of a traditional F1 Paddock unit and can accommodate loads of people. Upstairs on the second floor it gets a bit more relaxed with sofas and large TVs which were used to watch the football earlier in the afternoon. The second and top floor is open and allowed us to cool down.
Red Bull obviously love table football as there were tables everywhere and Milo played on most of them.
After a drink we were taken down to the garage where we could inspect the test car that Robert Dornboos drove the day before, which was setup for DC. It is a lot posher down there on race days than test ones.
Back at the Energy Station it was time for dinner and we went downstairs. The staff there were really friendly and they made Milo a special noodle dish. Inspired by the food he even tried the seafood salad starter which is very unlike him.
During the starter Robert Dornboos joined us and you could not meet a more friendly driver. He stayed for quite a while and seemed to be enjoying himself. Milo suggested that they have a "Doctor Who" theme at Monaco next year, then they could turn the Energy Station into the Tardis!
The main course was veal and beef with potatoes and was perfectly cooked and served. Milo was shocked about how good the dessert was, and I did note that the women with us looked at that first, which was chocolate brulae with a crispy top (sorry but I eat it so quick I forget the proper name) and fresh fruit. It was fantastic.
With Coffee and drinks back up stairs afterwards the evening was coming to the end, or so we thought. We went for a tour of the whole pitlane and Milo bumped into Massa and Barrichello, who are now his mates. Everyone was much more relaxed in the evening, except MS who drove past not looking very friendly.
Eventually it was time to leave and although Milo tried everything he could to keep his pass we had to return them. We then wandered around the paddock and chatted with the Arden team about their race that day which did not go well and about the STR drivers that they worked with before heading off to the fair.
All I have to do now is to stop Milo talking about it so I can get some rest.
It was a great evening and I would like to thank Sarah and the people at RBR for including race fans into their hospitality. It is so easy to forget about us but I would like to assure you that they know we are here and they are planning more events in the future; so keep an eye out on their website.
.....They also check this site out so watch your language.
More Red Bull Racing headlines
Red Bull Racing Poll