McLaren's Secret 2009 Weapon?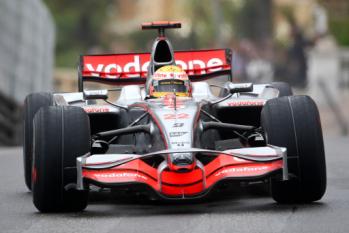 By Sam Cooper
June 25 2008
The new 2009 formula one regulations give the teams and formula one a chance to break from its stereotypical image of being boring- well in some peoples eyes. One of these regulations allow teams to use KERS (Kinetic Energy Recovery Systems) to give the car extra bhp when they need it (when their about to overtake rival cars). These systems will offer teams an extra 80 bhp, but is it worth it?
You might say, 80 Bhp, that must be good to the car, after all, teams are tying to make their engines the most powerful, allowing their cars to be fastest in a straight line, allowing them to move up the field easier, or stay out of the clutches of the car behind, but this new technology's benefits will come at a price.
The problem? Weight. Technical director of Force India, Mike Gascoyne, revealed told Gpweek that if the cars go just 12 kg overweight, KERS will be a disadvantage to any car that runs it. Leaving some teams to consider giving the braking recovery systems a miss. Something that the FIA won't be keen to see them do, as formula one could be the right sport to develop it for road cars.
Though on some circuits, KERS will be an obvious advantage, Canada for one is a prime example, long straights will enable cars to get close to each other, but maybe not close enough to make passing manoeuvres, this is where KERS will come in and allow them to overtake.
However, on circuits where the best weight distribution is key, KERS will become less useful and will be potentially slower. Leaving teams with the option to build either a car with KERS, a car without KERS, or both. Something that McLaren are looking into for next year.
Not to sound too disenheartening but this year isn't going as well as McLaren hoped, their drivers lie 4th and 6th in this years championship, so next year will be their best shot in winning- not that I'm saying that McLaren should write off this year altogether.
"I think the challenge to the engineers is to develop a KERS system that can be run at every circuit and give a lap time advantage, but it isn't easy," Gascoyne said.
Martin Whitmarsh has hinted at the possibility that McLaren are considering to build two different 2009 cars, one with KERS, one without. To maximise the cars performance on a particular circuit, different wheelbases will be used.
"We're thinking about lots of different things, but we're working hard to have the best solutions for every circuit.

"As you would imagine, just as any F1 team, (McLaren) isn't going to show its hand on what it is doing, but inevitably you've got to try and cover all the bases."
Building two different cars will certainly stretch McLaren's resources, though if they can pull it off, then their 2009 season is looking better and better.

More McLaren F1 headlines
McLaren F1 Poll