Honda F1: The Fastest Team On Earth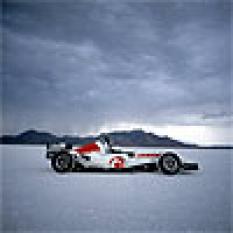 By Honda Racing F1
July 18 2006
Around 8am local time on Monday 17th July 2006 at the Bonneville Salt Flats in Utah, USA, the team scored a triple success by setting a new F1 speed record, and breaking two existing land speed marks.
Driver Alan van der Merwe piloted a race legal Honda 007 along a seven mile-long salt straight, achieving an aggregate speed of 220.571mph over two runs of a measured mile. The speed was recorded by both the Federation Internationale Automobile (FIA) and the United States Auto Club (USAC) and now represents the fastest ever recorded by a Formula 1 car over a timed distance, pending official ratification by the FIA.
As well as setting the world's first official land speed record for a F1 car, the speed achieved also represented a new mark for the A2-8 class of land speed vehicles, and a new best speed of 355.499kph for the flying kilometre.
Alan van der Merwe
World's Fastest F1 Driver
Honda Racing F1
"We've made huge progress today by setting this new benchmark for an F1 car. On my first runs this morning, I doubted we could do it because the surface was so slippery. I had a spin or two, but the salt surface came to us and we were able to set this new record.
"We haven't done 400kph yet though, which is our ultimate target. In a way it's quite nice we didn't, because it shows that this is a genuine challenge and not just a case of us turning up, nailing it and going home. You have to work for every extra mile an hour here and we may not break the 400 mark, but that's still our goal. But one thing you can't deny is that we have set the fastest ever speed in an F1 car at the home of the land speed record. It was also particularly gratifying to be welcomed into Bonneville's 200mph club by Mike Cook."
Mike Cook, veteran of several land speed record attempts at Bonneville and President of the Southern California Timing Association (SCTA) and Bonneville 400 Expert Advisor, was full of praise for the team's spirit of endeavour and determination.
Mike Cook
President
Southern California Timing Association
"I am delighted the Bonneville 400 guys have reached their main targets to become the fastest F1 team. It's been a great deal achieved and they have approached setting this record with passion and humility. It's a speed that will be noted all over the world and I wish them more success tomorrow if they try and go even quicker."
The technical challenge of getting a race legal F1 car (albeit it with a few modifications for ultra high speed straight line running) to travel beyond 400 km/h on an unpredictable, unstable salt surface has proved to be a huge test for Bonneville 400 Technical Director Gary Savage, who is masterminding the challenge.
Gary Savage
Deputy Technical Director
Honda Racing F1
"We've set a land speed record for an F1 car, set another record for the class of car that run here and also a best mark for the flying kilometre. That's got to be a good day by anyone's standard! However that is just the surface of our challenge. Underpinning this whole effort is our attempt to take a high tech piece of equipment like an F1 car and run it at high speed on a natural and highly unpredictable surface. It's one hell of a challenge, and we'll come though that. Now we want carry on tomorrow and try to push the time closer the team's target of 400kph."