NEXT STOP AUSTRALIA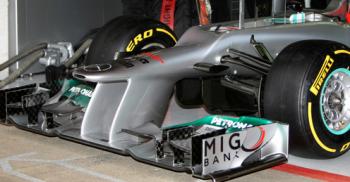 Source: planetf1
By sessions
March 5 2012
Michael Schumacher: "best shape possible" How that compares to his rivals, he isn't saying.Nico Rosberg: "finally all the talking stops"
Mercedes AMG wrapped up the final day of practice with aerodynamic evaluations and reported they were happy with all the work they have been able to achieve. The team covered a lot of kilometres and learned a mountain of information about the car which they feel gives them a good basis to work from.
The last day of practice also saw saw a very competitive field with 1st through 8th only 0.8385 off the pace.
Ironically, the first practiced started with Kimi on the pole and the last day of practice ended with him on the pole. No one team really dominated with several 2011 midfield teams grabbing top honors during some of the practice sessions. The expected front runners were consistent but also encountered minor glitches. The times have indicated a much more evenly matched field than last season.
Mercedes never took the top spot but seemed to diligently go about their business with determined data gathering. Drivers and team leaders project a quiet confidence towards the up-coming season. The car completed a bulk of kilometres with reliability. Something we failed to experience in our first and second seasons.
As mentioned the times by all teams really leaves fans guessing how they will fall into order. There will most likely be surprises, but from the way things currently look we'll have to wait until the fina lap in Australia GP to know in which direction our Silver Arrows are headed.
At any rate it's time to buckle-up and get ready for another glorious season in F1.