Frankie Chili says farewell to Brands World SBK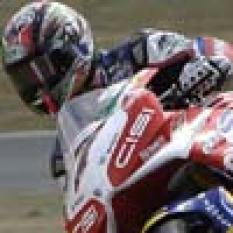 Raceline Photography
By blue2bikes
August 7 2006
Superbike World Championship: Frankie Chili made an emotional farewell at Brands Hatch, going out in style over the weekend, and spent time with his fans - taking an unscheduled ride around the track in the open top safety car to say a personal goodbye to all of his fans.
All the officials held back the final race of the day as Frankie held up the Italian and British flags as he did his final lap of the course.
As you can imagine, he received a standing ovation all around the track from his adoring fans, along with all marshals waving the race flags in honour of Frankie as he passed by. Upon returning to the start finish straight, Frankie removed his leathers gloves boots, etc, and threw them into a delighted crowd.

© Raceline Photography
This is an end of an era that some riders can only aspire to reach, as Frankie has not only raced against the best in the world, he has also beaten them - including in MotoGP, or Grand Prix as it used to be called. Competing in many other series, Frankie has always been there. A friend of Barry Sheene, and many other riders who have legendry status in motorcycle racing, Frankie rates in my book as one of the best.
A PR man's dream, Frankie can pull in the crowds from far and wide to any circuit that he races at, and during the past few years has been teaching people how to ride a bike safely and quickly at the European Race School - which he has attended at most of our British circuits.
Although Frankie was unable to finish in both races, he received cheers from everyone as he pulled into the pits on both occasions. Thinking that would be the last time they would ever see him again, when he climbed aboard the safety car for his final lap of the circuit he was met with an unprecedented standing ovation from the fans, marshals and officials - the likes I have never seen before.
Talking to Frankie afterwards, I asked him a few questions:
Q: Was it you who made the decision to stop racing, or was it your body telling you it was time to stop?
A: It was my body, especially after my last accident. It is still painful even now and, although I am fit enough to race, I am not wanting any more damage done so decided it was time to call it a day. I had said earlier in the season that this would be my last year, but my last accident just cemented my decision.
Q: Will you miss racing or will you still be involved in racing?
A: For sure I will miss being on a race bike and competing, but I still have the will to win and to go for the win. But when your head says you can still be competitive and your body says no, you have to stop to save yourself from yourself. It's difficult being out there and wanting to win and your body won't let you. I will still be involved in racing, and you will certainly see me back here next year.
An unfortunate end to Frankie's racing career, with not being able to finish a race, but nonetheless he certainly got the crowd cheering every time he lapped the circuit.
He will certainly be missed by all of his fans, and I would like to wish him well for the future. Thanks for the memories Frankie.