Troy Bayliss finally did it, and on home ground!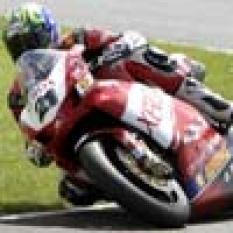 Raceline Photography
By Rob Every
October 3 2006
Well he did it finally, and on home ground! Yes, Troy Bayliss managed to secure enough points at Imola to secure his second World Superbike championship for Ducati. With the pressure then off, he showed why he is champion with a dominant ride in the second race to win. Bayliss (Ducati Xerox) rode a blinding lap to win the Superpole shootout, and converted that pole into an early race lead. The field was tightly packed for the first few laps, with Nori Haga, Andrew Pitt (both Yamaha Italia), Troy Corser (Alstare Suzuki) and James Toseland (Ten Kate Honda) in the pack.

Confirming the form that makes him a bit of a favourite for next year, Andrew Pitt soon muscled his way into the lead. The Aussie really coming on strong in the second half of 2006 and carving a reputation as a real forceful rider too! Pitty started to pull away as a three time winner of races at Imola, Rubén Xaus, ruined all his hard work getting on to the back of the leading bunch with a characteristic front end crash!

Toseland and Corser were having a close dice as Bayliss and Haga gradually eased back into touch on Pitt. Then disaster for Corser as his awful end to the year continued, running straight on into the sand at Piratella. One man doing his usual ride through the pack was Alex Barros, the Klaffi Honda man setting the track alight and bridging the gap between fifth and the lead bunch very quickly.

Pitt's lead was to be short-lived though, the Yamaha man had a huge wobble on the exit of Tamurello and had to roll off, letting Haga, Bayliss and Toseland by. Now it was Bayliss' turn to lead, but not for long as Toseland used the superior speed on the Ten Kate bike to drive past on the finish straight, but the rapidly closing Barros was also there!

The Brazilian simply out-braked Toseland into Piratella, forcing James wide, but these two had started to drop Bayliss, indeed Troy was falling back to the Yamaha pair. Pitt had recovered well from his near crash and muscled his way past Bayliss, but Haga was no threat as all Troy now needed to clinch the title was a fifth. The Ducati man visibly slowed on the last lap, allowed Haga to pass him to finish fifth and wrap up the championship.

Bayliss did most of his work in the first few rounds and has ridden fairly conservatively since establishing his lead, but no one can doubt his speed, consistency and mental toughness. The man is the clear champion and his results show a total dominance of the series.

The podium then was winner Barros, a great result and one he should have achieved before now, Toseland getting a second that helps him get to second in the points, and Pitt a possible winner who stayed on after a huge almost crash!

On to race two, and with the pressure off Bayliss could be a lot more racey now. He wore his special winning helmet and a pair of white leathers to celebrate his achievement. Haga again was with the Aussie though, and the pair exchanged places on the first lap, but Bayliss was in no mood to hang around, quickly establishing a rhythm no one else could match and pulling a lead.

Once again Pitt was the quicker of the Yamaha pair, the former Supersport champ and MotoGP star really strong in the early laps, as was Corser who was very keen to get a result, the now deposed champ though was getting beaten up all over the place. And soon dropped out of contention. Maybe unsettled by the signing of Max Biaggi next year!

His team-mate Yukio Kagayama was keen to redress an awful first race, in which he was involved with the other Alstare rider Max Neukirchner. They took each other off! A shame for Max, who looks himself again and deserved the ride next year. The Kagster was up into third as right behind him Xaus was in the thick of it, before yet again dropping it into Tamburello! Luckily the crash didn't involve anyone else and Toseland et al managed to get through.

It was Barros time again though, after yet another dismal start the former GP winner scythed through the field to get to the front few behind Bayliss. Kagayama was soon on to Pitt's tail, and passed him into Tosa with a forceful move Pitt would have been proud of. Barros also was there and yet again eased past Toseland, then quickly haring off after Pitt and Yukio. He got them both too! The Brazilian really hitting the sweet spot with the lurid Klaffi Honda!

Up front though and Bayliss was struggling a bit with his rear tyre! The Pirelli was worn out and, given another lap, Barros might have scored a double. Instead, the former Honda Pons team-mates crossed the line first and second, a totally fitting way for Bayliss to celebrate his success.

Kagayama scored a good third, upholding his late season form, and Pitt dropped away with tyre trouble for fourth in front of Toseland. Decent rides in both races for Lorenzo Lanzi at last, the Xerox Ducati man getting sixth and seventh and maybe helping his search for a job next year!

Points: 1 Troy Bayliss (champion) 393; 2 James Toseland 295; 3 Norikuki Haga 293; 4 Andrew Pitt 239; 5 Alex Barros 231; 6 Troy Corser 218; 7 Yukio Kagayama 198; 8 Lorenzo Lanzi 152; 9 Chris Walker (PSG-1 Kawasaki) 140; 10 Fonsi Nieto (PSG-1 Kawasaki) 139.