Hawk get Smart: Scott Smart for Hawk Kawasaki BSB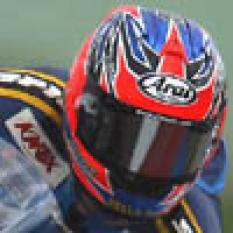 Raceline Photography
By Carly Rathmell
March 15 2007
Hawk Kawasaki are pleased to announce the signing of former Hawk rider Scott Smart. After a six week negotiation period, Team Owner Stuart Hicken and the 30-year-old Smart came to an agreement for Smart to contest the British Superbike Series on the Kawasaki ZX10. Smart has not ridden under the Hawk banner since 2004, when he took three wins, eight podiums and 21 top six places, finishing the season in a fantastic fourth place in the overall championship. He is now looking forward to the new challenge, saying, "It's great to be back with the team, and if we have as much fun as we did in 2004 then it will be another good year. I'd be very happy if we could replicate the results from then, and I'm looking forward to the challenge. I've got a very busy year ahead of me with riding for Hawk, and I'm also competing in the World Endurance on board the Kawasaki - at least I'm going to have plenty of bike time!"

Team Owner Stuart Hicken added, "We are delighted to have Scott back onboard, and very much looking forward to working with him again this year. We've been working hard on getting the Kawasakis prepared for the new season, as I have five riders to look after this year, so we know it's going to be a busy one."

Riding alongside Smart in the Superbike class will be youngster Peter Hickman, who completed a successful rookie year in the series in 2006. Hickman will make the jump from the '05 ZX10 to the '06 ZX10 and, having already tested the bike at Mallory Park and Cadwell, the young 19-year-old is eager to kick start the new season.

2007 sees the launch of the new Hawk Junior Team, which sees 20-year-old David Hallett competing in the National Superstock Cup, and 18-year-old Jak Wright on board the all new ZX-6 in the British Supersport Cup. This will be the first year for both Hallett and Wright in the British Championship series, and each are set for their new venture.

Once again Hawk will run Carl Rennie in all the road races, including the TT, North West 200 and the Ulster, plus various Irish meetings through the year. With the Isle of Man TT celebrating its centenary year, Rennie and the Hawk team will be looking at improving on the stunning sixth place they gained on the Island last year.

Hawk's season has already got off to a great start - with youngster Shaun Winfield, who competed in his first Aprilia Superteen race at Brands Hatch last weekend. Qualifying in a strong second position, he gained two wins and a second position, seeing him leading the overall championship.

The four riders will all be appearing at the first British Superbike test next weekend, at Snetterton, Norfolk, 23rd - 25th March.