Rossi back on top; Jorge Lorenzo secures world title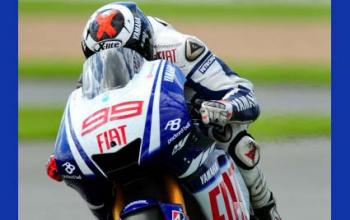 © Empics / PA Photos
By Dan Moakes
October 13 2010
The winner of four MotoGP races this year, Dani Pedrosa was out of action after a practice accident in Japan. Seven-time winner Jorge Lorenzo was fourth in that race, and was therefore on the brink of winning the 2010 world championship. In Malaysia, for round fifteen, he could well secure the title with a good ride on the Fiat Yamaha.
Lorenzo needed to beat Pedrosa at Sepang, and if Dani was off the podium there would be no way back for him. But in the event, only a week after the Motegi race, Dani was not fit enough to compete at all. With the other Spaniard absent, Jorge needed only to finish ninth to take the crown. For a man who had been in the top four everywhere, there wasn't much doubt that he would do the job.
Sepang is a dramatically fast modern circuit, with long straights, challenging bends, and a few heavy-braking tighter corners. Valentino Rossi had won there five times in the past, Casey Stoner four, and other former winners were Loris Capirossi, Álvaro Bautistá, Hiroshi Aoyama and Lorenzo himself, not mentioning Pedrosa. Malaysia offered familiar conditions of heat and humidity, making it one of the most demanding races in the series.
Qualifying was held in exactly those conditions, and was a close fought affair. The top nine riders ended up separated by just one second, with a 0.1s gap between first and second places. The factory bikes from the Yamaha, Ducati, Honda and Suzuki teams were all within that top nine, joined by two customer team bikes from Yamaha. Lorenzo put the Fiat machine on pole position, his first since round nine. Team-mate Rossi was sixth.
Marlboro-backed Ducati made another front row start, but this time it wasn't Stoner leading the way. Team-mate Nicky Hayden was second on the grid, his best qualification since September 2007 in Portugal, when he was on pole as a Honda rider. Stoner was fifth. Repsol Honda continued to run one rider in the absence of Pedrosa, with Andrea Dovizioso third here. In amongst these guys were the Tech 3 Yamaha pair, Ben Spies fourth and Colin Edwards seventh.
Rizla Suzuki had their pair of riders rounding out the third row, with Bautistá eighth and Capirossi ninth, this after a Saturday crash that had affected the Italian's ankle. For the 25-year-old Spaniard, this was his best starting position of the year so far. Customer bikes filled the second half of the grid, which meant four Hondas and three Ducatis. Marco Melandri and Marco Simoncelli were the next two, for Gresini Honda, with Aleix Espargaró in P12 for Pramac Ducati. Randy de Puniet (LCR Honda), Aoyama (Interwetten Honda), Héctor Barberá (Aspar Ducati) and Mika Kallio (also Pramac) followed on.
The day of the race was marginally less hot, but it remained humid. Because of the tough conditions, there were now twenty laps to run here, down from 21. Lorenzo retained the lead at the start, with Dovizioso second. The field headed down the long Kuala Lumpur Straight for the slow and looping right turn one, then the loop back left at Pangkor Laut Chicane. Spies was third initially, but in these two corners he was shuffled back behind Stoner and Hayden on the Ducatis. Capirossi was sixth, from Edwards, Simoncelli, Bautistá, Melandri, the slow-starting Rossi, and Espargaró.
The last corner on the circuit is turn fifteen, a left-hand hairpin at the end of the lengthy Penang Straight. The first lap ended with Dovizioso attacking Lorenzo at that corner, trying on the outside line. Moments later, Stoner gave up the chance of three wins in a row when he crashed out there. This helped create a bit of a gap back from the first two to Hayden and Spies. Edwards and Simoncelli had already relegated Capirossi, with Marco now up to fifth in front of the Texan. Loris had also lost out to Melandri and Rossi.
Rossi was never likely to accept the position he found himself in on lap one - eleventh - and indeed he was up to eighth as lap two began. He then overtook Melandri for seventh, and at turn fifteen he braked on the inside of Edwards to make that sixth. Ahead, Simoncelli overtook Spies for fourth, making the American the next target for Valentino. Turn four is the right-handed Langkawai Curve, approached on the brakes after a fast section. Rossi passed Spies there on the inside.
Lorenzo and Dovizioso had moved somewhat clear of the pursuing group, but fastest lap from Rossi put him right on the tail of the third place battle between Hayden and Simoncelli. Marco went through into a podium position, and now Valentino was able to follow him past Nicky. Edwards and Melandri had been tussling over seventh, especially at turns one and two, and when the Honda man went wide there his rival got through. Bautistá was now heading Capirossi, and would engage with Melandri next.
Dovizioso went fastest as he continued to track Lorenzo, and meanwhile the third lap saw Rossi overtake Simoncelli for third. The move came at turn nine, where they brake for a tight left that then bends slightly uphill. Valentino was then able to set another new fastest lap and pull clear of the white machine. The order behind was Hayden from Spies, Edwards, Melandri, Bautistá and de Puniet, as at this point Capirossi pulled out with an electrical problem. The Suzuki had also let him down a week earlier.
Lorenzo continued to lead, with Dovizioso faster whenever there was the hint of a gap to make up. But Rossi was also setting new fastest laps, halving a margin of 1.7s pretty sharpish. Simoncelli was left on his own in fourth, as the two leading American rivals ran together behind him, Hayden from Spies. Turn fifteen saw Melandri take seventh place on the inside of Edwards, with the following Bautistá also trying to get through just behind. He followed on by overtaking Colin at turn one.
With Rossi closing in, Dovizioso made a move which saw him slipstream Lorenzo and then go through into the lead on the inside at turn one, at which point Jorge drifted a bit wide. Soon, this pair was caught by Rossi, and he would pass his team-mate for second at turn nine. A couple of laps later, with the race at half-distance, Rossi also overtook Dovizioso at the same corner and was first. Hayden was past Spies, with these two now joined by Bautistá. Nicky would soon start to drop places as Ben moved in on Simoncelli ahead.
Following a crash, Edwards was now only able to cruise back to the pits. Espargaró had already been seen in an angry mood after his own lowside crash when he had been heading Kallio and Barberá, so that efforts were made to get Colin back out where he might still earn three points. However, this would be a short-lived return, again only at cruising speed.
Rossi initially seemed able to ease away from his two rivals for the race victory, but Dovizioso was soon on the attack again, looking fast with the aid of a slipstream. Five laps from the end, Andrea overtook Valentino on the inside for turn one, with Lorenzo still there with them in third. However, turn nine saw Rossi make the move to put himself back into first, thereafter attempting to move out of range. He was 0.5s in front with three laps to go, the gap remaining about the same to the flag. It was his first win since the first race of the year.
For the last three or four laps, Lorenzo seemed to have settled for third place, and of course it was plenty to secure his first MotoGP championship as he eased off. It would mean his thirteenth podium visit of the season. He remained a long way in front of the fourth man at the finish. Simoncelli had found himself under attack from Spies, losing out at turn fifteen and then falling behind the Yamaha man, to be tracked by Bautistá.
From the lower reaches of the grid, Aoyama had been on a steady climb through the field. He had moved past Melandri, de Puniet and Hayden into seventh, where he would run in the wake of Bautistá and Simoncelli. He also got the better of the two Europeans, but lost out again to Simoncelli when he went wide at turn fifteen. The two Honda men changed places again when Hiroshi got ahead on the Kuala Lumpur Straight, only for Marco to re-pass on the inside at turn one.
Aoyama tried to get ahead of Simoncelli on the inside at turn nine, but somehow Bautistá went inside both men and made up two places. Then Hiroshi was immediately relegated by Hayden in the next long bend, the Berjaya Tioman Corner, although not for too long. Álvaro moved clear, leaving Simoncelli and Aoyama to continue their battle. There was action as the Japanese rider blasted out of turn fifteen to go ahead on the straight, and then he had to work to fend off an inside move at turn one. Hiro was ahead at turn two, but contact from Simoncelli pushed him wide, which only benefited Hayden as he moved up to sixth.
Spies was fourth home, with Bautistá next and Hayden just getting clear as Aoyama was through into seventh at the start of the final lap. He held the place, for his best MotoGP result so far, with Simoncelli eighth. The remaining finishers were Melandri, de Puniet, Barberá and Kallio; with the non-finishers being, of course, Edwards, Espargaró, Capirossi and Stoner.
Jorge Lorenzo was world champion for the third time, and for the first time in the MotoGP class, in his third year as Yamaha team-mate to the all-conquering Valentino Rossi. His message to the world was with a sign that read GAME OVER. He had also waved a Lorenzo flag, which managed to get caught and meant the Yamaha's chain had to be refitted. Although they aren't on especially good terms, Rossi was generous in a handshake with the new champion.
Rossi's success was the 180th win in the premier class for Yamaha, and he had his own milestone to celebrate, with his 46th GP win for Yamaha, all in the 990cc/800cc era. He has also taken 26 with Aprilia (125cc and 250cc), and 33 with Honda (500cc and 990cc). Lorenzo's other achievement was his 31st podium result in the class, which matched the achievement of former Honda star Freddie Spencer. Meanwhile, Nicky Hayden was the first Ducati man home, but on this occasion there was the unusual sight of a Suzuki getting home first. And for Marco Melandri, there was the achievement of 1000 points scored as a MotoGP racer.
The title race was over, but three individual races remained. Lorenzo had a points record still within sight, and Pedrosa had second place to defend, which he would manage with a couple of podium results. And third place overall was very closely contested at this stage, with Rossi, Stoner and Dovizioso virtually together. There is still a lot to play for.
Standings after fifteen races: Lorenzo 313; Pedrosa 228; Rossi 181; Stoner 180; Dovizioso 179; Spies 152; Hayden 139; de Puniet 94; Simoncelli 92; Melandri 86; Edwards 81; Barberá 74.
Yamaha 334; Honda 305; Ducati 230; Suzuki 92.