Casey Stoner dominates Australian MotoGP race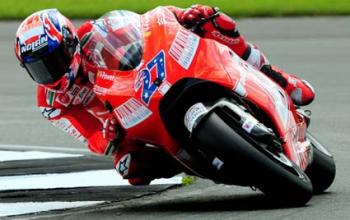 © Empics / PA Photos
By Dan Moakes
October 17 2010
23-year-old Jorge Lorenzo had secured the 2010 FIM MotoGP World Championship with three races remaining, which meant that the works Fiat Yamaha team were victorious for the third straight year. Three other riders had won races, and there was still the matter of the next few championship positions to be decided. Round sixteen was in Australia.
The dramatically flowing Phillip Island circuit has hosted the Australian Grand Prix for many years, with Valentino Rossi a seven-time winner at the track, including in five straight years. The last three MotoGP races here have gone to local hero Casey Stoner, each time with his Marlboro-backed 800cc Ducati Desmosedici. Marco Melandri has won three times, and other victors include Andrea Dovizioso, Lorenzo, Álvaro Bautistá and Marco Simoncelli.
Two former winners would be missing from the race, with both Loris Capirossi and Dani Pedrosa unable to take to the grid. Both men ran in qualifying, with Pedrosa back after his collarbone injury in Japan. The Spaniard realised that he was not back to full strength and would not be able to run for many laps, and Capirossi crashed in the session and sustained fresh injuries. Melandri had also crashed in Saturday practice, when the track was damp, but was unhurt.
Stoner secured pole position, his third of the season, and was looking strong. Ducati team-mate Nicky Hayden, the lap record holder, was sixth. Lorenzo has only three times qualified behind the first two, and again he was second here. Rossi was back in eighth on the other Fiat Yamaha. For the seventh time, Ben Spies was the leading qualifier on a non-works bike, third for Tech 3 Yamaha. Team-mate Colin Edwards equalled his own best in fifth. Both men had won there as Superbike racers.
Simoncelli, class rookie for the San Carlo Gresini Honda team, was in a best-yet fourth place, his first time further forward than the third row of the grid. Melandri was tenth on the team's other bike. Between Hayden and Rossi was Randy de Puniet, for LCR Honda; and between Rossi and Melandri was Dovizioso, the sole Repsol Honda man in Pedrosa's absence.
The Pramac Ducati riders led the remainder, Aleix Espargaró eleventh, then Mika Kallio. The 27-year-old Finn was going to be making his last MotoGP start for now, as Carlos Checa had been engaged to replace him in Portugal and Valencia. Mika had qualified ninth here a year ago, his best start in MotoGP, and his best result last year was seventh, which he hasn't matched since round two this year. He was followed here by Hiroshi Aoyama (Interwetten Honda), from Bautistá (Rizla Suzuki) and Héctor Barberá (Páginas Amarillas Aspar Ducati).
Following earlier rain, conditions by the time of the race were dry but windy and cold, and even though this was Australia it made this the event's best day for weather. Most riders went for the harder compound choice of rear Bridgestone tyres. Stoner took off in the lead, with Spies initially looking like he would challenge Lorenzo for second. There is a fast right-hand bend called Doohan for the first turn, where Ben just clipped the rear of Jorge in the braking zone, whereupon his closest pursuers went either side and past.
Stoner was already looking too fast, with second man Lorenzo now heading Simoncelli, Hayden, Dovizioso, Spies, Melandri, Edwards, Rossi, Bautistá, de Puniet and Kallio. Turn ten is a tricky and quite tight right-hander, MG, at the foot of a downhill plunge. Hayden passed Simoncelli here, but this order was reversed three corners later, at Doohan, where Marco went through on the inside. Nicky would then look to be under attack from Dovizioso.
Stoner was 1.5s clear after the first lap, and this was up to two seconds after the second. Lorenzo led the pursuit, from Simoncelli, Hayden, Dovizioso and Spies, with Edwards and Rossi now past Melandri. The heavy braking right-handed Honda Corner is a hairpin bend following a fast bend, turn three. Dovizioso went a bit wide there, which let Spies pass. Ahead, Hayden would soon use a tow along the main Gardner Straight to pass Simoncelli at Doohan.
The leader was heading into an unassailable lead, and Lorenzo was also moving out of reach of the next group. This left a four man tussle for third, but unfortunately Dovizioso was not part of it. A steering damper problem meant he was about to have to park it in the pits, ending the Repsol Honda team's involvement. Hayden headed the group, with Spies taking fourth from Simoncelli on the brakes at Doohan, and Rossi the man in sixth. Spies was also quick to pass Hayden, and Rossi got by Simoncelli at Doohan.
The Doohan corner would also see Spies under attack from both Hayden and Rossi, but not long after that Valentino passed Nicky on the inside at MG, forcing the Ducati man to give him room and allowing Simoncelli also to get through. Rossi passed Spies on the Gardner Straight, for the turn in to Doohan, with then Simoncelli and Hayden both getting past Ben on the inside at Honda. One-third of the way into the 27-lap race, Stoner led by 3.5s, with Lorenzo six seconds from the battling men behind.
Rossi was third, with Hayden going past Simoncelli for fourth at Doohan. A moment for the Honda rider let Nicky pull away and join in battle with 'the Doctor' ahead. From here, Rossi and Hayden contested third, with Simoncelli and Spies contesting fifth. Beyond MG is the left-handed bend at turn eleven, flowing into another at Swan Corner, the final bend. More than once, Spies showed he was faster out of Swan, and that let him pull right to pass Simoncelli before Doohan, but the first time he did not stay ahead for long.
Half-distance saw the rear sliding Stoner with a four second lead, and ten seconds back from Lorenzo to third place. Casey eased off when he got to six or seven seconds clear, and the first two sped on to the final flag. Rossi could not shake off Hayden, who found a way past on the inside for Honda with three laps to go. On the last lap, Rossi was very close behind out of Doohan and at the next long left, Southern Loop. The Bass Straight then becomes turn three, and this was where Valentino went to the outside on the way out, to be level on the inside braking for Honda, which just edged him past. He held on over the finish line for third.
Spies had secured fifth ahead of Simoncelli, which finalised the 'rookie of the year' award for Ben, where Marco was his nearest rival. After losing touch with the group ahead, Edwards had maintained seventh to the end, with Melandri losing the battle for eight with Espargaró, who had come through from P13. In tenth at that stage, heading Bautistá, had been de Puniet, but then he ran straight on at Honda and found himself crossing the grass to rejoin. Randy then made his way past Barberá and Aoyama (together at the Southern Loop), Bautistá and Kallio for tenth again at the finish, from Mika, Álvaro, Hiroshi and Héctor.
Casey Stoner made it four wins at Phillip Island, in four attempts with the 800 Ducati. Before that his best result had been third in the 125cc race of 2004. Jorge Lorenzo finished in the top four, as he has at every race, with this his twelfth result of first or second this year. And Valentino Rossi maintained a phenomenal record at this circuit. In fourteen races here, he has been a podium visitor every time except his first, when he was sixth in the 125cc race of 1997. On a bad day for the Repsol Honda pair, Stoner and Rossi moved closer to Dani Pedrosa, with Casey now ahead of Valentino, and with Andrea Dovizioso falling back. Can Dani race next time out, and maintain second, or is he under threat of losing out?
Standings after sixteen races: Lorenzo 333; Pedrosa 228; Stoner 205; Rossi 197; Dovizioso 179; Spies 163; Hayden 152; Simoncelli 102; de Puniet 100; Melandri 93; Edwards 90; Barberá 76.
Yamaha 354; Honda 315; Ducati 255; Suzuki 96.