Another GP win in Portugal for Jorge Lorenzo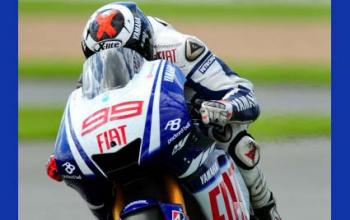 © Empics / PA Photos
By Dan Moakes
November 3 2010
The 2010 FIM MotoGP World Championship title had been won, and now it was back to Europe for the first of two races to conclude the Grand Prix season. For new champion Jorge Lorenzo, the Estoril circuit in Portugal represented the scene of wins for him in both of the previous two years, but big rival Valentino Rossi had also had past success there.
Fiat Yamaha rider Lorenzo seemed to have the measure of everyone as a MotoGP competitor in Portugal, but team-mate Rossi had won five GP races at Estoril, and was a podium regular there - with a worst result of fourth in 2009. A few of the other regulars had won at the track, with Álvaro Bautistá having done so three times in the junior GP classes, and single successes having gone to Héctor Barberá, Casey Stoner, Andrea Dovizioso and Marco Simoncelli.
The line-up for round seventeen of the series was swayed more in favour of Spanish riders, firstly with Repsol Honda's Dani Pedrosa back from injury, hoping to defend second position in the points. There was also a replacement for Pramac Ducati's Mika Kallio. 38-year-old Carlos Checa is an experienced GP rider, his last MotoGP appearance having been in 2007, the first year of the 800cc four-stroke machinery. He rode a Honda that season, but was on the works 990cc Ducati in 2005, when he secured eight top five results. With two wins in the 500cc two-stroke era, and 24 podium results in total, his most recent seasons have seen him become a race winner in World Superbikes. He had been second to Rossi at Estoril in 2002.
Checa had to reacclimatise to GP racing, but in the event it wasn't easy for anyone to prepare for the race. In the lead up, all the practice sessions took place in wet weather, some being more treacherous than others. There were a number of highside crashes, and clearly there was no opportunity to work on bike set-up for dry conditions. It was so wet that the qualifying session was not able to be run, and in the end the grid was based on times from Friday practice, when the afternoon session had been less tricky. Even the warm-up on race day was wet.
Through all this, Lorenzo emerged quickest for his seventh pole position of the season. Rossi joined him on the front row in third position, and they were split by Nicky Hayden on the first Marlboro Ducati. Team-mate Stoner was fourth, and then it was Tech 3 Yamaha rider Ben Spies. For the first time this season, no Honda rider was in the top five starting positions.
Repsol-backed works Honda riders Dovizioso and Pedrosa missed out through the disrupted weekend, with the Italian seventh and Dani back in P12. Andrea wasn't even the first of the Honda riders, as sixth place went to Marco Melandri for the Gresini team. It was his best starting position since his previous season with the team, back in 2007. Another Honda man was eighth, Randy de Puniet for the LCR team.
Ninth was Colin Edwards (Tech 3 Yamaha), from Simoncelli (San Carlo Gresini Honda) and Aleix Espargaró (Pramac Ducati). Pedrosa was followed by the two Rizla Suzuki men, Loris Capirossi (also back from injury) and then Bautistá. 15th man Barberá (Páginas Amarillas Aspar Ducati) then headed Hiroshi Aoyama (Interwetten Honda) and Checa, who would run number 71 instead of the more familiar number 7, already allocated to Aoyama.
Race day was not fully dry, but there was no rain as they lined up on the grid. There were wet patches round the track, but the conditions were bright and windy, with the moisture not destined to last. The race was declared dry. Because of the practice situation, riders and teams had to gamble on dry bike settings, but whatever Spies decided on he didn't get the chance to see it pay off. He crashed at the left-handed turn four on his sighting lap, sustaining a dislocated left ankle and ending his day in the medical centre.
Lorenzo made a good start to retain the lead, with Dovizioso somehow shooting forward to emerge in second place, up from seventh. Hayden was third, from Rossi, with de Puniet taking fifth from Stoner, ahead of Melandri, and with Edwards passing Simoncelli for eighth. Espargaró had a short race as he was an early crasher. The start of the second lap saw a mistake from de Puniet at Curva 1, a tight right-hander at the end of the long and fast main straight. When Randy ran wide, a few of his pursuers got past.
The early laps saw some frantic back-and-forth action involving the top five, with Hayden taking over in front of Lorenzo for a time, until the Spaniard overtook again into Curva 1. Dovizioso lost out to both Rossi and Stoner in one go, with Casey at that time taking the fastest lap. Turn six is the left loop Parabolica Interior, following a straight, and Valentino overtook Nicky on the inside there for second.
Lorenzo and Rossi on the Yamahas began to move clear of the next trio, with Stoner passing team-mate Hayden for third, from Dovizioso. Then it was de Puniet, Simoncelli, Edwards and Pedrosa, with Melandri back to tenth, from Bautistá, Checa, Aoyama, Barberá and Capirossi. In fact, de Puniet and Simoncelli would join on to the battle ahead, although then the French rider again went wide at Curva 1, losing ground as before.
Turns seven and eight are right-handers, the second of them feeding the racers into the braking zone for the climbing left hand Saca-Rolhas hairpin. This tricky corner allows overtaking, and this was where Rossi passed Lorenzo for the lead on the inside. He began to ease clear, soon setting a new fastest lap. Before long, Lorenzo was also usefully clear of those behind. Stoner was no longer third, suffering a lowside crash in the long final left-hand Parabolica Ayrton Senna corner.
Hayden took over third from his departed team-mate, leaving a battle for fourth between Dovizioso and Simoncelli. Marco made it past at Saca-Rolhas, but would soon have to control a major wobble that let Andrea back through. He would go on to repay the favour. Behind them there was a contest between de Puniet, Edwards and Pedrosa. Colin was about to drop back from the Honda pair, who would change places a couple of times.
Quarter of the way into the race, Rossi led Lorenzo by around 1.6s, but the Spaniard built up some speed and began to close in with a couple of fastest laps. Third man Hayden was well out of range by half-distance, by which time the Yamahas were split by only 0.2s. The two were together as they made their exit from Parabolica Ayrton Senna onto the Recta da Meta straight, and Lorenzo was able to slipstream Valentino, and move to the inside for the Curva 1 braking zone, getting through into the lead again.
More fastest laps from Lorenzo took him into a 1.0s lead, and this only grew as Rossi apparently accepted that the Spaniard's Yamaha was working better on the day. With four laps to go there was a five-second margin, and Jorge was on his way to his 13th premier class Grand Prix win, putting him level with Randy Mamola and Max Biaggi. Rossi was a comfortable second in only the third Fiat Yamaha one-two of the season.
Hayden's firm hold of third place had not lasted, as Simoncelli closed in and made his way past at turn three, the right-handed Lamy loop. He was heading a batch of Honda men, also including Pedrosa, de Puniet and Dovizioso, with Edwards behind them. Dovizioso regrouped and overtook Pedrosa on the inside at Parabolica Interior, then used a slipstream on the main straight to pass Hayden, who would soon fall behind Pedrosa as well. Then it was between Simoncelli and Dovizioso for third place.
'Dovi' went by a couple of times, the second when he used the slipstream for a pass at Curva 1. Later he went wide there, and Simoncelli was on a tight line and overtook again. Two laps from home, Andrea repeated his previous move to take third, but the end of the final lap saw drama between the pair. Marco found space to pass his works rival at almost the last gasp, but heading onto the finish straight Andrea got the tow and at the last moment pulled ahead to cross the line. He was third, but Marco still took his best MotoGP result.
Not too far behind at the finish, Hayden was fifth, then it was de Puniet and Edwards. Pedrosa had found that his physical endurance was not up to a sustained full-on challenge for the entire race, on his return from recent injury, so dropped away after peaking in fifth place. He had been in the middle of a busy group too, but still crossed the line eighth. The remaining finishers were Melandri, from Barberá, Bautistá, Aoyama and Capirossi. Checa had looked racy for a time, but the particular demands of braking on a MotoGP machine saw him park in the pits with 'arm pump' issues.
Lorenzo was wearing his previously seen all white 'spaceman' leathers, and he celebrated with his simulation of weightlessness as he planted the Lorenzo's Land flag. His third MotoGP season almost at an end, the Spaniard now topped 800 points from his efforts so far. Rossi, meanwhile, went past the amazing total of 3300 premier class GP points, with his tenth podium at Estoril.
Despite wrapping up the title convincingly, Jorge Lorenzo had actually gone without a race win in his previous six outings. But there was no mistaking his position as top man on this day, and it kept him in with a chance of a record-breaking score for the season - he will overhaul Valentino Rossi's 2008 tally if he is on the podium in the last race. But who will be second in 2010? With Casey Stoner crashing, Rossi moved up into position as Dani Pedrosa's nearest challenger. However, the Spaniard's eight points here mean that a further top ten result will keep him ahead.
Meanwhile, Ben Spies had retained an outside chance of being not only 'rookie of the year' but also the highest ranked rookie of the MotoGP era. Previously Lorenzo had been fourth in 2008, although fifth man Pedrosa had scored more points in his rookie year of 2006. Although unable to get to the 215 points record, Spies might still have overhauled Dovizioso, Rossi and Stoner for third, but his fate in Estoril now rules that out. He will at least want to stay ahead of former champion Nicky Hayden with his Valencia result, and either way the fans will want an exciting race to conclude the current season.
Standings after seventeen races: Lorenzo 358; Pedrosa 236; Rossi 217;Stoner 205; Dovizioso 195; Spies and Hayden 163; Simoncelli 115; de Puniet 110; Melandri 100; Edwards 99; Barberá 82.
Yamaha 379; Honda 331; Ducati 266; Suzuki 101.