Biographical rider entry list for MotoGP in 2012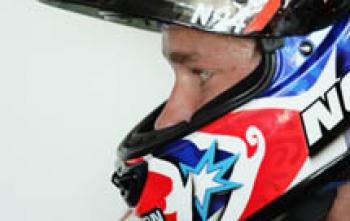 © Getty Images
By Dan Moakes
March 27 2012
The 2012 FIM MotoGP World Championship series: The new season of racing starts with the Qatar night race in April, where Honda factory rider Casey Stoner, from Australia, will start the defence of his second MotoGP title. Here are the essential details on who's who among the riders this year.
The 2012 FIM MotoGP World Championship:
The year ahead in motorcycle Grand Prix racing marks the start of a new era in four-stroke MotoGP competition, with the move to the 1000cc engine formula for the premier class; and with the advent of the Claiming Rule Teams, an additional class designed to put more bikes on the grid using production-based Superbike engines and bought-in chassis.
There is no shortage of experience and talent amongst the latest contingent of riders, led by the four men who have won 97% of the MotoGP races over the last four seasons: Stoner, Rossi, Lorenzo and Pedrosa. With the unfortunate exception of Marco Simoncelli, all of the top nine riders from 2011 return, including three more former winners: Dovizioso, Spies and Hayden. In all, the line-up includes fifteen GP winners and eleven World Champions. Four men return to the MotoGP class (West, Ellison, Silva and Espargaró), with four men moving up from the Moto2 class (Bradl, Pirro, Pasini and Hernández), and with one GP rookie in the form of Danilo Petrucci. Here is a biographical rundown for all the contenders.
Valentino Rossi, Italy
age 33 · first GP 1996
racing number: 46
GP entries: 260, total points: 4398
GP wins: 105 (125cc, 250cc, 500cc, 990cc, 800cc)
GP podium results: 175
World Champion: 125cc 1997 · 250cc 1999 · 500cc 2001 · MotoGP 2002, 2003, 2004, 2005, 2008, 2009
National Champion*: Italian 125cc 1995
also: a race winner in World Endurance
Randy de Puniet, France
age 31 · first GP 1998
racing number: 14
GP entries: 218, total points: 1282
GP wins: 5 (250cc)
GP podium results: 24
best MotoGP result: 2nd
best season in MotoGP: 9th 2010
best season in GPs: 3rd 2004 250cc
National Champion*: French 125cc 1998
Anthony West, Australia
age 30 · first GP 1998
racing number: 13
GP entries: 172, total points: 780
GP wins: 1 (250cc)
GP podium results: 5
best MotoGP result: 5th
best season in MotoGP: 15th 2007
best season in GPs: 6th 2000 250cc
National Champion*: Australian 125cc 1998
also: race wins in World Supersport
Iván Silva, Spain
age 29 · first GP 1998
racing number: 22
GP entries: 8, total points: 0
best MotoGP result: 16th
National Champion*: Spanish Supersport 2003
also: a race winner in World Endurance
Dani Pedrosa, Spain
age 26 · first GP 2001
racing number: 26
GP entries: 181, total points: 2596
GP wins: 38 (125cc, 250cc, 990cc, 800cc)
GP podium results: 97
World Champion: 125cc 2003 · 250cc 2004, 2005
best season in MotoGP: 2nd 2007, 2010
Andrea Dovizioso, Italy
age 26 · first GP 2001
racing number: 4
GP entries: 169, total points: 1983
GP wins: 10 (125cc, 250cc, 800cc)
GP podium results: 57
World Champion: 125cc 2004
best season in MotoGP: 3rd 2011
European Champion: 125cc 2001
Casey Stoner, Australia
age 26 · first GP 2001
racing number: 1
GP entries: 168, total points: 2157
GP wins: 40 (125cc, 250cc, 800cc)
GP podium results: 79
World Champion: MotoGP 2007, 2011
Jorge Lorenzo, Spain
age 24 · first GP 2002
racing number: 99
GP entries: 163, total points: 2141
GP wins: 38 (125cc, 250cc, 800cc)
GP podium results: 82
World Champion: 250cc 2006, 2007 · MotoGP 2010
Héctor Barberá, Spain
age 25 · first GP 2002
racing number: 8
GP entries: 159, total points: 1418
GP wins: 10 (125cc, 250cc)
GP podium results: 32
best MotoGP result: 6th
best season in MotoGP: 11th 2011
best season in GPs: 2nd 2004 125cc & 2009 250cc
National Champion*: Spanish 125cc 2002
Álvaro Bautistá, Spain
age 27 · first GP 2002
racing number: 19
GP entries: 152, total points: 1340
GP wins: 16 (125cc, 250cc)
GP podium results: 46
best MotoGP result: 5th
World Champion: 125cc 2006
best season in MotoGP: 13th 2010, 2011
National Champion*: Spanish 125cc 2003
Colin Edwards, United States
age 38 · first GP 2003
racing number: 5
GP entries: 154, total points: 1163
GP podium results: 12
best MotoGP result: 2nd
World Champion: Superbike 2000, 2002
best season in MotoGP: 4th 2005
National Champion*: AMA 250cc 1992
also: race wins in World Endurance
Nicky Hayden, United States
age 30 · first GP 2003
racing number: 69
GP entries: 153, total points: 1386
GP wins: 3 (990cc)
GP podium results: 28
World Champion: MotoGP 2006
National Champion*: AMA Supersport 600cc 1999 · AMA Superbike 2002
Michele Pirro, Italy
age 25 · first GP 2003
racing number: 51
GP entries: 47, total points: 89
GP wins: 1 (600cc)
GP podium results: 2
best season in GPs: 9th 2011 Moto2
European Champion: 125cc 2004
National Champion*: Italian Superstock 2007, 2008
also: a race winner in World Supersport and in FIM Superstock 1000 Cup
Mattia Pasini, Italy
age 26 · first GP 2004
racing number: 54
GP entries: 123, total points: 903
GP wins: 10 (125cc, 250cc)
GP podium results: 26
best season in GPs: 4th 2005, 2006 125cc
Aleix Espargaró, Spain
age 22 · first GP 2004
racing number: 41
GP entries: 107, total points: 374
GP podium results: 1
best MotoGP result: 8th
best GP result: 3rd (Moto2)
best season in MotoGP: 14th 2010
best season in GPs: 12th 2008 250cc & 2011 Moto2
National Champion*: Spanish 125cc 2004
James Ellison, England
age 31 · first GP 2004
racing number: 77
GP entries: 40, total points: 36
best MotoGP result: 9th
best season in MotoGP: 18th 2006
European Champion: Superstock 2000, 2001
Karel Abraham, Czech Republic
age 22 · first GP 2005
racing number: 17
GP entries: 115, total points: 313
GP wins: 1 (600cc)
GP podium results: 2
best MotoGP result: 7th
best season in MotoGP: 14th 2011
best season in GPs: 10th 2010 Moto2
Stefan Bradl, Germany
age 22 · first GP 2005
racing number: 6
GP entries: 90, total points: 687
GP wins: 7 (125cc, 600cc)
GP podium results: 18
World Champion: Moto2 2011
National Champion*: German 125cc 2005
Ben Spies, United States
age 27 · first GP 2008
racing number: 11
GP entries: 40, total points: 381
GP wins: 1 (800cc)
GP podium results: 6
World Champion: Superbike 2009
best season in MotoGP: 5th 2011
National Champion*: AMA Formula Xtreme 2003 · AMA Superbike 2006, 2007, 2008 · AMA Superstock 2007
Yonny Hernández, Colombia
age 23 · first GP 2010
racing number: 68
GP entries: 32, total points: 75
best GP result: 6th (Moto2)
best season in GPs: 19th 2011 Moto2
Cal Crutchlow, England
age 26 · first GP 2011
racing number: 35
GP entries: 18, total points: 70
best MotoGP result: 4th
World Champion: Supersport 2009
best season in MotoGP: 12th 2011
National Champion*: British Supersport 2006
also: race wins in World Superbike
Danilo Petrucci, Italy
age 21 · first GP n/a
racing number: 9
GP entries: 0, total points: 0
also: a race winner in European Stocksport 600
---
* Winner of a national championship title at the most senior level