Alex Lowes takes 2013 BSB title at Brands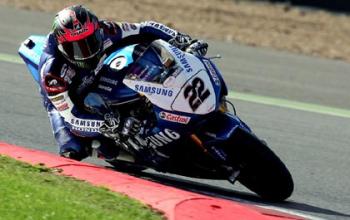 © Glynne Lewis
By Dan Moakes
November 15 2013
The 2013 British Superbike Championship: it all came down to the final round, with three races to be held on the Brands Hatch Grand Prix circuit, and with just a single point separating the two main contenders, as Shane Byrne held a slender advantage over Alex Lowes.
Brands is, of course, the home track for three-time champion 'Shakey' Byrne, and is a place where he has a phenomenal record of victories, including a couple at World Superbike level. On the other hand, Lowes had hit his best form in the latter part of the season, and was obviously prepared to push his big rival all the way. Some of the other Showdown contenders were not out of it yet, but it was going to take a lot for James Ellison or Josh Brookes to become champion.
There was another element to the title decider, which was the weather. Qualifying was wet, and it helped some unfamiliar faces to find their way into prominent grid positions. Tyco Suzuki rider Brookes was no stranger to pole position, but it was the Australian rider's first of the season as he ended up fastest, joined on the front row by Byrne (Rapid Solicitors Kawasaki) and Lowes (Samsung Honda). Ellison suffered with a misted helmet visor and ended up only in P16 on the Milwaukee Yamaha.
The men in positions four to seven were all better off than at any other point during the season. Josh Waters had only once started from within the top ten before being replaced as Ellison's team-mate, but here he would start fourth on the Halsall Kawasaki; and the team's other rider, Lee Costello, was in a much-improved sixth. The experienced Karl Harris was also able to step up in the conditions and take fifth on his PR Racing Kawasaki, whilst Dan Linfoot (for GBmoto Racing Honda) was one slot better than his recent best in securing seventh.
James Westmoreland still had a remote chance of being champion, although surely not a realistic one, and he would start eighth on the Buildbase BMW. Absentee rider Ryuichi Kiyonari was set to finish sixth in the series, with Freddy Foray once again taking his place on the second Samsung Honda. Ninth went to PJ Jacobsen (Tyco Suzuki), from Matteo Baiocco (Rapido Sport Ducati), Jakub Smrž (Padgett's Honda) and Michael Rutter (Bathams Honda). After a crash, Byrne's team-mate Noriyuki Haga would start from the eighth row.
Brands Hatch
Form guide: BSB wins on both GP and Indy circuits
Shane Byrne · 2003, 2008, 2008, 2008, 2011, 2011, 2011, 2011, 2012, 2012, 2012, 2012, 2012, 2013, 2013
Ryuichi Kiyonari · 2005, 2005, 2006, 2006
Chris Walker · 1998, 1999, 2000
James Ellison · 2010, 2013
Josh Brookes · 2011, 2013
Michael Rutter · 2000
Jon Kirkham · 2012
For race one, on Saturday, the track was wet - although the sun was out as it was time to set off. The riders were all equipped with wet weather tyres from Pirelli. Byrne led away, only to be quickly relegated to second by Brookes. Halsall riders Waters and Costello were initially third and fourth, ahead of Lowes, Harris, Chris Walker (Quattro Plant Kawasaki), Jacobsen, Ellison and Linfoot, although Harris would soon lose places to the four men behind. The longest straight at Brands is round the back section, dipping down at Pilgrims Drop, and going uphill again at Hawthorn Hill, ready for the right-hander at Hawthorn Bend. This corner saw Lowes move up with a move on the inside of Costello.
Brookes was on form as he started to extend his lead, whilst Byrne was coming under attack from Waters at the left-handed Graham Hill Bend. Lowes was close behind in fourth, and soon he repeated the move at Hawthorn to get past the second Halsall man and sit right behind his title rival. Jacobsen would get the better of Walker and Costello to head the next group, but by that time the trio in front were out of range. But it was all about Brookes, who for the most part looked uncatchable.
The track was beginning to dry out somewhat, and Waters was dropped into a lonely fourth place as the two usual pace setters ahead of him renewed their contest. Lowes closed in on Byrne and, four laps from the end, he made his pass on the inside through the left-handed Surtees bend. Initially, Shakey was back on the attack, looking to get past again at Paddock Hill Bend, the first right-hander with its steep drop. However, in the remaining laps Alex stretched out a gap and began to cut into the lead: the finishing order saw Brookes, then Lowes, Byrne, Waters (his first result in the top six), and with Jacobsen maintaining fifth.
From outside the top ten, Tommy Bridewell on the Milwaukee Yamaha had moved through decisively, including with moves at Dingle Dell and Hawthorn Bend, to secure sixth. He had passed team-mate Ellison on his way, with James apparently in trouble and soon to pull into the pits. Tommy had raced in a close group with Walker, Costello and Westmoreland, and these three filled the next finishing slots, with Costello winding up as the tail man in ninth - still his best BSB finish. Foray gained 13th position, behind Rutter, Haga and Linfoot; and then it was Kirkham (Buildbase BMW), Hickman (GBmoto Honda), Smrž and Baiocco.
Lowes would go into Sunday's races with a three-point advantage over Byrne, all the other riders now unable to overhaul the Honda man. The reformed grid, based on fastest lap times, would see Lowes heading, Brookes, Byrne, Haga, Walker, Westmoreland, Waters, Bridewell, Smrž, Foray, Rutter and Linfoot. But for race two the partially wet conditions led to even more of a dilemma, as for some riders the choice of intermediate tyres looked like a worthwhile gamble, with an eye on the prospects of the track drying out, even though it was declared officially a 'wet race'.
Haga made a good start but seemed to back off a touch as the other leaders got going, so that Byrne was into the lead, from Lowes, with the Japanese rider third. The second corner at Brands is the right-handed hairpin at Druids Hill Bend, and the drama started there as Lowes, with an 'inter' tyre on the rear, very nearly touched with Brookes at the exit of the turn. Alex went down and handed the initiative back to Byrne; and meanwhile the inside for Druids had seen Westmoreland get through into the lead as they all shuffled for grip, with Ellison briefly into second before he relegated the BMW man.
Mostly it seemed to be the riders on wet weather tyres who fared well initially. Ellison and Westmoreland headed Haga and Byrne, but Shakey began to slip back as others came to the fore, the Kawasaki man surely only needing a finish to put himself back ahead of the departed Lowes in the championship race. Brookes passed Haga for fourth, with Baiocco up to sixth and Byrne about to lose out to Howie Mainwaring (Tsingtao Kawasaki) at Paddock; and with Walker the next in the frame. But the one man really making hay was Costello, the 26-year-old in position to engage with James Ellison and James Westmoreland at the front of the field.
Lowes wasn't the only man caught out by the tricky conditions, with Haga going down at the Clearways right-hander, soon to be followed by Bridewell at Druids. By now the leading trio saw Ellison heading Costello and Westmoreland, with the Kawasaki man contending for a BSB podium place for the first time. Indeed, Lee was looking like a possible winner as he went to overtake the Milwaukee Yamaha at Paddock, running a bit wide so that Ellison got back through on the way out. But moments later, James ran off track at Druids, rejoining in third place behind Westmoreland.
Conditions were slowly improving for those on inters, and with Byrne having one on the rear he should have started to move forward again, after being pushed back to ninth. However, now he suffered a fall when he lost the rear of his Kawasaki at Druids, and any chance of being ahead on points before the final race was lost. The leading group was still Costello, Westmoreland and Ellison, but Baiocco, who had been up to fourth, had begun to lose out to others behind; Mainwaring would soon be in a similar position. The man heading to the front was Brookes.
Costello had a small margin over second man Westmoreland but, with the BMW rider going wide at Druids, Ellison was able to get through again. The nine-time BSB race winner lost out again briefly, but was soon back into second and in place to take the lead from Costello on the inside through Graham Hill Bend. By now, Westmoreland had dropped back a bit and was under pressure from Brookes on his intermediate tyres. Walker was the man in fifth, just clear of a battle involving Linfoot, Mainwaring and Jacobsen.
The relatively inexperienced Costello was not yet out of it as a potential race winner, regaining the lead when Ellison went wide at Druids. Meanwhile, Brookes moved up to third through the final right-hand bend at Clark Curve, where he was able to use the dry line on the inside of Westmoreland's BMW. Josh had the right tyres and was right behind the two leaders for the last lap. The right-handed Westfield Bend at the back of the circuit saw Brookes pass Ellison on the inside to take second, and it was very close between all three as they went through the left-handed Stirlings Bend and into the final section. Once again, Brookes could use the tighter line through Clark, and this allowed him to just get the better of Costello and take the win, with Ellison third.
Costello had just lost out, but it was still by far his best BSB result: in his rookie season, he had only once previously finished in the top ten, and that had been the day before, also in tricky conditions. In fourth and fifth places, Westmoreland and Walker both matched their best finish for 2013, as did seventh man Linfoot after losing out to Jacobsen when he ran wide. Kirkham was eighth, from Smrž, Foray (his best result on the Honda), Mainwaring, Aaron Zanotti (STEL Suzuki), Baiocco, Danny de Boer (Bathams Honda) and Martin Jessopp (Riders BMW).
With both men non-finishing, once again Lowes would go into race three with a three-point advantage over Byrne, and with the line-up for the grid also in his favour. Of course, this was based on the fastest race laps from earlier in the day, and the first two rows would have Brookes on pole from Jacobsen, Walker, Linfoot, Kirkham and Foray. Byrne had not reached the final stages of the race, so had not recorded a particularly fast time, and he would have to start from P22. Lowes, of course, had not even completed a lap, but the regulations protect a fast rider in those circumstances: the 'plus eight' rule meant that Alex would start eight places back from his race two grid slot. This meant he was ninth, behind Costello and Westmoreland, and ahead of Ellison, Smrž, Rutter and the rest.
Therefore, Byrne had an initial thirteen-place deficit to overcome in his battle with Lowes, but away from the start this was reduced to six places, with Shakey up to P13 and Alex initially seventh. More rain had followed the action earlier on, and this time everyone was on wet weather tyres. Brookes led, from Kirkham, Walker, Linfoot, Ellison and Jacobsen. Behind Lowes were Waters, Westmoreland, Costello, Hickman, Harris, then Byrne, Foray, Rutter and Smrž. With the championship in mind, it was all about how Lowes and Byrne faired, relative to one another, but this race was effectively there for Josh Brookes.
The Australian rider was soon into an unchallenged lead, leaving a battle behind him over second position. Initially there were five men involved. Walker was up to second until Kirkham got back through and started to move clear. Jacobsen had begun to drop back, and by now Lowes had passed Ellison and Linfoot for fourth. The next move for Lowes was to pass Walker on the inside at Paddock Hill Bend, putting him third and with a gap to Kirkham to try and make up. Meanwhile, Byrne had passed Westmoreland for eighth, then dealt with Waters as he chased after his main rival. At this stage he was circulating faster than everyone bar Brookes.
The position behind Brookes now saw Kirkham, then Lowes, Walker, Linfoot, Ellison and Byrne. Ellison had to make a save when he had a 'moment' on the Yamaha, giving Byrne the chance to get through at Surtees. A slight gap was opening up behind Lowes, with Walker now relegated first by Linfoot and then Byrne. Lowes was third and Byrne now fifth, with Shakey targeting Linfoot's fourth position. He was looking to attack at Surtees, making the pass on the power at Pilgrims Drop, and now he was directly behind his main rival.
From here, Kirkham experienced a few troubles, firstly with a moment that let both Lowes and Byrne through at Surtees, then getting involved in a battle with Linfoot. But now all eyes were on the contest for second in the race, behind Brookes. The four points difference between finishing third or fourth would be enough for Byrne to retain his title, if he was ahead, and he got through on Lowes on the inside at Surtees. He would then recover from a slide at Clark without losing a position, and soon Lowes would have his own moment at Graham Hill Bend.
Byrne made to extend his advantage over Lowes, but the Honda man was able to respond. With four laps to go, Alex passed his rival on the inside at Graham Hill Bend, and the determination of both men was clear in their riding. Lowes had a slide at Clark, and Byrne tried to re-pass on the inside at Paddock, but without success. He looked for another opportunity on the inside at Surtees, but going into the final lap it was Alex still ahead. At Druids, Shakey got sideways and went a bit wide, also running slightly deep at Surtees. This lost ground was enough for Lowes to complete the lap in second place, without another challenge from Byrne. Brookes won the race, but Lowes was the 2013 champion.
A moment for Linfoot had let Kirkham back into fourth, only for the BMW rider to soon find himself on the grass on the inside of the circuit after Druids, although still able to rejoin and continue on. However, the fast man in the second half of the race was Bridewell, coming through from outside the top ten and in the final stages emerging in fourth place, where he got quite close to the battling pair ahead, settling for his best result from the three Brands races. In the end, Linfoot dropped back, as did Walker after going off track, so that Ellison was fifth, from Kirkham, Westmoreland, Waters, Walker, Linfoot, Smrž, Hickman, Costello, Foray, Baiocco, Zanotti, de Boer, Jessopp and Jenny Tinmouth on her Honda.
The Brands Hatch triple header had been dominated by Josh Brookes, with his run through the field in race two perhaps the best of his victories. It took the total number of BSB podium results for Australian riders up to 99, with Brookes on 65 and some way clear of the next man, namely Troy Bayliss on 18. But in reality, Josh's achievements were a footnote to the real business, the decision concerning who would be the champion. In the end, both Alex Lowes and Shane Byrne made mistakes in race two, and with Lowes out early on surely Byrne only needed to keep things safe and reach the finish; yet in the other two races it was Lowes who finished ahead each time, defeating Byrne on his local circuit. Shane was quick to acknowledge that the 23-year-old deserved his first title.
Elsewhere, the weather helped to turn this one into a meeting of surprises, not least where the Halsall Racing Team were concerned. For Josh Waters there was a fourth place in qualifying that he replicated in the result of race one; and for Lee Costello there was sixth in qualifying and a narrow defeat in race two, where was he was still an impressive second. Racing in the rain or in the wet usually disguises any machinery disadvantage, with these two therefore proving their talent to those looking to sign new riders for the 2014 season. Alex Lowes may not be there, as he looks to make the move onto the world stage, but we can be sure to see a first class field once again, with plenty of former race winners back for more.
Final championship standings after twenty-six races: Showdown
1 Alex Lowes (Honda) 643
2 Shane Byrne (Kawasaki) 636
3 Josh Brookes (Suzuki) 621
4 James Ellison (Yamaha) 589
5 James Westmoreland (BMW) 564
6 Ryuichi Kiyonari (Honda) 522
Remaining standings
7 Jon Kirkham (BMW) 213
8 Tommy Bridewell (Honda/Kawasaki/Yamaha) 197
9 PJ Jacobsen (Suzuki) 188
10 Chris Walker (Kawasaki) 168
11 Peter Hickman (Honda) 113
12 Dan Linfoot (Honda) 102
13 Josh Waters (Yamaha/Kawasaki) 96
14 Keith Farmer (Kawasaki) 93
15 Jakub Smrž (Honda) 82
2013 race wins: Byrne 10, Lowes 8, Brookes 5, Ellison 3; other podium vistors: Kiyonari, Bridewell, Jacobsen, Costello
A full review of the 2013 British Superbike season will follow shortly