Double win for Shane Byrne in 2014 BSB season opener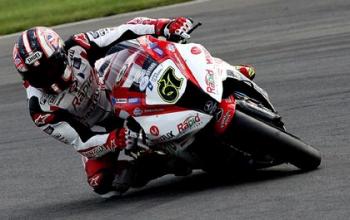 © Raceline Photography
By Dan Moakes
May 9 2014
The short Indy circuit at Brands Hatch was host to the first British Superbike meeting of 2014, with the two races held on Easter Monday. Seven of the top eight finishers in last year's championship were back for more, the exception being title holder Alex Lowes, now in World Superbikes.
2013 had seen four regular race winners in the series, with both Josh Brookes and James Ellison therefore being title contenders, but with Shane Byrne in the end the only man who could have denied Lowes. Three-time champion Byrne, staying on in Paul Bird's Rapid Solicitors Kawasaki team, would therefore be starting the new season as the favourite. Meanwhile, Brookes had moved from the Tyco Suzuki team to join Milwaukee Yamaha, where he replaced Ellison, who in turn switched to the Lloyds British GBmoto squad, where the team had opted to run Kawasaki machinery instead of Honda bikes this year.
There were plenty of other line-up changes, with Byrne joined in the PBM team by former BSB race winner (2009-10) Stuart Easton, the Scot having completed his comeback from injuries by taking the 2013 British Supersport title, his second success in that category. Brookes teamed up with Tommy Bridewell on the YZF-R1, the 25-year-old having joined the Milwaukee team for the Showdown races last season. Meanwhile, GBmoto's second signing was the experienced Chris Walker.
It was all-change at Tyco Suzuki, where former MotoGP regular John Hopkins, BSB runner-up in 2011, returned to the fold. He was joined by Josh Waters, who had raced a Milwaukee Yamaha then a Halsall Kawasaki in BSB 2013. The missing piece of the puzzle was four-time BSB winning Honda, who had provided the machinery for Samsung-backed Lowes and Ryuichi Kiyonari the previous season. They had hoped to field 2005 and 2009 BSB racer Julien da Costa, but in the end had not made it into the series, leaving the Frenchman on the sidelines. Kiyonari had switched to the Buildbase BMW team, alongside James Westmoreland - also with wildcard entry Michael Dunlop, with all his road racing and TT experience.
There was wet weather for qualifying, and several riders crashed - including the three men who would nevertheless fill the front row of the grid: Brookes, Kiyonari and Hopkins. Row two was led by Walker, from Westmoreland, with Richard Cooper (Anvil Hire TAG Kawasaki) sixth in only his fourth BSB meeting (after appearances in 2009 and 2011). Row three was led by Ben Wilson on the Gearlink Kawasaki, the 16-time Supersport race winner (and 2011 series runner-up) returning to BSB after seven years. This improved on his previous best BSB qualifying slot of ninth.
In eighth place was experienced 42-year-old Michael Rutter, now racing a Superbike from his sixth different manufacturer, with a BMW backed by Bathams. His team-mate was Patric Muff, back in BSB after a season away, and tenth on the grid here. These two were split by Keith Farmer on the PR Racing Kawasaki. Then came Bridewell, Dunlop and 13th placed Byrne, followed by Waters and Ellison. For race day the riders would have dry weather.
Brands Hatch
Form guide: BSB wins on both GP and Indy circuits
Shane Byrne · 2003, 2008 (x3), 2011 (x4), 2012 (x5), 2013 (x2)
Josh Brookes · 2011, 2013 (x4)
Ryuichi Kiyonari · 2005 (x2), 2006 (x2)
Chris Walker · 1998, 1999, 2000
James Ellison · 2010, 2013
Michael Rutter · 2000
Jon Kirkham · 2012
Kiyonari had a dramatic start to race one, as he stalled the BMW and had to wave his hand and warn the others as they all got going, with everyone managing to avoid him. The Japanese rider was last away from the line after this, unable to capitalise on his efforts in qualifying. Byrne and Ellison got away well from further back, completing the top seven behind Brookes, Walker, Wilson, Hopkins and Cooper. Farmer was ninth initially.
It was 21-time BSB race winner Walker who impressed at the front early on, getting through to the lead on the inside of Brookes through the right-handed Clark Curve. Josh got it back on the inside for the first right at Paddock Hill Bend, but then up Hailwood Hill to the hairpin right at Druids Hill Bend it was Chris on the inside to retake the position. These two were already starting to drop their pursuers, where Hopkins now took over from Wilson in third, whilst Cooper and Ellison battled for fifth.
Brookes was back in front for Paddock, where the banked start-finish curve of Brabham Straight becomes a sudden downhill plunge, but then at Druids the Australian was on the ground as the front end of the Yamaha tucked under him. This left Walker out front on his own, but with local hero Byrne potentially looming as he moved through to second place with a pass on Hopkins at Paddock. Ellison was now fourth (until making a move forward on the inside at Clark), from Cooper, Wilson, Rutter, Bridewell, Muff, Westmoreland, Easton and Dan Linfoot (Quattro Plant Kawasaki).
Walker's advantage was now cancelled out as the race was red-flagged due to an engine blow up for the Kawasaki of Linfoot's team-mate James Hillier. Part two of the race saw the riders line-up on the grid in the order they'd been at the stoppage, with Walker getting away ahead of Byrne, Wilson, Hopkins, Ellison, Easton, Bridewell, Cooper, Rutter, Jakub Smrž (Millsport Ducati), Westmoreland and Muff. Ellison was quick to move up a place for fourth, and into the next lap it was Byrne going for the lead on the inside of Walker at Paddock. However, once again 'the Stalker' got the place back on the inside for Druids.
With Walker and Byrne threatening to pull clear, Ellison put his bike through into third at the expense of Wilson, chasing after the men ahead as ZX-10R machines held the first four places. 'Shakey' soon repeated his pass at Paddock and this time held onto the lead at Druids, with third man Ellison the fastest on track even as Byrne started to draw away from Walker. They finished in that order, with James right behind Chris as the GBmoto squad took a two-three result.
Wilson held on to fourth ahead of Hopkins, with the 32-year-old Kawasaki rider taking his best ever BSB result, an improvement on sixth, scored at Snetterton in 2005. Cooper was eighth, after losing out to Easton and Bridewell; with Rutter dropping back to twelfth, behind Smrž, Westmoreland and Linfoot. Then it was Martin Jessopp (RidersMotorcycles.com BMW), Muff, Waters, Kiyonari, Lee Costello and youngster Harry Hartley (both Halsall Bike Gear Kawasaki), the latter aged just 17.
Fastest race laps put Ellison and Byrne at the front of the grid for race two, ahead of Walker, Easton, Bridewell, Kiyonari, Smrž, Wilson, Hopkins, Brookes, Waters and Linfoot. They got away with Byrne leading, from Easton, Ellison, Walker, Bridewell, Kiyonari, Smrž and Wilson, and with Linfoot falling behind Brookes and Cooper. Bridewell dropped back a couple of positions, so that Smrž was in sixth position when he made an early exit with a crash at Druids.
Brookes was on the move, and soon in a position to join in at the back of a six-man leading group, behind Byrne, Easton, Walker, Ellison and Kiyonari. Next man to progress was Ellison, as he passed team-mate Walker on the inside at Druids, and his next target was Easton, with a move on the inside for the left-handed Graham Hill Bend. Then Brookes overtook his 2010 team-mate Kiyonari, and was right onto the back of Walker. All this time, Byrne looked to be stretching a small advantage at the front.
With Ellison into second, the gap to Byrne at the front initially started to come down, with the gap behind these two opening up. But this was before Brookes got into third place, which he did by passing Walker (who immediately lost out to 'Kiyo' at Paddock), then fighting off Easton (after the Scot had first repaid the compliment with his response at Surtees bend). Once through, Josh closed in on James as Shane decided to leave them to it.
Brookes soon found his way into second position, passing Ellison on the inside at Paddock, then closed in on Byrne ahead. But he didn't quite make it, and that represented the finishing order for the podium. By the end, Easton had been relegated by both Kiyonari and Walker, with Westmoreland making good progress to take seventh. Then it was Linfoot, Bridewell and Wilson, with Cooper having dropped down to P15, behind Hopkins, Jessopp, Hartley and Muff. Outside the points were Waters, Rutter, Costello, Farmer and Barry Burrell (Team WD40 Kawasaki).
In the end, the three fastest qualifiers had missed out on some of the points they might have secured on race day, with John Hopkins both times outside the top four, with Josh Brookes suffering his first race exit, and with Ryuichi Kiyonari starting that outing from the back of the field. However, there were no such problems for two men originally lined up on the fifth row of the grid, as Shane Byrne took both victories and James Ellison scored a pair of thirds. With Chris Walker looking fast, Stuart Easton performing consistently and Ben Wilson making a good impression, it was mostly about Kawasaki at the top of the leader board. And no surprise that Shane Byrne was leading the way again.
Standings after two races: Byrne 50; Ellison 32; Walker 31; Easton and Brookes 20; Wilson 19; Hopkins and Bridewell 16; Westmoreland 15; Linfoot and Kiyonari 13.
podium credits: Byrne 6, Walker, Brookes and Ellison 2.