Shane Byrne does 2014 BSB double at Snetterton 300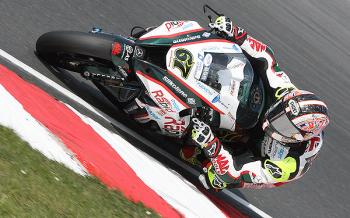 © Glynne Lewis
By Dan Moakes
October 6 2014
Shane 'Shakey' Byrne was clearly the man to beat in the early part of the 2014 British Superbike Championship, the Rapid Solicitors Kawasaki rider looking most likely to come under threat from Josh Brookes and James Ellison as round three took place at the Snetterton 300 track.
The third week of June saw only the third round of the season taking place, and it came after an interval in which two BSB regulars had sadly been lost: Simon Andrews at the North West 200 and Karl Harris at the Isle of Man TT. Andrews would have been racing for the RAF Reserves Honda team at Snetterton. Other changes meant that Peter Hickman would ride Jon Kirkham's Tsingtao WK Kawasaki; and a former team-mate to Andrews, Julien da Costa, would make a wildcard appearance for Honda Racing - title winners last year with backing from Samsung.
Qualifying saw Byrne take pole position, ahead of Brookes on the Milwaukee Yamaha. Third place on the grid was a best-yet this season for Jakub Smrž on the Millsport Ducati, then it was da Costa, Tommy Bridewell (also for Milwaukee) and Ellison on the Lloyds British GBmoto Kawasaki. BMW riders filled row three, with Bathams-backed Patric Muff seventh, then Ryuichi Kiyonari and James Westmoreland for the Buildbase team.
In tenth was Keith Farmer (PR Racing Kawasaki), from Dan Linfoot (Quattro Plant Kawasaki), John Hopkins (Tyco Suzuki), Michael Rutter (Bathams BMW), Josh Waters (Tyco Suzuki) and Stuart Easton (Rapid Solicitors Kawasaki). GBmoto's Chris Walker was only in P20 on his Kawasaki).
Snetterton
Form guide: BSB wins
Ryuichi Kiyonari · 2005, 2006 (x2), 2007 (x2), 2010, 2011
Shane Byrne · 2003, 2008, 2013
Chris Walker · 1997, 2000
Josh Brookes · 2010, 2010
Michael Rutter · 2003
John Hopkins · 2011
The Snetterton 300 circuit sees the first right-hander at Riches Corner lead onto a short straight, which ends with the right-handed Montreal hairpin. The start of race one saw Byrne lead away, but come under attack from Brookes on the inside at Montreal. The Australian went wide in the move, letting Shakey back through; and meanwhile da Costa had a lowside fall when on the inside of Smrž, and this incident caught out some of those following: Rutter, Easton and Ben Wilson (Gearlink Kawasaki).
This led to a safety car period, with Byrne heading Brookes, Ellison, Bridewell and Linfoot. At the restart, Linfoot was on the attack for that fourth position, and behind came Kiyonari, Walker, Muff and Hopkins, who would soon lose out to team-mate Waters. Before long, the first four were moving clear of Linfoot and the rest, and soon Kiyonari went past the Quattro Plant rider with a move on the inside at the Agostini left-hander.
Byrne had some respite at the front as Ellison challenged Brookes, with James getting alongside on the main Senna Straight, going around the outside at Riches to get ahead. He then went wide at Montreal but just kept ahead of the Yamaha. Later, Josh got back past, trying to close in on Byrne but, on the final lap, going too wide at the Oggies right-hander. Byrne took the win, Brookes was second, and Ellison, citing concerns over his brake fluid, was third. Bridewell was not too far off in fourth, with 'Kiyo' on his own in fifth.
Byrne dedicated the race to Harris and Andrews, and meanwhile the next few came home with Walker heading Linfoot (after a pass at Coram Curve), Muff, Hopkins, Waters, Barry Burrell (WD40 Kawasaki), Richard Cooper (Anvil Hire TAG Kawasaki), Ian Hutchinson (FFX Yamaha), Keith Farmer (PR Racing Kawasaki) and Aaron Zanotti on his Suzuki. Hickman was well back after making a pit visit, whilst Westmoreland crashed out after running twelfth.
The new grid line-up for race two saw Byrne and Brookes still one-two, with the misfortunes of Smrž and da Costa allowing Bridewell and Ellison to move up; and Kiyonari was fifth, from Westmoreland, Linfoot, Hopkins, Muff, Waters and Walker. This time out Brookes got ahead of Byrne on the inside at Riches, and then it was Bridewell, Kiyonari, Ellison, Hopkins, Linfoot, Walker and da Costa. Muff suffered an early crash, which also caused Waters to go off track; and Westmoreland's BMW failed in a separate incident.
By the end of the first lap, Brookes was back to third after a mistake at The Esses, a left and right combination, where the corners are now called Brundle and Nelson. Meanwhile, Walker got past Hopkins for sixth, tagging on behind Kiyonari and Ellison. Brookes had the pace at this stage, and was soon back in front of team-mate Bridewell, ready to take the fight to Byrne. Ellison passed Kiyo for fourth, with da Costa now up to seventh behind Walker.
The race was on as Brookes took the lead from Byrne on the inside at the left apex of the final right-left Murrays chicane. The Kawasaki man took the place back straight away at Riches, but it was Josh again at Montreal. Shakey was the leader once more after a pass on the inside at the Palmer left-hander, as the leading quartet now left the rest behind. However, the assault from Brookes was not renewed, as the Australian suffered a highside crash in one of the Snetterton right-handers.
This left Byrne with a bit of a margin over Bridewell and Ellison, which he was able to improve on as he made it five wins from six races. Ellison had more than one attempt to take second, making it through on the penultimate lap and taking the place reasonably comfortably. Kiyonari was fourth, from da Costa, as they had been by the time sixth-placed had Walker toured off the track with machine troubles. A close group saw Linfoot head home Hopkins and Smrž, and then it was Cooper, Waters, Burrell, Hutchinson, Easton and Rutter.
With Josh Brookes twice having non-finished in the six races to date, James Ellison once again moved into second place overall with his sixth podium finish - a second after five thirds. But it was all about Shane Byrne, as his Snetterton double meant he had only been beaten once in races during 2014. Brookes looks the man who can challenge, but can he close the gap before the Showdown phase, or will he make the push at that critical part of the season?
Standings after six races: Byrne 145; Ellison 100; Brookes 85; Bridewell 69; Linfoot 51; Walker 49; Easton 47; Hopkins 39; Kiyonari 37; Westmoreland 33.
podium credits: Byrne 28, Brookes 14, Ellison 8, Walker 3, Bridewell 1.