Ellison and Byrne winners in 2015 British Superbike opener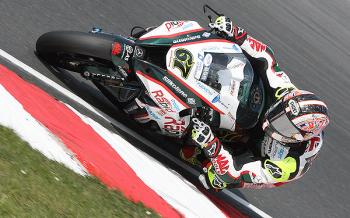 © Glynne Lewis
By Dan Moakes
April 17 2015
The 2015 British Superbike Championship season got underway at Donington Park over the Easter weekend, with record breaking four-time series champion Shane 'Shakey' Byrne set to defend his crown in his fourth year on the Paul Bird Motorsport Kawasaki ZX-10R.
Shane Byrne pictured on his Kawasaki in 2014
Donington has not hosted the first BSB round for many years - the last time was in 2001. Without doubt it will have been a popular choice amongst the riders, not least for three of the likely championship contenders. Shane Byrne (2002), Ryuichi Kiyonari (2004) and James Ellison (2009) all took their maiden Superbike race wins at the former MotoGP venue in the midlands. And Brands Hatch, after all, the more familiar venue for round one, does still get to host the final round in October.
In the absence of British Superbike's most experienced campaigner, Michael Rutter, and with the likes of John Hopkins and Jon Kirkham also missing, there was nevertheless an impressive cast list shaping up for BSB 2015. Byrne remained in place within the Bird team, but was starting out with hand injury concerns after an accident in pre-season testing. Likewise, Kiyonari was still with the Buildbase BMW team, whilst Ellison had stayed with GBmoto Kawasaki, now backed by sponsor JG Speedfit. Josh Brookes stayed with the Milwaukee Yamaha squad, but would be racing the all-new R1.
Big news was the return of Honda Racing, winners of the title on four occasions, including with Alex Lowes in 2013. Development of the bike had continued, with a team of three riders confirmed for the new season: Dan Linfoot, Jason O'Halloran and BSB's 'first lady' Jenny Tinmouth. Meanwhile, the TAS Racing team, competing until recently as Tyco Suzuki, were making a radical switch after years as Suzuki partners. They had become Tyco BMW, now with riders Tommy Bridewell and Michael Laverty, the latter having spent the last two years in MotoGP with Paul Bird.
There were a number of BSB rookies, as well as new combinations and continuing partnerships. 43-year-old favourite Chris Walker had gone to Tommy Hill's new Be Wiser Kawasaki team, paired with the promising Danny Buchan. Stuart Easton stayed on the Bird Kawasaki, with Ian Hutchinson the team's third rider. James Westmoreland joined Ellison at GBmoto as one of the many Kawasaki runners, whilst Brookes' new partner was Broc Parkes, a man with limited BSB experience but still some podium finishes. Peter Hickman, meanwhile, would race again for the RAF Reserves team but now with BMW instead of Honda machinery.
The results from qualifying saw some of the 'usual suspects' setting the pace, with Kiyonari on pole position, then Ellison second, from Byrne and Brookes. Easton was fifth, ahead of Buchan, fresh from a successful Superstock campaign in 2014 and some good pre-season performances. Then it was Hickman, Parkes, Linfoot and tenth man Billy McConnell on the Smiths BMW. The 28-year-old Australian was returning to BSB after racing in the series during 2006 and 2008, in the meantime having been one of the men to beat in British Supersport.
The top twelve grid positions were rounded out by the first rookie, eleventh-placed Luke Mossey on the Quattro Plant Kawasaki, with Westmoreland in P12. The Tyco pairing could not match the BMW pace of Kiyonari, Hickman and McConnell, with Laverty in P15 and Bridewell in P17. And the sole Ducati 1199R of Jakub Smrž, with the Lloyds British-backed Moto Rapido team, was at the back after a crash during practice.
Donington Park
Form guide: BSB wins
Shane Byrne · 2002, 2003 (x2), 2008 (x2)
Chris Walker · 1997, 1998, 1999, 2000
Ryuichi Kiyonari · 2004 (x2), 2014 (x2)
Josh Brookes · 2012 (x2)
James Ellison · 2009
The start of race one saw Byrne get away in front, but only until Ellison overtook him on the inside for turn one, the right-handed Redgate Corner. Kiyonari ran out wide, losing positions, so that Easton was third, from Buchan, Hickman and Linfoot. Brookes also lost ground initially. The right-hander at Old Hairpin, after the drop down Craner Curves, was the spot where Byrne regained the lead from Ellison, and meanwhile Linfoot was on the move, first passing Hickman, then getting ahead of Buchan at the left-right Fogarty Esses. This put him into fourth, behind Easton, with Buchan and Hickman followed by Kiyonari, Brookes, McConnell, Bridewell and Mossey.
The next change was when the right-handed McLeans Corner saw Buchan regain fourth from Linfoot on the inside, but at that stage things were calmed down by the Safety Car. Brazilian rider Rhalf Lo Turco had crashed his SBKcity Kawasaki at the right-handed Melbourne Hairpin and was being attended by medics. Ultimately he would prove to be OK, and the restart came on lap four. This time Ellison got past Byrne through the right-hand Hollywood bend, just after Redgate and before the Craner Curves. Soon after, Jenny Tinmouth crashed at the final left hand loop Goddards. McConnell managed to follow suit at Coppice Corner, with a highside crash at the right-hander that took him out of eighth position.
Behind Ellison and Byrne a gap began to open as the contest for third developed. Buchan had passed Easton at McLeans and then Linfoot took his turn to go through, his next move being to get by Danny at the Esses. The Kawasaki man responded buy they managed to clash at Melbourne, with Buchan sent wide. Hickman gained from the incident, the order reshuffling with Linfoot third, then Hickman, Easton, Buchan followed by Kiyonari and Brookes. Buchan and Hickman proceeded to battle for position, through Redgate and the Old Hairpin, but after this Danny lost control out of the Esses and crashed. Howie Mainwaring had recently done the same just prior to Coppice on his Quattro Plant Kawasaki.
Ellison had a small margin in hand over Byrne, but behind there was a bigger gap back to Linfoot, Easton, Hickman and Brookes. Then Stuart ran wide at the Old Hairpin, crossing the grass outside the circuit and losing places to the next group as he rejoined. The tussle over third saw Brookes pass Hickman and then close down the gap to Linfoot. On the last lap he had made up the difference and was able to make a pass on the inside for the Esses. It was very close as he just held the position over the finish line; and similarly ahead, where Byrne had closed in and just missed out on getting in front of Ellison at the last moment.
Hickman finished fifth, followed by Bridewell, Christian Iddon (on the Halsall Suzuki backed by Bennetts), Walker, Laverty, Richard Cooper (Anvil Hire TAG Kawasaki) and then Easton in P11. Then followed Robbin Harms (MotoDex Performance First BMW), Lee Jackson (Buildbase BMW), ahead of team-mate Kiyonari. Mossey and Parkes headed Filip Backlund (Anvil/TAG Kawasaki), Josh Waters (Bennetts Suzuki), O'Halloran, Hutchinson and the rest.
As has been established in recent times, the grid for race two was determined by the fastest laps in race one, with Byrne therefore on pole, then Ellison, Brookes, Easton, Linfoot, Hickman, Kiyonari, Iddon, Buchan and Bridewell. However, there was a problem with the battery in Ellison's Kawasaki and he never made it to the grid prior to the warm-up lap, which meant he would have to start from the back. Tinmouth and Lo Turco, meanwhile, were non-starters.
In the absence of Ellison, the start saw the front runners get away with the PBM riders ahead, Byrne then Easton, followed by Kiyonari, Brookes, Linfoot, Buchan, Bridewell, Hickman, Iddon, Mainwaring and Walker. Linfoot was in determined mood as he was quick to pass Brookes, then get ahead of 'Kiyo' at Melbourne. He then set an early fastest lap, next going past Easton at McLeans for second place. By that stage Backlund had already crashed out at Goddards, with Smrž having experienced a trip through the gravel trap.
The contest for third place saw Kiyonari pass Easton when the Scot went wide at Melbourne, although he responded immediately to retake the place. As a five man group for the lead began to move clear of the rest of the field, Linfoot took his turn to lead the race after overtaking Byrne. Before long the group was reduced to three, this coming as fourth man Kiyo suffered a highside crash at Coppice, and with Brookes having to go off track in avoidance. 22-year-old Taylor Mackenzie (WD-40 Kawasaki) had already pulled out of the race, whilst Parkes had had a tumble.
That meant Linfoot leading, from Byrne and Easton, with Brookes finding himself behind Hickman, Iddon, Bridewell, McConnell and Buchan. Ellison, meanwhile, was still back in P15 behind Waters and O'Halloran. Soon enough, Shakey took over in front again, then he set a new fastest lap. However, Dan was able to respond, and once again he hit the front in a move at the Esses. From there, with Easton still tracking them, the first two continued their contest, with moves back and forth at a variety of different corners; with one getting ahead and the other often responding straight away.
Byrne was in second place after being repassed following a move at Redgate, only to regain the initiative straight away at the Old Hairpin. On the final lap, Shane did enough to keep Linfoot at bay, with the gaps between the first three slightly increased as they took the chequered flag in the same order. Hickman was fourth home on the BMW, with Iddon next and Brookes recovered to sixth. Behind him came Laverty, Bridewell and McConnell, with Buchan going down late on at Goddards. Walker was tenth, then O'Halloran, Ellison, Jackson, Mainwaring, Waters, Harms, Cooper, Hutchinson, Mossey and the rest.
The way it worked out, Shane Byrne finished the Donington weekend as the man ahead in the points again, finishing second and first, but with both James Ellison and Dan Linfoot looking capable of challenging the 38-year-old. Stuart Easton, Josh Brookes and Peter Hickman had all shown some useful form, whilst others obviously still had more development to target. Danny Buchan had certainly made his mark as a top-six runner, but unfortunately had nothing to show for it after two crashes. Meanwhile, Ryuichi Kiyonari has plenty of ground to make up if he is to challenge Byrne and join him as a four-time BSB champion. How will events unfold next time out?
Standings after two races: Byrne 45; Linfoot 33; Ellison 29; Brookes 26; Hickman 24; Easton 21; Iddon 20; Bridewell 18; Laverty 16; Walker 14.
podium credits: Byrne 8, Ellison 5, Linfoot 3, Brookes and Easton 1.