Yukio Kagayama and Suzuki win at Rockingham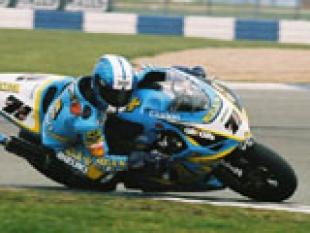 Pic: Carly Rathmell
By Dan Moakes
July 17 2003
Win nine wins already on the board, Ducati's Shane Byrne arrived at Rockingham with a more than handy points lead. Michael Rutter might have been his obvious challenger, but the Rizla Suzuki team has been coming on strong lately, and it was the blue bikes that showed the way home.
It was a time of big change in the British Superbike championship. Following the Brands Hatch meeting, Sean Emmett had been fired from Renegade Ducati, after some sort of disagreement. However, this had apparently been remedied in time for Rockingham, only for Sean to be let go once again! As a result, he found a new home at ETI Racing, where John Crawford and John McGuinness were moved aside to make room. Leon Haslam took over the Renegade machine.
Conditions on track were also confused, with white lines painted on the oval section proving dangerously slick. As a result, lots of extra work had to go into re-preparing the surface, meaning no time for qualifying. The answer to this was for the grid to be determined by championship positions, with the Superstock support runners lining up further down the straight for the same race. The starting order, then, was Byrne, Rutter, John Reynolds, Glen Richards, Steve Plater, Gary Mason, Steve Hislop, Yukio Kagayama, Scott Smart, Emmett and Lee Jackson.
At start of race one, Reynolds hit the front first, from Rutter and Richards, only for Michael to get back through quite quickly. Byrne was initially fourth, and a small gap was already appearing back to Plater and Kagayama. Then 'Shakey' went by on the inside of Richards' Kawasaki. They crossed the line with Rutter leading Reynolds, Byrne, Richards, Plater and Kagayama. Emmett was seventh, a little way off, with the two Virgin Yamahas behind him - Mason leading Hislop.
Byrne was as threatening as ever, getting second by dramatically going around the outside of Reynolds' Suzuki. Kagayama was also trying to move up. When Honda Racing's Plater attacked Richards for fourth, he found no room, and this gave Yukio the opportunity to pass. He then set about Richards himself, going ahead on the inside of a left-hander. Both GSX-Rs were in good shape, and Reynolds moved back through on Byrne, passing inside him at a right-hander. Kagayama followed suit, going inside at turn one. It was a tight moment, but the Japanese rider got the place.
Now Reynolds overtook Rutter for the lead, and the spectacular Kagayama managed to follow him through again. To compound his misery, Rutter was then relegated even further by ex-team-mate Byrne on the MonsterMob Ducati, and even Richards managed to get ahead of the Renegade team leader. As if to rub it in, the Renegade 'junior' runner, Nick Medd, went out of the race at about this stage.
With the Rizla Suzuki pair of Reynolds and Kagayama now out front, and pulling away on the 1000cc bikes, Byrne's hopes were looking slimmer than usual. Behind Richards and Rutter, sixth was still held by Plater, ahead of Emmett. Mason was on his own in eighth, with Hislop apparently fading. Reynolds was the next man to do something similar, as first Kagayama passed, and then Byrne also caught him. 'JR' was down to third when Shane made his pass on the inside for a right-hander.
With Kagayama soon to come upon backmarkers, he now held a comfortable lead, and Byrne was also stretching away from Reynolds. Fourth-placed Richards brought his green machine onto the Suzuki's tail, with Plater soon joining the pair of them, and dropping Rutter. Before long both Glen and Steve had pushed John back to P5. Plater's occasional team-mate, Mark Heckles, ended his race at this stage when his SP2 went down.
As they came towards the end of the race, Plater got inside Richards at the first corner, earning himself third place. By close of play, Kagayama was holding an impressive lead, and he duly slid his way over the finishing line in a crowd pleasing bit of showmanship. Behind Byrne and Plater, Rutter had managed to claw his way back to fourth, despite problematic brake pads, and he led both Reynolds and Richards at the flag.
Emmett was seventh, but he only just beat his replacement over the line. As it was his début race in the class, Haslam had started this one from the rear of the Superbike field, so this was an impressive outing. The next places went to Smart, Hislop, Jon Kirkham and Jackson. Mason had joined the list of retirements.
Byrne made a better job of the race two start, leading away from Reynolds, Rutter, Richards, Mason, Plater and Kagayama. For the sake of the championship, Rutter needed to be beating Byrne regularly, and he was determined to do so this time. Having passed Reynolds, he attacked his rival as they crossed the line, going to the inside for turn one and taking over in front. Kagayama was also keen to repeat his first win, and went past Plater on his route forward.
Byrne also had ideas about winning, and repassed Rutter on the inside for a left-hander. Reynolds and Rutter redoubled their efforts to displace the points leader, and this attack resulted in a three-wide moment. Reynolds, the man in the middle, passed Rutter in this move, but Byrne hung onto P1. Kagayama passed Richards as he tried to join the first three.
Byrne started building his customary invincible lead, and Rutter also moved clear of Reynolds. Kagayama seemed to have the pace of the leaders again, though, and overtook his team-mate on the inside for a right-hander. His next target succumbed to a move on the inside at turn one, and Michael was soon dropping away as Yukio chased after the leader. Richards picked up a second no-score for the season, following his bike's failure at Snetterton, when he was a faller at this stage.
In a break with recent tradition, Kagayama managed to catch up to Byrne with some rapid laps, and as they went into the last lap he jabbed his bike along Shane's inside. This got him ahead at turn one, but the Ducati man fought back on the outside. However, a mistake as they reached the turn for the infield meant that Byrne went briefly onto the dirt, and Kagayama was in the lead. 'Shakey' tried to make a comeback further round the circuit, but Yukio came out the winner.
Rutter was third man home, with Plater, Reynolds, Smart, Mason, Emmett, Haslam, Heckles, Hislop, Paul Young and Jackson also picking up points. With all the UK tracks new to him, and this only his seventh meeting in the series, Yukio Kagayama had truly arrived. And the 1000cc GSX-R had obviously made excellent progress. It seems that Steve Hislop didn't really the same way regarding his Yamaha R1, as he decided to quit the Virgin Mobile team after this race, with only a couple of decent results to show for it.
Standings after fourteen races: Byrne 325; Rutter 181; Reynolds 167; Kagayama 153; Plater 146; Richards 141; Mason 126; Hislop 122; Smart 89; Emmett 88; Crawford 74; Jackson 62.